Boston Red Sox relief pitcher stat predictions for the 2022 season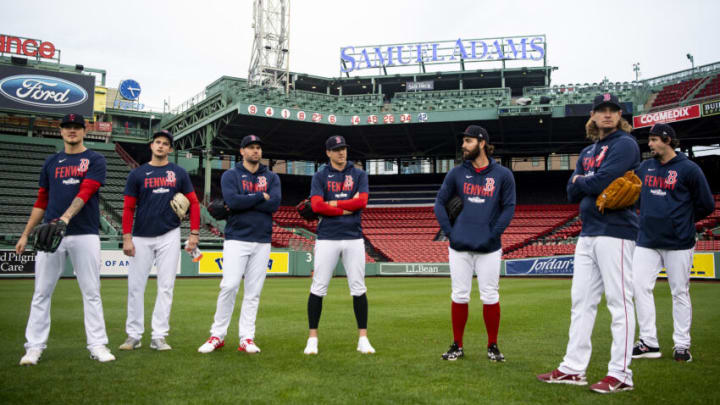 BOSTON, MA - OCTOBER 05: Members of the Boston Red Sox bullpen look on before the 2021 American League Wild Card game between the Boston Red Sox and the New York Yankees at Fenway Park on October 5, 2021 in Boston, Massachusetts. (Photo by Billie Weiss/Boston Red Sox/Getty Images) /
BOSTON, MASSACHUSETTS – OCTOBER 20: Hirokazu Sawamura #19 of the Boston Red Sox pitches against the Houston Astros in the eighth inning of Game Five of the American League Championship Series at Fenway Park on October 20, 2021 in Boston, Massachusetts. (Photo by Elsa/Getty Images) /
Red Sox relief pitcher: Hirokazu Sawamura
Few relievers in recent Red Sox history have arrived with more anticipation than Hirokazu Sawamura. The 33-year old righty came over from Japan with reports of a high 90's fastball and a mid 90's split-fingered. With how historically bad the 2020 Red Sox bullpen was, the addition of any pitcher with that kind of stuff was reason for excitement.
For the early part of the season, Sawamura lived up to the hype. His splitter and fastball were as advertised, and he began to work his way up the reliever depth chart as he dominated hitter after hitter. Yet as quickly as it had come together for Sawamura, it all fell apart. His second-half ERA rose by nearly two runs, his walk rate jumped from 4.5 to 7.8, and he appeared just three times in the postseason.
It's not difficult to see where it all went wrong for Sawamura last year. His splitter may have been unhittable, as evident by its 46.7 whiff percentage, but his other two pitches were far less effective. Hitters slugged .584 off his fastball and .667 off his slider, and only grew more comfortable as the season went along. It's difficult to succeed in the big leagues with only one pitch, and it's even harder when your control is as poor as Sawamura's.
With Matt Barnes still a major question mark and Garrett Whitlock transitioning to a multi-inning role, the Red Sox could really use a pitcher to step up in the late innings. Sawamura has the swing-and-miss stuff to pitch in the 8th and 9th innings, but with his lack of control and tendency to allow loud contact, it's hard to see him as anything more than a middle reliever.
Stat Predictions: 4.02 ERA, 5.2 BB/9, 10.6 K/9