2013 Boston Red Sox shaped a new generation of fans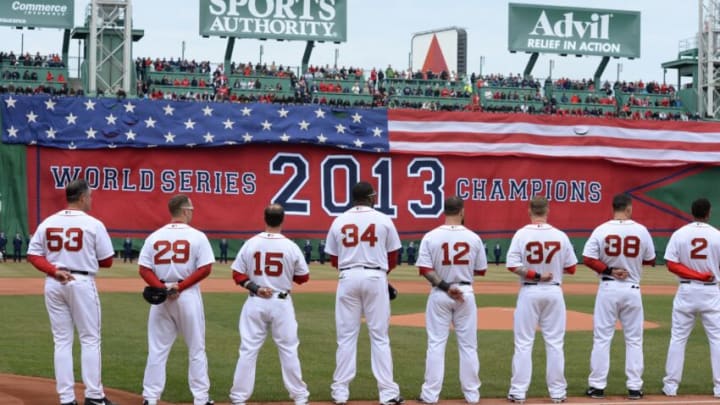 BOSTON, MA - APRIL 4: Members of the Boston Red Sox stand for the National Anthem during a ceremony honoring the 2013 World Series Champion Boston Red Sox before the start of a game against the Milwaukee Brewers at Fenway Park on April 4, 3014 in Boston, Masschusetts. (Photo by Michael Ivins/Boston Red Sox/Getty Images) /
The 2013 Red Sox planted the seeds for the new generation of Sox fans.
While I pride myself in being alive when the curse was reversed in 2004, I couldn't comprehend what was happening at the ripe age of two; same goes for the 2007 team. It wasn't until 2013 when I caught the feeling of how special it is to be a Boston Red Sox fan.
I am certain that any Boston fan in my demographic has a soft spot for the 2013 Red Sox. This team meant so much more than just the title of World Series Champion.
Coming off an embarrassing season the year prior, the idea of winning a World Series was the last thing on our minds. Then came April 15, 2013, the day of the Boston bombing terrorist attack. The city of Boston needed a spark of hope more than ever before and the Red Sox put the whole city of Boston on their backs.
After a tweet sent by Red Sox third baseman Will Middlebrooks took the nation by storm, the term "Boston Strong" was planted in the minds of every Bostonian alike.
Fast forward to the end of the season where the Red Sox took the top spot in the AL East, an ever-so charged playoff push was ahead; one that will remain vivid in my mind for the rest of my life.
The Red Sox handled the Rays with ease in the Divisional Round and were set to meet the mighty Tigers for a run at the Pennant. With an absolutely loaded rotation, and a prime Miguel Cabrera, the Tigers were the favorite to win the series.
After a pitcher's battle in Game One between Jon Lester and Anibal Sanchez, game two would pave way for the moment I, and many others, fell in love with the Red Sox; David Ortiz's game-tying grand slam off Joaquin Benoit.
The image of Torii Hunter diving over the right field wall while Officer Steve Horgan throws his hands in the air with excitement will forever live rent free in my head.
Then came Shane Victorino's grand slam in Game Six, which would, ultimately, send the Sox to the World Series.
This World Series contained so many memorable moments; Napoli's three-run double, the infamous interference call, and Victorino's double off the Monster, just to name a few. The paramount performance being from Ortiz who put on a clinic slashing .688/.760/1.188.
The second that Koji Uehara struck out Matt Carpenter, I knew the gravity of what had just occurred despite being just 11 years old; and that moment is what so many of today's young fans will never forget.
The Red Sox, fueled by rage, pulled off one of the most improbable championships in sports history, where they would send the entire world this message: "this is our f—– city."