This lifelong Red Sox fan's open letter to Major League Baseball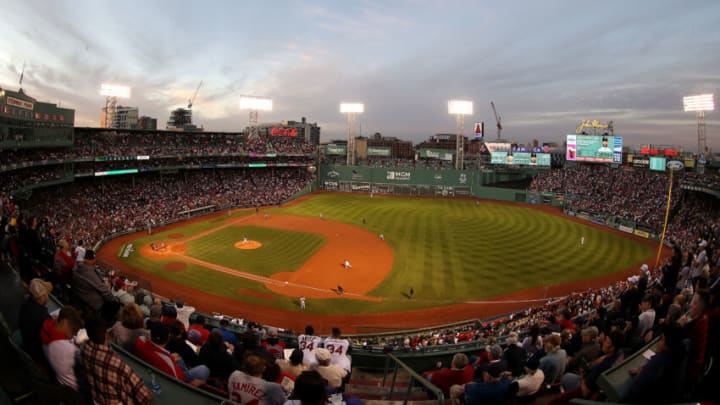 BOSTON, MASSACHUSETTS - OCTOBER 20: A general view of the Boston Red Sox playing against the Houston Astros in the third inning 2of Game Five of the American League Championship Series at Fenway Park on October 20, 2021 in Boston, Massachusetts. (Photo by Omar Rawlings/Getty Images) /
A lifelong Red Sox fan's letter to MLB
Dear Baseball,
Outside of family, which in many ways you are, you are my longest relationship. You are my first love, and when I think back to my earliest and fondest memories, it's you that dominates them. From spring to fall the Red Sox have always been there for me, and we've had so many magical summers over the decades that I sometimes take for granted just how reliable you've been.
Of course, there was that one summer when you just packed up and left me. Didn't even come back for the postseason. No World Series. You were just gone. You had your reasons. And while I wasn't a little kid when you did it, I was only 15 years old in 1994, and I didn't fully understand why you were so mad. I understand now. It was about money.
All that I wanted was for  Red Sox baseball to come back, but I learned that while you were gone that this beautiful, storied game is also a business. Big business. And like all businesses there needs to be cohesion between the ownership and the labor for it to function at its highest level. Ultimately, the struggle between the league, the organizations, and the players to come to an agreement comes down to one thing: money.
You came back. Just like I knew you would. And I and so many other fans were glad you did. But not all fans. There were so many that didn't want business mixed in with their baseball, and the 1994 work stoppage that spilled into the start of 1995 exposed too much of the business side for them to care like they once did.
As a teenager at the time, I watched my friends and classmates that idolized players like Ken Griffey Jr, Frank Thomas,  and Red Sox legends like Roger Clemens and Mo Vaughn shift that admiration to Shaquille O'Neal, Brett Favre, and Pavel Bure.
They missed baseball like I did, at first, but eventually found the other major sports and their stars and their marketability to be more deserving of their attention in place of the void that you left them with. Over the years your beautiful game would slowly make its presence felt in their lives again, but it never recaptured their hearts the way it once did.
It took a few years, but you'd eventually reclaim the headlines and dominate the sports page once again. The assault on Roger Maris's single-season home run record brought a lot of fans back to the game in the Summer of 1998. Mark McGwire and Sammy Sosa even helped to create a whole new generation of fans as they brought the country together on a daily basis in pursuit of the hallowed home run record.
That Summer was amazing. I'll never forget where I was the night McGwire hit number 62 to break the record, or the sound of the landline telephone ringing seconds after the ball cleared the wall and my friend Ryan on the other end of the line shouting "did you see it?!?!" over and over again.
You would provide other "never forget where I was when it happened" moments over the years. That local bar with my friend Kenny in 2001 when Barry Bonds hit number 71 to break McGwire's single-season record, and in that same bar with that same friend a few years later when Bonds would hit career home run number 756 to pass Hank Aaron as the all-time home run leader.
That's the thing about you, baseball, not only do you have this storied history that allows for these moments to happen, but the hype and build-up to these moments allow us to share and experience them with friends and family.
I love you as a game, baseball, but my true love within your sport is the Boston Red Sox. When I say that in many ways you feel like family to me, it's the team and the players and coaches that reside in Fenway Park, Boston, MA that truly own my heart.
All of my greatest memories have the Red Sox at the center of them. Visiting my grandparents in Winter Haven, FL- the then spring training home of the Boston Red Sox- every spring as a child and arriving early at the ballpark and staying as long as I could after the game hoping to have an interaction or get an autograph from Jim Rice (my all-time favorite), or Dwight Evans, or Roger Clemens, or Mike Greenwell was absolute bliss for me.
And as I got older, the Red Sox truly became a part of who I was. Watching the 1999 All-Star game in Fenway, as Ted Williams made his way to the middle of the field and every single player on that field was awed by his presence. Then Pedro Martinez started and dominated, the game in arguably the greatest single-season by a pitcher in the modern era. I was proud to be a Red Sox fan, and the accomplishments of the players felt like accomplishments of my own at times.
Of course, being a Red Sox fan wasn't always great. When you live and die with a baseball team that went 86 years between World Series wins, the emotions from a game, series, or season can stick to you. Especially when your team seems to lose in the most heartbreaking fashion possible (see: 1978, 1986, 2003).
Even though the heartbreak and misery that comes with being so passionate about a baseball team, those moments were always shared with people I cared about the most. I'll never forget my father, Sam, being the only person besides Grady Little that thought Pedro should have stayed in the game to face the heart of the Yankees lineup after eclipsing the 100 pitch mark in Game 7 of the 2003 ALCS.
And I can still vividly see the look of sadness in my father's eyes and the crack in his voice when he said "we'll get 'em next year" as Aaron Boone rounded the bases after hitting the extra-inning walk-off home run to eliminate the Sox just a few innings later. Oh, and "next year", that's a whole crazy story in itself.
All of the sadness and anguish that carried over from the 2003 ALCS loss manifested into a combination of anger, bitterness, and hopelessness after the Sox lost 19-8 to go down 3 games to 0 in the 2004 ALCS. But then, the magic that is the game of baseball made an appearance for the ages.
The 2004 Boston Red Sox would win the next 2 games in walk-off fashion, win Game 6 behind a starting pitcher with a torn tendon sheath in his foot, and the tendon sutured in place to the foot, causing blood to visibly soak through his sock, before winning Game 7 handily to advance to the World Series. They'd sweep the St Louis Cardinals to win their first World Series title in 86 years, and no longer carry the moniker of "cursed" franchise.
I watched every single game of that postseason on my parent's back porch with my father, my mother, and my brother and sister. None of us kids still lived at home, and my parents live in the most rural part of Palm Beach County, Florida. A little town called Loxahatchee, and a 6 mile stretch of unkempt dirt roads to get there.
The magic of baseball, and the promise of "we'll get em next year" brought us all together, after Game 3 of the ALCS that year, my emotions got the best of me, and I actually lashed out at my father in a statement that started "why did you do this to me? Why would you make me love the Red Sox like this…"
In the end, our faith was rewarded, and that small family gathering on the back porch grew to as many as two dozen people. All were people that cared about us, loved us, and knew how much the Red Sox winning would mean to us. They wanted to be there. They wanted to see what true emotional bliss looked like for such die-hard fans. They wanted to experience that moment with us. That's how amazing the game of baseball is.
As Red Sox fans, we got to experience it a few years later, winning the 2007 World Series. Again in 2013. And once again in 2018. All of those World Series wins were experienced on that back porch with my family. And in 2018, I was joined by my then girlfriend's family in a celebration that never grows tired.
I use the term "then-girlfriend" because we are now engaged to be married. I proposed to her in Fenway Park on the video board for all to see on September 19th, 2021. She said yes! The magic of baseball
Baseball, I've gotten a little deep into my own experiences with you and how you've impacted my life. It's time to get back to why I'm writing you this letter. For all of the positive change that you've done since you walked out on me in 1994, there's been plenty of negative too. I've stood beside you through it all. Defended you, even.
While the 1998 home run chase captured the attention of the country and brought new fans to the game and old fans back to it, we realized years later that all of that "feel good" was built on a foundation of cheating. McGwire, Sosa, Bonds, and hundreds of other players were using anabolic steroids and performance-enhancing drugs to put up those gaudy numbers. Why? Well, at the root of it was the money.
You started giving out the biggest contracts in professional sports. All guaranteed. Players from that era saw an opportunity to set up themselves and future generations of their family for life with those contracts, and because you didn't test for it, they took advantage by using performance-enhancing drugs to inflate their stats and get the contracts.
As a result, some of the game's most prestigious records were cheapened, and the players that broke them will forever have their legacies tainted. And once again, your beautiful sport lost more fans. Not me. I stuck around like always. I defended you. I love you.
I watched as you took the Expos out of Montreal. Allowing their owner to purchase the Florida Marlins for $158.5 million so that the current Marlins owner at the time could buy my beloved Boston Red Sox for a then-record $695 million. The Marlins would inherit a team that would pull off one of the biggest upsets in your sport's history- beating the Yankees in 6 games to win the 2003 World Series.
But that's where it ended for Marlins fans. Ownership would tear down the roster, operating in a constant state of rebuild. A decade later the Florida Marlins would become the Miami Marlins, as part of a rebranding deal that was struck with the city of Miami for getting a stadium built with 100% taxpayer money.
The Marlins would open that stadium after an offseason of (finally) spending big in free agency. They brought in players like Jose Reyes, Mark Buehrle, and Heath Bell to usher in a new era of baseball in South Florida, only to trade them all away at the deadline that same season when attendance projections fell short. Back to the constant state of rebuilding.
That Marlins ownership group would eventually sell the franchise to a new group headlined by Yankee icon Derek Jeter. For $1.2 billion. That's right, $1.2 billion. They managed to give up on the Expos, get them relocated out of Montreal, constantly trading away homegrown star players before having to pay them big contracts, get the taxpayers of Miami to fund a brand new stadium for them…and turn a billion dollars in profit. But I stuck with you baseball.
Love is blind like that sometimes. And as fans in Oakland and Tampa are constantly having the threat of re-location hung over them if they don't put their tax-paying dollars toward a new stadium, I'm still here.
All of that brings us to right now, baseball. I feel like I finally need to stand up for myself. This relationship has been one-sided for far too long. I understand that there needs to be peace between ownership and labor. I understand that some of these collectively bargained policies become outdated and need to be updated.
But I find it hard to be empathetic when Corey Seager signs a 10 year, $325 million dollar contract just before you officially locked out the players. I should be at a spring training game right now. Overpaying for tickets to an exhibition game where the regular players get 2 at-bats before hitting the golf course if they play that day at all. I should be in seats along the third baseline with an overpriced hot dog in one hand and a $12 draft beer in the other.
I should be taking a between-innings stroll to the Team Store to buy a $50 Spring Training tee shirt and a $40 ball cap to match. I should be planning my annual summer vacation to Fenway Park. I don't care that ticket prices and concessions prices and merchandise prices continue to rise year over year. I don't care. Take my money! Just provide the thing I love in return. You. Baseball.
You told us at the beginning of this work stoppage that it was just a formality. Something that needed to be done as part of the process. You told us not to worry. You told us that you'd learned your lesson from what happened back in 1994. I believed you. I didn't worry about it. I, like many others, was distracted by the stretch run of the NFL season and their playoffs and the Super Bowl.
And then when all of the distraction was finished, you told us that "the sides were still far apart". You told us that representatives for the league and the players were walking out of meetings after 45 minutes. Then you told us that spring training would be delayed. But you promised that both sides shared the common goal of getting a deal done in time for Opening Day to go on as scheduled. You told us that no regular-season games would be canceled or delayed.
Then you canceled regular-season games. The first two series of the season will not be played as scheduled. Including the games on April 15th. The 75th anniversary of Jackie Robinson breaking the color barrier. Baseball, you are so wonderful at celebrating your history. I know how well you would have done that day. I'm sure that there will still be a "Jackie Robinson Day", but not being able to celebrate this historic anniversary on its actual day just isn't going to be the same.
Simply put, Baseball, you've changed. As you've gotten older, you've gotten smarter, but in doing so you've become less fun. Batting average doesn't matter anymore. Stolen bases don't mean what they used to. The RBI has been devalued. Hitters used to be embarrassed to strike out 100+ times in a season, now that's the norm.
It seems that all that matters are the home runs. Walks are as good as hits. It's okay to strikeout. And don't get me started on the shift. This new, analytical you are not the same game I fell in love with all those years ago. Still, I love you as much as ever. I understand that things change. That they grow and evolve. What would it say about me if I were to simply leave you because you didn't look the same as you did thirty years ago?
I keep hearing that you- Baseball- can afford to lose some fans in an effort to protect the future of the game for future generations of players. With television and streaming rights, with naming rights deals and corporate sponsorship deals, I'm certain that you can "afford" to lose some fans. Just remember that I've always been here for you.
I've stood by you. I've defended you. I've loved you unconditionally. Through scandal, and as you've changed with age, I've always been right here. I want you to be here for me like I've always been here for you. If you continue to cancel games I'm going to have to do the hardest thing I've ever done. I'm going to have to walk away from the longest relationship I've ever had. I've fought for you for so long, now I'm asking you to fight for me.
I can't continue to love something so much, knowing that you don't love me the same. So, while I understand that you can afford to lose some fans, do you really want to lose me? I need an answer, Baseball. Just say those two words that let me know that you still love me the way that I love you: Play Ball!