Red Sox outfielder at Super Bowl LVI supporting the Rams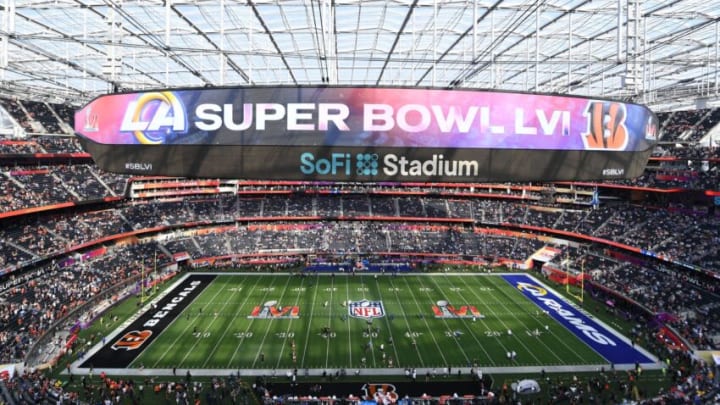 A general view shows the stadium ahead of Super Bowl LVI between the Los Angeles Rams and the Cincinnati Bengals at SoFi Stadium in Inglewood, California, on February 13, 2022. (Photo by VALERIE MACON / AFP) (Photo by VALERIE MACON/AFP via Getty Images) /
Red Sox star Jackie Bradley Jr. is in the building for Super Bowl LVI
It's that time of year sports fans, it's Super Bowl Sunday! While the baseball world is as miserable as ever, one member of the Red Sox is enjoying the day. Jackie Bradley Jr. is once again in attendance as his beloved Rams compete for another Vince Lombardi Trophy, and the dynamic defender is hoping his squad has a better outcome than they did in 2019.
This isn't the first time that JBJ has been there on the biggest day of the season as the former ALCS MVP was also in the building back in 2019 when the Rams went toe to toe with the New England Patriots. Boston got another championship that night despite Jackie's best wishes. Still, you can't fault a guy for supporting a team he's loved most of his life.
Jackie spoke about his fandom for the Rams when they last made the trip to the Super Bowl and credited the dynamic squads of the late '90s. Of course, we know that the history between the Rams and Patriots goes back much farther than just Super Bowl LIII, but tonight they won't be staring across from Bill Belichick and Tom Brady.
Thanks to the annoyingly ongoing lockout, this may be the most exciting thing going in for JBJ at the moment. After departing the Red Sox before the 2021 season, he was brought back to Fenway Park via trade and will be looking to have a strong season as free agency will again be on the table in 2023.
Bradley spent just a single season with the Milwaukee Brewers after logging his first eight campaigns with the Red Sox. Never known to be an offensive force, he hit an all-time low in 2021 by slashing just .163/.236/.261 with six homers and 29 RBI. Not exactly what you're looking for when you plug a player into the lineup. But Red Sox Nation knows that what Jackie does best isn't with his bat but his glove.
JBJ split his time across all three outfield positions with the Brewers and had an incredible perfect FLD% in each zone. We know and love him for his defensive prowess in center but it's great to see he can flash the leather all over still. Considering the level of flux that Boston's outfield is in right now, I'm sure Alex Cora is happy to see Jackie back in the uniform.
As it stands, I'm not sure how much playing time Jackie will get and it'll heavily depend on whether or not Chaim Bloom can land either Kyle Schwarber or Seiya Suzuki, or both. Now that we'll have the universal DH, bringing Schwarber back is going to be difficult, and while Suzuki has a great relationship with Koji Uehara we have no idea where he's truly leaning.
Then we have to factor in Alex Verdugo, Kiké Hernández, and Jarren Duran. The two veterans have more than staked their claim to their positions within the lineup while Duran will look to rebound from a disappointing debut effort. I wouldn't be surprised to see Hernández moved back to second base with Jackie taking a lion's share of the time in center. Having his presence in the outfield is an absolute plus for the Red Sox in their bid to get back to the Postseason.
I love seeing JBJ out having a good time and if you follow him on social media, you know he's been having one hell of an offseason. If he isn't with his beautiful family then he's usually on the golf course. Not to mention the fact that he's attended multiple weddings for both Thad Ward and Mookie Betts. Hopefully, he can add a Super Bowl championship to his reasons for celebration this offseason.