Red Sox: Chaim Bloom has a big decision to make after the lockout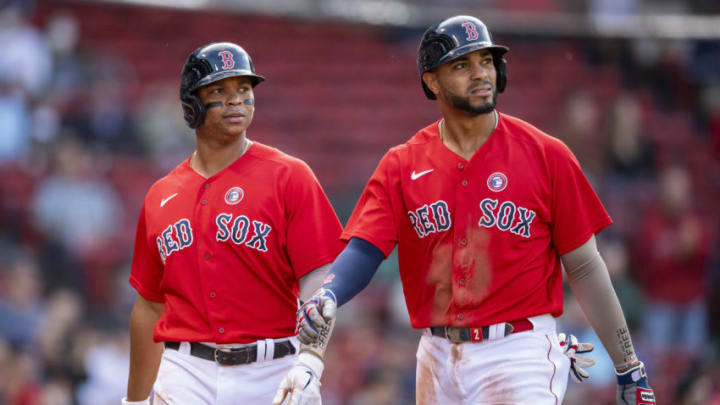 BOSTON, MA - MAY 15: Rafael Devers #11 and Xander Bogaerts #2 of the Boston Red Sox look on after scoring during the fourth inning of a game against the Los Angeles Angels of Anaheim on May 15, 2021 at Fenway Park in Boston, Massachusetts. (Photo by Billie Weiss/Boston Red Sox/Getty Images) /
The Red Sox must decide who gets the cash in 2022
Since the end of the season, and honestly, well before the final out was made Red Sox Nation has been clamoring for a contract extension to be offered to Rafael Devers. It's a sentiment that I think a majority of the fanbase is behind, me included, but there's another player that is also due some big money, Xander Bogaerts. Chaim Bloom is going to have to make a decision on who gets the payday in 2022.
I'm going to start with Devers first in regards to his extension. If a guy has ever earned the right to receive a blank check from a team, Raffy has done it. There's nothing more that we can ask this kid to do beyond learning how to play defense at third base. Which in and of itself is a minor complaint considering what he offers with his bat. I think it's safe to say that Rafael is going to be our DH of the future.
Devers is in his second year of arbitration and will likely see a nice raise coming his way once the lockout ends and business can resume. He won't be a free agent until 2024 so the Red Sox have plenty of time to figure something out. There is one problem with the wait and see mentality, he's only going to get better which means his arb numbers are only going to get higher.
Bloom could take a page out of Dave Dombrowski's book and offer the 25-year-old a hometown deal, nothing disrespectful, but something that won't sink the budget as we've seen other teams do. Considering his age and ability, locking him into something now that could pay him pretty damn well, keep him in Boston for the majority of his prime, and keep the CBT happy is ideal.
If Chaim can work something out now with Devers before the 2022 season kicks off, it'll take a massive stressor off of his plate. Raffy seems more than happy with his current situation but we all know how quickly that can change when the money isn't right. Infielders are getting paid incredibly well these days and Rafael has more than earned his share of the pie. But there is that one wrinkle in the plan and it relates to his mentor and best friend.
Bogey has the ability to opt-out of his current deal after this upcoming season and while things seem great between the Red Sox and the shortstop, that can all change. Bogaerts is a Boras guy and when Scott Boras gets into the equation, nothing is guaranteed, except the money. Xander took a very team-friendly deal a few years ago and with the ceiling higher than ever for shortstops right now, I doubt he will again.
Early in the offseason, it became known that Bogey will more than likely exercise his opt-out but will do so with the hopes of re-signing with the Red Sox for a better deal. One thing that worries me with that plan and that's Boston's recent history of not wanting to pay people. While Chaim is calculated with every signing he makes and won't overspend, but he also knows he can't lose the team's captain and leader.
My ultimate fear is that Xander opts out and then the offer from the Red Sox isn't what he's looking for and now he's a free agent with the rest of the league watering at the mouth to sign him. That's my nightmare. I want both of these guys in the lineup for the foreseeable future and how Chaim goes about that could make it much easier on everyone.
At the end of the day, I don't know which extension needs to be handled first but it really feels like Bogaerts should be the primary. Devers can't test free agency for another few years so there is some more time to work something out while Bogey can walk next winter. In a perfect world, we could see both get inked before Opening Day just as we saw when Dombro did it with Xander and Chris Sale.
Xander Bogaerts is the unofficial captain of this squad. He leads by example day in and day out and the team goes as he does. Rafael Devers is writing new chapters in the baseball history books with every game that he plays in. Both are a reason why the Red Sox have seen great success in recent years and can in the years to come. Get it done, Chaim. We need these fellas lighting up Fenway Park until it's time to hang up the cleats.