Boston Red Sox: All-time lineup and prospects who could dethrone them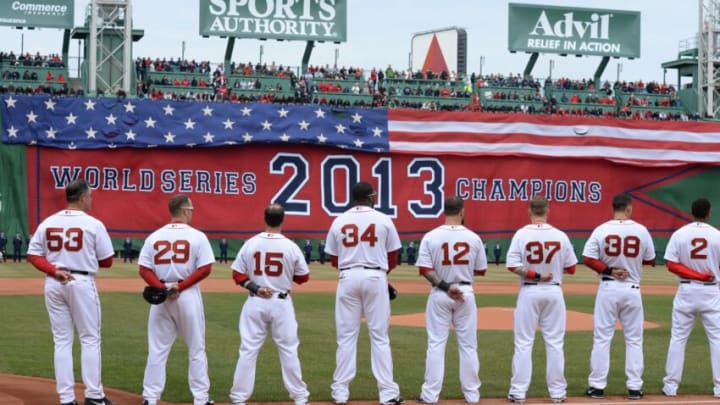 BOSTON, MA - APRIL 4: Members of the Boston Red Sox stand for the National Anthem during a ceremony honoring the 2013 World Series Champion Boston Red Sox before the start of a game against the Milwaukee Brewers at Fenway Park on April 4, 3014 in Boston, Masschusetts. (Photo by Michael Ivins/Boston Red Sox/Getty Images) /
CLEVELAND – 1955: Ted Williams of the Boston Red Sox and Ralph Kiner of the Cleveland Indians pose together prior to a 1955 season game at Municipal Stadium in Cleveland, Ohio. (Photo by Ron Kuntz Collection/Diamond Images/Getty Images) /
Cleanup: All-Time Red Sox outfielder – Ted Williams
Is this the most obvious choice of all-time? Not only did Ted Williams have some of the most baller nicknames (Splendid Splinter and Teddy Ballgame are just so smooth), he is arguably the greatest hitter to ever play.
Williams spent his entire 19-year career with Boston. In that time, he slashed .344/.482/.634 with 525 doubles, 71 triples, and 521 home runs. The left-handed hitter drove in 1,839 runs and scored1,798 more, stealing 24 bases.
There's so much to unpack right there too. First of all, after dominating the first four years of his career he missed his next three. Williams was serving in the military and missed his age 24, 25, and 26 seasons. It feels extremely safe to say he would have added another 100-plus doubles, 100-plus homers, 350-plus RBI, and 350-plus runs to the overalls if that didn't happen.
The consistency was insane too, so you can't even really make the "you can't guess what he would've done" argument. Williams had more seasons hitting over .400 (3) than he had hitting under .300 (1). That's insane. And his career-.482 OBP is the all-time record.
Williams was in the top-10 in MVP voting 12 times, winning it twice. Honestly, it's pretty well known he should've won more but apparently he wasn't the media's favorite – they had a pretty well-documented feud. He won the Triple-Crown twice, and came extremely close a number of other times and was a 17-time All-Star.
Williams has a really strong argument as the greatest Red Sox player of all-time. So I feel bad for any outfielder that has to try to live up to the legacy, but we've got to throw someone into the fire for the sake of content.
Williams spent the most time batting third, but he felt right as the four-hitter here. Especially considering he flourished no matter where he was. He'll bring home anyone Ortiz didn't.