Boston Red Sox: All-time lineup and prospects who could dethrone them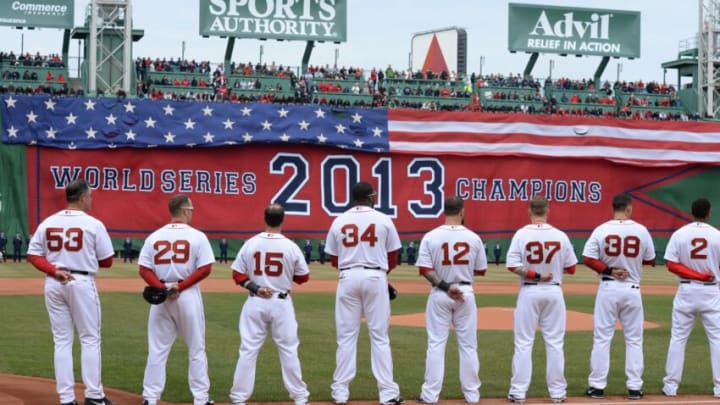 BOSTON, MA - APRIL 4: Members of the Boston Red Sox stand for the National Anthem during a ceremony honoring the 2013 World Series Champion Boston Red Sox before the start of a game against the Milwaukee Brewers at Fenway Park on April 4, 3014 in Boston, Masschusetts. (Photo by Michael Ivins/Boston Red Sox/Getty Images) /
BOSTON, MASSACHUSETTS – OCTOBER 20: The full moon raising while the Boston Red Sox play against the Houston Astros in Game Five of the American League Championship Series at Fenway Park on October 20, 2021 in Boston, Massachusetts. (Photo by Omar Rawlings/Getty Images) /
Red Sox designated hitter protege – Alex Binelas
If you were wondering why I didn't have Jordan here, this is why. There is also a serious discussion to be had about Nicholas Northcutt, who can absolutely mash. Niko Kavadas also needs to be mentioned as he might have some weaknesses in his game but his bat and insane power potential are not the issue. But Binelas gets the nod.
The left-handed hitter isn't exactly known for his fielding. There are a few problems that are pretty easily identifiable. I think some of it is blown out of proportion, but still it's definitely the weakness in his game.
With that in mind, Binelas (a third baseman at the moment) would be a great candidate for a designated hitter. Especially considering how good he is with a bat.
Binelas was part of the trade that sent Hunter Renfroe to the Milwaukee Brewers and Jackie Bradley Jr. back to Boston. The 21-year-old (turns 22 on May 26th, which is also my birthday) was a third-round pick last season. And despite playing in just 36 games in the minors, he's already made a strong impression.
Binelas appeared in 29 games in Low-A. In that time he slashed .314/.379/.636 in 118 at-bats. He roped 11 doubles and nine home runs, driving in 27 runs and scoring 29 more.
It's easy for fans to be upset about losing Renfroe after such a phenomenal season. But the 29-year-old does have some serious holes in his game. Those limitations have held him back in the past and maybe made Boston think it was smart to sell high. Getting Binelas as part of the return package feels pretty special.
Although he's only played 29 games in Low-A, this is a College prospect. The idea surrounding them is that it takes less time in the minors to develop as they've already had that College seasoning. With that in mind, we could see Binelas get pretty close to the Majors in 2022, and might even make his MLB debut in 2023. That gives him plenty of time to try and build on his numbers.
It's hard to imagine someone dethroning Big Papi. But if there's any advantage, it's that Ortiz didn't come to Boston until he was 27.