Boston Red Sox: All-time lineup and prospects who could dethrone them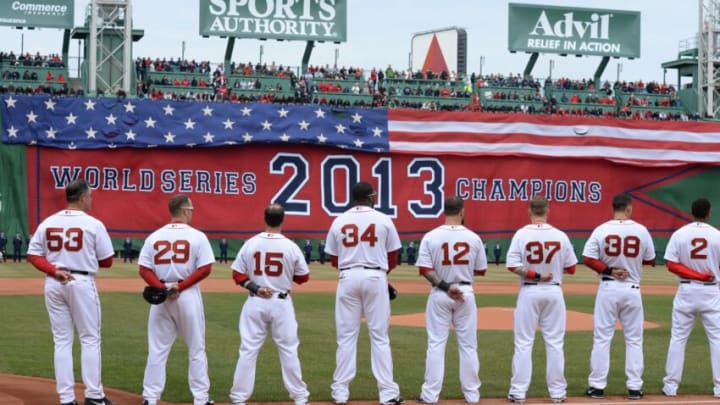 BOSTON, MA - APRIL 4: Members of the Boston Red Sox stand for the National Anthem during a ceremony honoring the 2013 World Series Champion Boston Red Sox before the start of a game against the Milwaukee Brewers at Fenway Park on April 4, 3014 in Boston, Masschusetts. (Photo by Michael Ivins/Boston Red Sox/Getty Images) /
BOSTON, MA – AUGUST 31: Jason Varitek #33 of the Boston Red Sox is congratulated by Adrian Gonzalez #28 after Varitek scored in the sixth inning against the New York Yankees on August 31, 2011 at Fenway Park in Boston, Massachusetts. (Photo by Elsa/Getty Images) /
Nine hitter: All-Time Red Sox catcher – Jason Varitek
Honestly, this is the one that might upset some people. It's definitely my most "controversial" inclusion. That's not because of Jason Varitek, but because of Carlton Fisk. Most people would probably put Fisk here. But it's Varitek and I'll give you a few reasons why.
First of all, Fisk spent 24 seasons in the Majors – 13 were with the Chicago White Sox. The other 11 were with Boston, and one of those was 1969, when he played in two games. Fisk's real rookie year was 1971. His numbers were great in Boston, but so were Varitek's.
Tek slashed .256/.341/.435 with 306 doubles, 14 triples, and 193 home runs in 15 seasons with Boston (his entire career). In 5,099 at-bats, the switch-hitter drove in 757 runs and scored 664 more, stealing 25 bases.
Varitek was a great offensive threat at catcher. That's not what made him so special though. The big knock on him was that he didn't have good arm strength. His 23% caught stealing rate sort of proves that to be true. However, defensively he was a superstar. Tek was a master at blocking the plate and framing pitches. He saved a lot of runs and stole a lot of strikes for his pitchers.
There also has never been a better game-caller that I have seen than Jason Varitek. He was a master at it. His dedication to this part of the game is legendary too, as he study the other team's hitters so well that he knew exactly what to throw them in every situation.
This helped Varitek to a pretty cool record. He is tied with Philadelphia Phillies legend Carlos Ruiz for the most no-hitters caught in a career (four). That's no accident either, no one helped their pitchers out more than Tek.
The awards sort of alluded him. In his career, Varitek made just three All-Star games. He finished in the top-30 for MVP voting three times, won one Gold Glove, and one Silver Slugger award. Most importantly though, he was part of two Championship teams (2004 and 2007) and he played a massive role both times.
He was also such a leader, being the last Boston player to rock the "C" on his chest. In fact, you could argue he helped out with that 2013 World Series as well. Jarrod Saltalamacchia was the catcher for that Boston team, and he made strides behind the plate immediately after arriving in Boston – which was 2011 (Varitek's last year). That's no coincidence, Tek was a teacher and probably loved to pass on the knowledge.
He also stayed on with Boston immediately, taking a role with the team in 2012. Imagine the benefits he gives to the catchers and pitchers on the team getting to learn from him.
Varitek is the other player I was talking about when I mentioned that the Red Sox might have some "managing prospects". He has insane knowledge of the game and could absolutely take over as a manager one day.
I considered putting Pedroia in the nine-hole and having it be that whole "second leadoff" thing. But Tek felt good here. He did spend some time here back in the day anyways (although he was mostly used in the seventh spot, then sixth, then eighth). But having some pop like his at the very bottom of the order would be fun. He's mostly here to help the pitchers anyways.