Boston Red Sox: All-time lineup and prospects who could dethrone them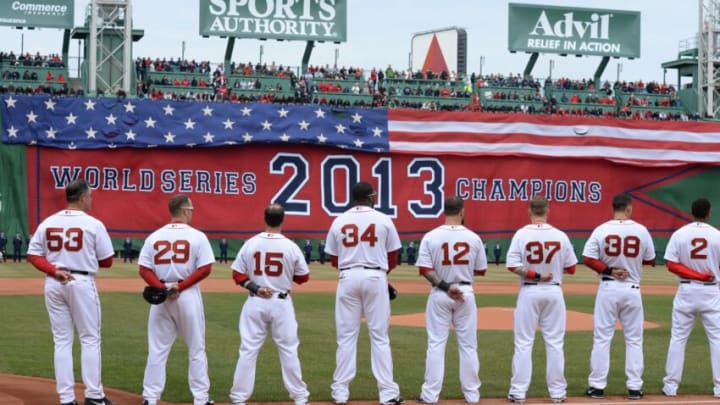 BOSTON, MA - APRIL 4: Members of the Boston Red Sox stand for the National Anthem during a ceremony honoring the 2013 World Series Champion Boston Red Sox before the start of a game against the Milwaukee Brewers at Fenway Park on April 4, 3014 in Boston, Masschusetts. (Photo by Michael Ivins/Boston Red Sox/Getty Images) /
May 26, 2018; Boston, MA, USA; Boston Red Sox second baseman Dustin Pedroia (15) throws to first base during the third inning against the Atlanta Braves at Fenway Park. Mandatory Credit: Brian Fluharty-USA TODAY Sports /
Batting eighth: All-Time Red Sox second baseman – Dustin Pedroia
Dustin Pedroia is the most recent of the "legends," beating out Ortiz by a bit for that honor. The second baseman was easy to love and played all 14 years of his career in Boston. He was the epitome of "dirty jersey." If you tuned into a Red Sox game anytime after the first inning, it was likely that Pedroia's jersey was already dirty.
One of the best fielders you could hope for, he was perfection at second base. Winner of four Gold Gloves, the most errors Pedey ever had in a single season was seven. SEVEN! He wasn't just making the "routine" plays either, Pedroia had some wizard-type spectacle plays as well and saved a lot of hits/runs from happening.
He wasn't just a glove though. The right-handed hitter slashed .299/.365/.439 with 394 doubles, 5 triples, and 140 home runs in 6,031 at-bats in his career. He drove in 725 runs, scored 922 more, and stole 138 bases.
The way Pedroia was usually described was that he wasn't the most athletically gifted, but he'd out-work, out-hustle, and out-smart basically anyone else. This helped him be one of the better players in baseball basically his entire career.
To go along with those four Gold Gloves, he won one Silver Slugger, was an All-Star four times, won Rookie of the Year in 2007, and won the AL MVP in 2008.
If it wasn't for a slide that we won't discuss here because I don't want to get angry, who knows what would have happened. Pedroia suffered an injury in 2017 and never really recovered from it though. He played nine total games in the next two seasons. The numbers definitely could've been better if that didn't happen, and maybe the Hall of Fame would've come calling. Without that extra time though, it feels like he sadly might fall sort of the Hall.
That doesn't matter however. Red Sox fans know how special he was. Most baseball fans do in fact. But it's Boston that will always love and appreciate the talent that was the heart-and-soul of the team for so long. He put on a Laser Show, and he's on this list thanks to that.
It feels like a given that Pedey will one day try his hand in managing. He would definitely be able to connect with his team and instill some hard working attitudes. His insane work-ethic and knowledge of the game would translate perfectly.
Pedroia spent the hefty majority of his career near the top of the order. He was the perfect type of two-hitter. However, this lineup is absolutely stacked and he works nicely down here hitting eighth.