Boston Red Sox: All-time lineup and prospects who could dethrone them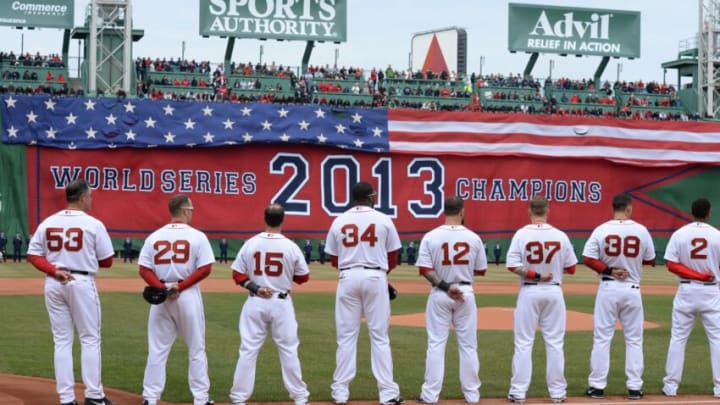 BOSTON, MA - APRIL 4: Members of the Boston Red Sox stand for the National Anthem during a ceremony honoring the 2013 World Series Champion Boston Red Sox before the start of a game against the Milwaukee Brewers at Fenway Park on April 4, 3014 in Boston, Masschusetts. (Photo by Michael Ivins/Boston Red Sox/Getty Images) /
WORCESTER – Triston Casas watches the ball fly before being tagged out running to second during the final home game of the inaugural season at Polar Park on Sunday, September 26, 2021.Spt Woosoxgame 59 /
Red Sox first base protégé – Triston Casas
Triston Casas has become a household name in the baseball world already, and he hasn't even played in the Majors yet. Having a strong run in the 2021 Olympics certainly helped his case when it comes to that though.
Casas appeared in 86 games between Double-A and Triple-A last season. The only reason the games played were that low is due to the interruptions from the Olympics. In those 86 games (308 at-bats), Casas slashed .279/.394/.484 with 15 doubles, three triples, and 14 home runs. The left-handed hitter drove in 59 runs and scored 63 more, stealing seven bases.
Most impressively, Casas drew 57 walks while only striking out 71 times. That's pretty impressive for a 21-year-old (will turn 22 on January 15th). Casas has a fantastic eye, great patience, and an elite bat. He chokes up pretty heavy, which limits the strikeouts. But that choking up doesn't limit his power, he'll still take you 450-feet.
Casas is primed to be a star and he could make his Major League debut in 2022. In fact, you could make a pretty solid argument that he could make the team out of Spring Training. So he'll have plenty of time to rack up the stats and take over as the GOAT at first base for Boston.
Solid defensively, great contact, elite power potential. He'll draw plenty of walks, and drive in tons of runs. There's very little to not love about his game.
It feels unfair to already be tasking him with becoming the best first baseman in team history. Honestly though, it doesn't feel like asking too much of him. That's how good the potential of Casas is.
A lot of people already knew who Casas was before last season. But in 2021, he made his name known all throughout the baseball world thanks to the Olympics. 2022 could be the year he makes sure everyone knows he's the real deal. And from there on, we could be witnessing an all-time great. If there's anyone on this list in the most "immediate" danger of losing their top-spot, it might be Foxx – because Casas is ready.