Boston Red Sox: All-time lineup and prospects who could dethrone them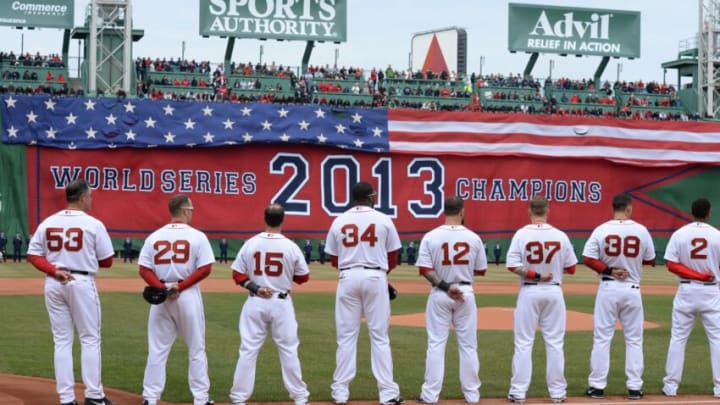 BOSTON, MA - APRIL 4: Members of the Boston Red Sox stand for the National Anthem during a ceremony honoring the 2013 World Series Champion Boston Red Sox before the start of a game against the Milwaukee Brewers at Fenway Park on April 4, 3014 in Boston, Masschusetts. (Photo by Michael Ivins/Boston Red Sox/Getty Images) /
BRONX, NY – 1955: Joe McCarthy, Bill Terry, Cy Young, Rogers Hornsby, Joe DiMaggio, Jimmie Foxx, unidentified, Carl Hubbell, Mickey Cochrane, Al Simmons, Robert "Lefty" Grove, Joe Cronin, Dazzy Vance, George Sisler, Unidentified, George "Hooks" Wiltse, and Ted Lyons pose for a portrait in the dugout prior to Old Timer's Day in 1955 at Yankee Stadium in the Bronx, New York. (Photo by Olen Collection/Diamond Images/Getty Images) /
Batting sixth: All-Time Red Sox first baseman – Jimmie Foxx
Jimmie Foxx spent the first 10 years of his career with the Philadelphia Athletics. He went on to play the next seven in Boston though. Seven years might not seem like enough time to make a big impact, but Foxx isn't just a normal player.
The first baseman started his Boston career in 1936. He promptly made it to six straight All-Star games. That run also included three top-10 MVP finishes, including one MVP crowning.
Foxx slashed .320/.429/.605 with 181 doubles, 45 triples, and 222 homers in his seven seasons (3,288 at-bats) with the Red Sox. The right-handed hitter drove in 788 runs, scored 721 more, and stole 38 bases. That's over 100 runs and 100 RBI each season. That's also over 30 home runs in each season. His 50 home runs in 1938 was a Red Sox single-season franchise record all the way up until 2006 when Ortiz smacked 54.
Oh, and that 1938 season also saw Foxx drive in 175 runs. Yes, you saw that correctly – 175 RBI in a single season. That's the fourth-most in a single season in MLB history.
Even though he wasn't in Boston all that long, those numbers are incredible. A few players have put together great careers, but haven't been able to surpass him (most recently Kevin Youkilis).
That being said, this is possibly the most beatable of the legends. Foxx's limited time in the city, opens up the door for someone to beat him. And Boston has a perfect candidate.
As for his spot in the lineup, Foxx could hit anywhere in the middle-of-the-order and produce. He has some experience hitting sixth though, so he gets the nod here. Expect an insane amount of home runs. The RBI numbers might not be as high as his prime years, but he'll still rack them up. And the only reason they won't be as high is because Yaz probably already drove most of them in. That's the uh, "curse" of this lineup I guess. The RBI numbers might not be as great for some of the hitters because everyone is driving everyone in. Then again with all these insane OBPs, they should all still get plenty of opportunities.