Boston Red Sox: All-time lineup and prospects who could dethrone them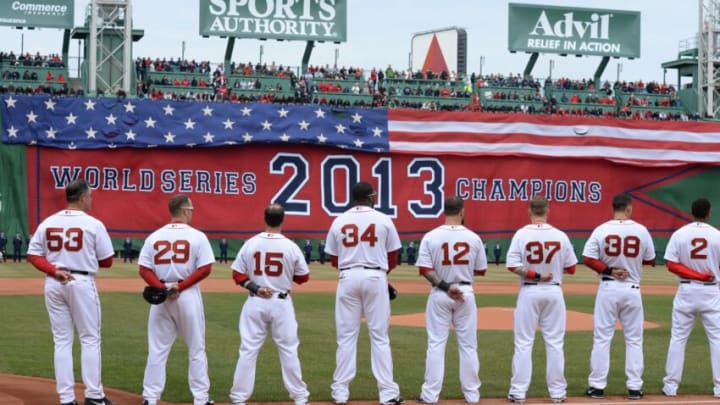 BOSTON, MA - APRIL 4: Members of the Boston Red Sox stand for the National Anthem during a ceremony honoring the 2013 World Series Champion Boston Red Sox before the start of a game against the Milwaukee Brewers at Fenway Park on April 4, 3014 in Boston, Masschusetts. (Photo by Michael Ivins/Boston Red Sox/Getty Images) /
July 04, 2010; Boston, MA, USA; A general view as a large American flag hangs over the green monster before the start of the game between the Boston Red Sox and the Baltimore Orioles at Fenway Park. Mandatory Credit: Greg M. Cooper-USA TODAY Sports /
Red Sox outfield protégé – Ceddanne Rafaela
Ceddanne Rafaela is definitely an interesting prospect. Defense will never be the problem. Given a position full-time, he will absolutely win a Gold Glove or two.
That's the thing though, he's so talented at so many different positions. His ability to play second, third, short, and the three outfield spots means Boston has flexibility. Don't be surprised if the Red Sox use him as a utility-man if he does end up on the big league roster at some point.
However, if they do end up giving him a spot, I could see it being in the outfield. I feel like that's where they have the fewest big-name prospects at the moment, so it would workout that way.
Rafaela's offense is pretty interesting too. He improved a lot during the season in 2021 and ended up with a pretty decent .251/.305/.424 slash line in 102 games (394 at-bats) in Low-A. The right-handed hitter smoked 20 doubles, nine triples, and 10 home runs. He also drove in 53 runs, scored 73 more, and stole 23 bases.
Rafaela has blazing speed. It helps him cover insane amounts of space in the field. But it also gives him 50-plus steal potential, which is always fun. At first it seemed like he had very very little power, but his bat started to wake up as the season went on.
I still don't think he'll be a major home run guy but now it feels safe to say that Rafaela will rack up the extra-base hits with doubles and triples, and could throw in 15-ish homers.
He'll be 21 for basically the entire 2022 season (turns 22 on September 18th). So that gives him a lot of time to develop. Rafaela will likely start the year in High-A. We could see him in the Majors sometime during the 2023 season, with 2024 seeming very very possible. Should be a very fun player that fans love to watch.
Can he put up some monster numbers to go along with it? The offense might never crazy but he could steal a ton of bases, score all the runs, and win some Gold Gloves. That certainly won't hurt his legacy.