Boston Red Sox: All-time lineup and prospects who could dethrone them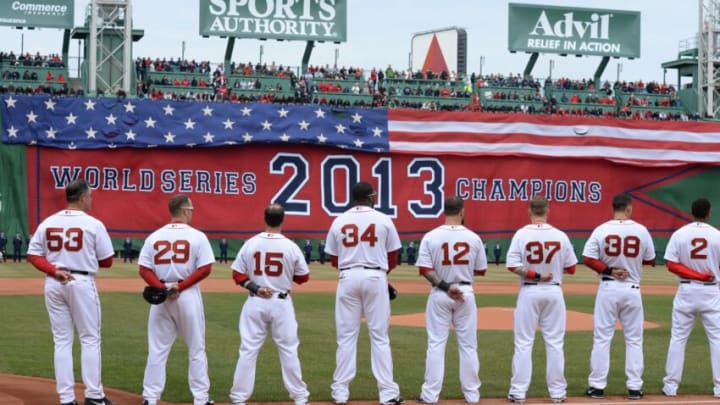 BOSTON, MA - APRIL 4: Members of the Boston Red Sox stand for the National Anthem during a ceremony honoring the 2013 World Series Champion Boston Red Sox before the start of a game against the Milwaukee Brewers at Fenway Park on April 4, 3014 in Boston, Masschusetts. (Photo by Michael Ivins/Boston Red Sox/Getty Images) /
BALTIMORE, MD – APRIL 28: Manager Terry Francona watches his team take batting practice before the start of their game against the Baltimore Orioles at Oriole Park at Camden Yards on April 28, 2011 in Baltimore, Maryland. (Photo by Rob Carr/Getty Images) /
The Red Sox all-time lineup and which prospects could dethrone them
The Boston Red Sox have one of the most storied histories in all of baseball. Fenway Park is iconic. They are the host of some of the greatest players, managers, fans, and traditions in the game.
With that in mind, it's always fun to go back through the history of the team and wonder who the best players are at each position. Everyone has an opinion on this. But in the end, I think we can all agree that there are only a few truly viable options at each position. So why don't we try our luck here and come up with our version of the classic question, who is the best player at each position in Red Sox history?
That's been done to death though, so we're adding a few tiny twists here.
First, we're going to be putting them in a true batting order. It's not just going to be catcher, first base, second base, and so on. This just adds a little extra to it.
That doesn't really change anything though. It's just moving the order that the players are revealed around. So we do have another twist. We're going to be saying which current Red Sox prospects we think have the best chance of taking over as the the all-time best at each position.
This makes things a lot tougher, especially because I'm only going with prospects. That means someone like Rafael Devers (who already has a great career and is just 25) is ruled out of the equation despite being a pretty strong choice for potential all-time great.
Another quick note, Terry Francona gets the nod as all-time best manager in Red Sox history. Not giving him a full slide because I can't keep the prospect aspect of it all going with him, as there's no "managing prospect". Unless you want to count some recently retired players that could take up the mantle at some point (they might be getting mentioned in this article).
Francona was the manager in 2004. Reversing the curse automatically puts you right near the top of the list. He won another ring in 2007 though, which sort of solidifies it all. Seemed really beloved by the players and organization. And the fans certainly still love Tito.