Red Sox: The Eduardo Rodríguez qualifying offer conundrum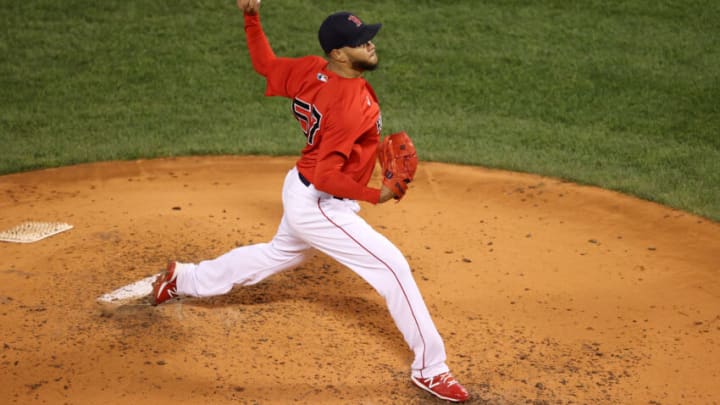 BOSTON, MASSACHUSETTS - OCTOBER 18: Eduardo Rodriguez #57 of the Boston Red Sox pitches against the Houston Astros in the third inning of Game Three of the American League Championship Series at Fenway Park on October 18, 2021 in Boston, Massachusetts. (Photo by Omar Rawlings/Getty Images) /
Red Sox and Eduardo Rodríguez face off on possible qualifying offer
Thanks to the CBA (Collective Bargaining Agreement), MLB has an interesting item called a Qualifying Offer (QO) that may impact the Red Sox this offseason. This year the QO has declined slightly to $18.4 MM from $18.9 MM in 2020.
The QO can be delivered to a team's free agents who have ten days to accept or reject the offer. The two most important notes are a player must not have received a previous offer and have been with the team the entire previous season. Anthony Rizzo cannot receive a QO from the Yankees since he was traded during the season. Details of a QO can be examined here.
Regarding the Red Sox, there is only one pending free agent that could receive a QO. In MLB Trade Rumors, that is in the likely category for lefty Eduardo Rodríguez.
Players that are in the statistical area that brings forward a QO generally pass and test the market. One such exception was right-hander Marcus Stroman who accepted the Mets offer after the 2020 season. His decision proved favorable for both parties and Stroman (10-13, 3.02/3.49) is now open to bids.
What stands out statistically for E-Rod is 31 starts. Despite a myriad of health issues in 2020, Rodríguez managed to take the hill with consistency in 2021. What is inconsistent is those very starts. The 13-8 record had a 27.4 K%, 7.0 BB%, 4.74 ERA, and 3.55 xERA. That ERA, however, is somewhat mitigated by a 3.32 FIP—Rodríguez's 3.8 fWAR or just below Robbie Ray's 3.9 fWAR.
Despite a fastball that has slowly declined since 2015 (94 to 92.6 MPH), Rodríguez still has an 86.5 exit velocity on batted balls – among the lowest in baseball. E-Rod has mastered pitching as his speed has diminished. Rodríguez has migrated to using a cutter more often (17.4%) and less reliance on a fastball (51.6%).
If Rodríguez rejects the offer, a window still exists for a contract with the Red Sox or any other team. But if Rodríguez accepts, the Red Sox get tagged with an $18.4 MM contract. A team signing E-Rod then faces a loss of a draft selection which will be compensation for Boston. A friendly game of poker for both parties.
The QO can be viewed two ways by a player and his representatives. The negative is it lessens market appeal with a loss of a draft pick. On another angle, it does show how a team values a player. With Rodríguez, a possible borderline QO candidate, it shows that the Red Sox places a high value on his services, albeit for only one year.
Since this is an opinion piece and I control this end of the keyboard, I would tender the offer and use it as a building block for a longer-term deal. A risk, as is all pitching contracts, but Rodríguez appears to be healthy, has no arm issues, and will be 29-years-old next season.
From Rodríguez's position, I would reject the offer and test the market. Baseball's premium on pitching, such as Garrett Richards at $10 MM, is a clear example of an inflated market. The money will be there for Rodríguez either in Boston or elsewhere.