Boston Red Sox top-30 prospect rankings after the 2021 season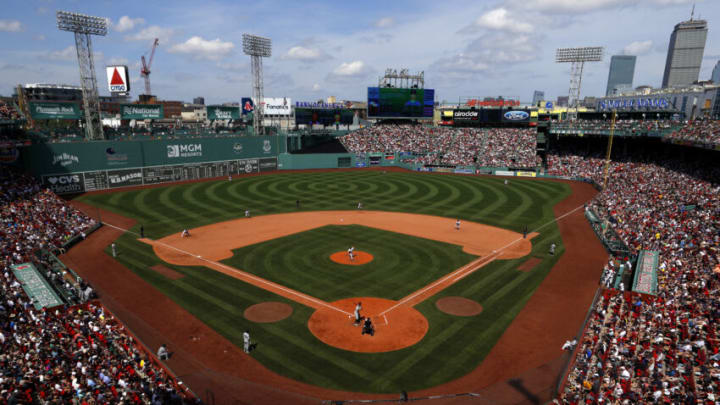 BOSTON, MASSACHUSETTS - JUNE 27: A general view of the game between the Boston Red Sox and the New York Yankees at Fenway Park on June 27, 2021 in Boston, Massachusetts. (Photo by Maddie Meyer/Getty Images) /
BOSTON, MASSACHUSETTS – MAY 20: A view of the Red Sox logo outside of Fenway Park on May 20, 2020 in Boston, Massachusetts. (Photo by Maddie Meyer/Getty Images) /
No. 23: Red Sox starting pitching prospect Chih-Jung Liu
Chih-Jung Liu signed with the Boston Red Sox organization as an international free agent in 2019. At that time, he was a pitcher that could almost reach 100 MPH with his fastball. But also a switch-hitting shortstop who was very talented in the field.
At this point, the 22-year-old is just a starting pitcher. It's highly unlikely he'll be a two-way player but that tiniest of tiny chances certainly adds some intrigue.
Liu is the perfect example of why you shouldn't look too heavily into certain stats in the minors – especially for pitchers. In 12 games for Low-A this season, the right-handed pitcher posted a 4.29 ERA, .257 BAA, and 1.35 WHIP. He struck out 54 batters compared to 19 walks in 50 1/3 innings pitched.
Now, those aren't terrible numbers – but they don't jump out at you either. Let's take out his game on July 24 though, when he gave up eight runs on seven hits and a walk in 2/3 of an inning. Those numbers would drop significantly. For example, his ERA would lower all the way to 2.90.
I know you could argue that you can't just eliminate bad games. I agree for the most part. However, look at it this way. For 11 starts, Liu was good or great. Just one where he truly imploded. You could also take out a game where he gave up five runs in three innings. Then the numbers for the other 10 games are even better. If you were told a pitcher will be phenomenal for 10 starts and bad for two, wouldn't you take it?
It's tough to use numbers for pitchers because there is so much that goes into it. And one or two "implosion" starts have no real factor outside of the one game. But it leaves a mark on their numbers as a whole.
Liu sits in the low-mid 90s right now with his fastball, but can get it back up a little bit. Hopefully he can get it all the way back to sitting in the mid-high 90s soon. He was unable to train during the early portions of the pandemic, so the velocity issues could have something to do with that. There's a lot of movement there and he has pretty solid overall control of the pitch.
His slider has a lot of great movement on it. It sits in the mid-80s and can sweep horizontally with a little downward movement in it as well. This can be used to drop it in for a strike or to toss in the dirt and out of the strike zone, leaving a hitter looking stupid. That being said, Liu doesn't have total control over the pitch. Sometimes he'll leave it flat and that leads to hit getting hurt.
Finally, there's a changeup that I'm a big fan of. The pitch sits in the low-80s and has a good late biting dip to it. He seems to throw the pitch a good amount, which shows he trusts it – and that makes sense. It looks like a fastball out of his hand and leaves a lot of hitters looking bad. Good control over the pitch already.
Liu sometimes struggles to find his pitches. This leads to those implosion outings and sometimes much smaller "implosion innings" during an otherwise solid outing. If he can figure that out, there's a lot for the Red Sox to love about the starting pitcher.
Fastball: 55
Slider: 55
Changeup: 60
Control: 50
Overall: 55