Boston Red Sox top-30 prospect rankings after the 2021 season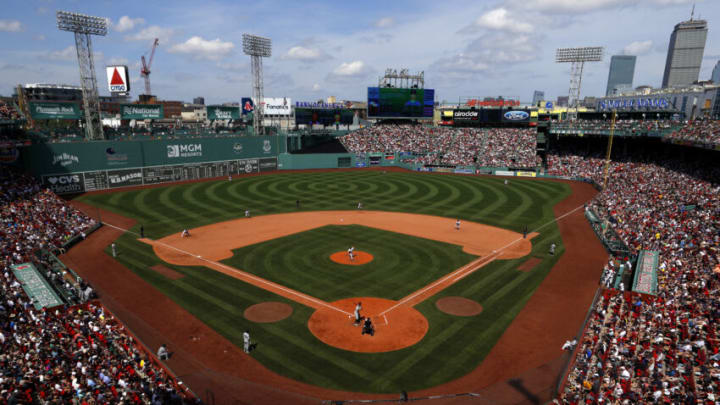 BOSTON, MASSACHUSETTS - JUNE 27: A general view of the game between the Boston Red Sox and the New York Yankees at Fenway Park on June 27, 2021 in Boston, Massachusetts. (Photo by Maddie Meyer/Getty Images) /
PORTLAND, ME – MAY 27: Durbin Feltman #12 of the Portland Sea Dogs delivers in the ninth inning of the game between the Portland Sea Dogs and the Altoona Curve at Hadlock Field on May 27, 2019 in Portland, Maine. (Photo by Zachary Roy/Getty Images) /
No. 24: Red Sox relief pitching prospect Durbin Feltman
When Durbin Feltman was first drafted by the Red Sox in 2018, he was heralded as the "closer of the future" for Boston. Everyone was excited about what he could bring. The hype only intensified as he dominated in his first year with the team. In 2019 though, he hit a bit of snag. This significantly cooled off some of the hype. Then came 2020 and with the minor league year washed, it felt like Feltman was almost a forgotten man to some of the fans.
Naturally, that means he had a phenomenal year. A year that saw the 24-year-old get extremely close to the Majors.
How did he do in 2021 exactly? In 51 2/3 innings between Double-A and Triple-A, Feltman went 8-1 with five holds and two saves. The right-handed pitcher posted a 2.96 ERA, .215 BAA, and 1.06 WHIP with 62 strikeouts compared to 14 walks.
Even more impressive than that, Feltman's numbers in Triple-A were an improvement from his Double-A numbers. He recorded a 2.59 ERA, .200 BAA, and 0.90 WHIP. In 24 1/3 innings he racked up 25 strikeouts and only walked four batters. Utter domination.
Feltman has three pitches, all good. He has a fastball that sits in the mid-90s. It doesn't have the best movement, but he has solid control of the pitch. Despite not much movement, he can miss a decent amount of bats with it thanks to solid velocity and the good command. If the movement improves this is an elite pitch.
Next is a curveball, which is his worst of the three pitches – but still solid. A low 80s pitch with nice break. Has both a cut and a dip to it. Good late movement, which helps to create more swing-and-misses. He has enough control over the pitch as well. Solid pitch that is getting better.
Finally, there's the slider and this thing is nasty. Mid-80s with tons of movement. Just disgusting break, bite, snap, whatever you want to call it. One of those pitches that could start outside on a left-handed hitter and nearly hit him as he fails at the ball. 100% going to lead to a lot of strikeouts. Sometimes loses the pitch but overall has really good command of it. Elite potential.
Feltman lost his way a little bit in 2019. But 2021 was about as good of a bounce-back year as anyone could hope for. I was surprised he didn't make it to the Majors this year. Clearly in the cards for him in 2022 though. Could be a vital piece of the bullpen right away. And that Red Sox closer role could still be his, sooner than you might think even.
Fastball: 60
Curveball: 50
Slider: 65
Control: 55
Overall: 55