Boston Red Sox top-30 prospect rankings after the 2021 season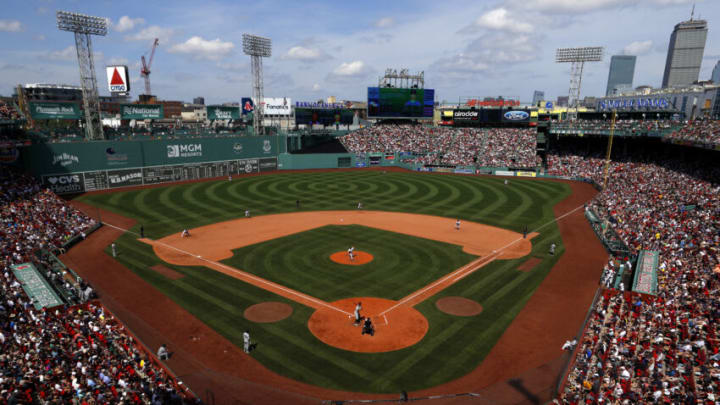 BOSTON, MASSACHUSETTS - JUNE 27: A general view of the game between the Boston Red Sox and the New York Yankees at Fenway Park on June 27, 2021 in Boston, Massachusetts. (Photo by Maddie Meyer/Getty Images) /
BOSTON, MA – JUNE 26: A truck with Boston Red Sox gear arrives in advance of a training period before the start of the 2020 Major League Baseball season on June 26, 2020 at Fenway Park in Boston, Massachusetts. The season was delayed due to the coronavirus pandemic. (Photo by Billie Weiss/Boston Red Sox/Getty Images) /
No. 25: Red Sox starting pitching prospect Josh Winckowski
Josh Winckowski was part of the Red Sox return for Andrew Benintendi from the Kansas City Royals. He's already looking like a great addition. Starting the year in Double-A, the starting pitcher put up pretty solid numbers for them. The big thing though, was the fact that he finished the year with a couple of phenomenal outings in Triple-A.
In Double-A, the right-handed pitcher posted a 4.14 ERA, .253 BAA, and 1.30 WHIP. He struck out 88 batters compared to 30 walks in 100 innings, picking up a nice 8-3 record.
However, in Triple-A, Winckowski made two starts – throwing 12 innings. In that time, he posted a 2.25 ERA, .122 BAA, and 0.67 WHIP. He struck out 13 and walked three, going 1-1.
Definitely more of a pitch-to-contact type of arm, but he can get strikeouts when needed. Due to being more of a contact pitcher though, he'll need to work on his command. At the moment he walks a few too many. The walks aren't bad at all, but if you aren't striking people out it's not a good idea to let people on-base for free.
That all being said, Winckowski absolutely has the stuff to make it all work. He has the ability to lower the walks, create weak contact, and even pick up the strikeouts. It's all there.
The 23-year-old has a four-seam fastball that moves around 93-95 but he can reach back for a little more if he has to. However, the pitch does not have much movement. Due to that, it isn't much of a swing-and-miss pitch. Another reason why he's more pitch-to-contact.
Winckowski also has a sinker that has some nice side-to-side and sinking movement on it. This is low-90s and definitely pitch-to-contact. Great pitch for keeping the ball on the ground.
Next up is a slider, which is absolutely his best pitch. It sits right around 85-MPH and is pretty wipeout. This is the pitch that he has to miss bats with. There's some really good break on it, and it can move both vertically and horizontally. Most importantly, the pitch snaps close to the plate, making it even harder to recognize.
Finally, there is a splitter that goes from the high-80s to the low-90s. Decent enough movement and dip to it. Looks like his normal fastball out of his hand, which should help to confuse hitters a little bit and make this more of a swing-and-miss pitch. This is still a work in progress, but if Winckowski can improve it – the splitter could help him rack up more strikeouts at a nice pace.
Overall, Winckowski is actually pretty close to the Majors with the Red Sox. There are still some things he needs to fix but for the most part he could be a competitive pitcher right now. If he can get the splitter going, there's a lot to like about him. None of his pitches are bad, which gives him a nice repertoire. This will keep hitters guessing, keeping them from playing to the slider which makes it that much more dangerous.
Fastball: 55
Sinker: 55
Slider: 60
Splitter: 60
Control: 55
Overall: 55