Boston Red Sox top-30 prospect rankings after the 2021 season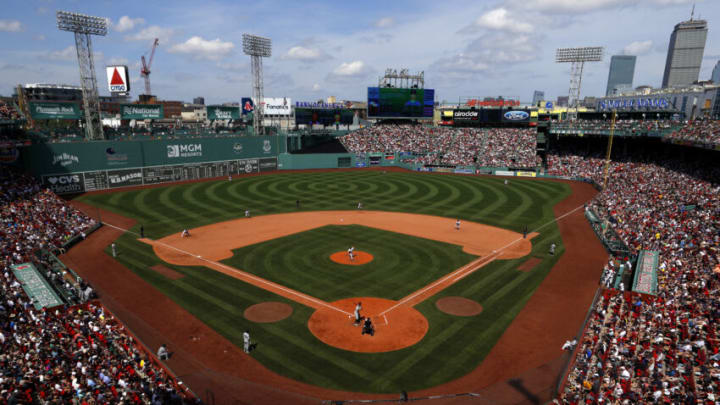 BOSTON, MASSACHUSETTS - JUNE 27: A general view of the game between the Boston Red Sox and the New York Yankees at Fenway Park on June 27, 2021 in Boston, Massachusetts. (Photo by Maddie Meyer/Getty Images) /
FORT MYERS, FLORIDA – FEBRUARY 27: Bryan Mata #90 of the Boston Red Sox delivers a pitch against the Philadelphia Phillies in the second inning of a Grapefruit spring training game at JetBlue Park at Fenway South on February 27, 2020 in Fort Myers, Florida. (Photo by Michael Reaves/Getty Images) /
No. 4: Red Sox starting pitching prospect Bryan Mata
This one was so painful. Bryan Mata missed the entire season after an injury right before the year started led to Tommy John surgery. 2019 saw him pitch in High-A and Double-A. In that time, he showed plenty of flashes of brilliance. Flashes that made you 100% sure he would be an ace.
So of course a serious injury had to come in and ruin the fun. The good news is, Mata is only 22. So there is plenty of time for him to come back and still develop in the minors. Even after all that he could still be just 23 or 24 when he makes his Major League debut.
The right-handed pitcher has almost everything going for him. There's only one glaring issue, and that is his control. Mata's had some serious walk problems in his career. In 315 innings in the minors, he's allowed 145 base on balls. That's something that needs to get worked out.
However, he's already making improvements on that. In 2018, Mata walked 58 batters in 72 innings. Then in 2019, he lowered that number to 42 walks despite throwing a career-high 105 innings. He also managed 111 strikeouts in that time (307 in his career).
Most impressively though, Mata has always been one of the youngest players at his level and he dominates while doing so. He has a career 3.40 ERA, 1.35 WHIP, and .242 BAA. So far, he's given up just 13 home runs in those 315 innings – that's wildly impressive.
Mata has one of the best fastballs I've ever seen. It plays in the mid-high 90s and can go back over 100. Really good movement. When he can command the pitch, it's really hard to hit. He also has a two-seamer that sits in the mid-90s with even more ridiculous movement. Same thing here, if he's commanding it – you probably aren't hitting it.
Then there's a changeup that looks just like his fastball, but sits in the low-mid-80s. It has really solid late drop to it too. However, sometimes he throws the pitch a little bit too hard. That leads to it basically being a high-80s fastball with not much drop on it. Tends to be a really solid pitch though and even when it isn't great, he buries it down so it doesn't lead to home runs.
Next is a curveball in the high-70s to low-80s. Really nice sweeping break to it. What's great about it is even though it's a sweeping pitch, he can snap it off. So the break is actually really sharp and quick. This should lead to a lot of hitters looking pretty bad. Has decent command of the pitch, but sometimes lets it get away from him.
Finally, there's a really nasty slider in the high-80s to low-90s. Really hard and late break to it, which is going to cause absolute migraines for opposing hitters. If any pitch is going to rival his fastball, it's this one. Especially considering how much it is improving in rapid succession. Seems like something he can throw whenever and will devastate hitters.
Overall, Mata is an absolute ace. I wouldn't be surprised if he was the Red Sox best pitcher by 2025. Maybe even one of the best in the Majors. I know the hype has cooled off a bit with him due to the injury. But he'll remind everyone just how good he is in 2022. If he gets that control under control, the sky is the limit.
Fastball: 75
Slider: 65
Curveball: 60
Changeup: 60
Control: 45
Overall: 60