Boston Red Sox top-30 prospect rankings after the 2021 season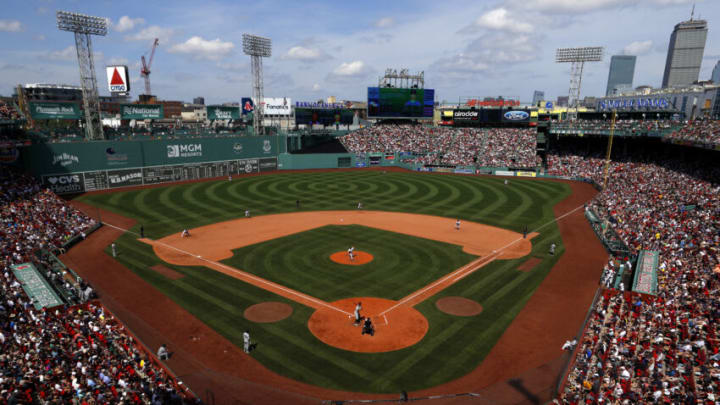 BOSTON, MASSACHUSETTS - JUNE 27: A general view of the game between the Boston Red Sox and the New York Yankees at Fenway Park on June 27, 2021 in Boston, Massachusetts. (Photo by Maddie Meyer/Getty Images) /
July 04, 2010; Boston, MA, USA; A general view as a large American flag hangs over the green monster before the start of the game between the Boston Red Sox and the Baltimore Orioles at Fenway Park. Mandatory Credit: Greg M. Cooper-USA TODAY Sports /
No. 5: Red Sox outfield prospect Gilberto Jimenez
Gilberto Jimenez had an interesting 2021 season. The reason for that is some people might consider it "disappointing". However, the only real reason you could call it disappointing is because he came into the year significantly bulked up. And with it, there were talks that he added a lot of power to his game.
Instead, Jimenez actually posted the worst slugging percentage of his career. That being said, it was the only negative part of his game. Everything else was extremely promising. The switch-hitter slashed .306/.346/.405 with 16 doubles, six triples, and three home runs. He hit much better against right-handed pitching (.330/.377/.428) than he did left-handed pitching (.211/.222/.316). This doesn't concern me from such a young hitter though. Has potential to hit well from both sides of the plate.
Despite the lack of power, the average was very much still there. He also had no issues with run production, driving in 56 and scoring 64 more.
This was thanks to a very clutch-bat. If you can hit in clutch situations, you don't need power to drive in runs. And Jimenez slashed .363/.385/.520 with runners in scoring position in 2021. That's pretty wild.
Jimenez had a bit of a strikeout problem at one point, but he corrected it somewhat. And it likely won't be much of a problem for him as he matures. The 21-year-old will definitely put the ball in play a heavy majority of the time. With crazy speed, that's going to cause problems for the defense. Could be a .300 hitter in the Majors. Won't give you much in the homer department but could still mature there and get 10-15. Meanwhile, the speed and contact should lend itself to all types of doubles and triples.
Speaking of his speed, Jimenez hasn't stolen that many bases in his minor league career – just 13 in 2021. However, he has the speed to rack them up. This is something the Red Sox need desperately. Imagine if they had someone that was not only getting on-base at a high clip, but then stealing bases at will. Give someone for all those power bats to bring in. *Chef's kiss*
Defensively, there's not much bad to say here. Jimenez still seems like he's learning a little bit. Sometimes his read of the ball off the bat isn't great. However, that speed makes up for it. If he can get the instincts right, this is 100% a Gold Glove type player. It also helps that he has a really strong arm. An arm that might surprise you due to his smaller size (5'11", 212 lbs) and the lack of power in his bat. He has no problems throwing base runners out though. Would be great patrolling that massive center field at Fenway Park.
Even if the power never improves, it's hard not to fall in love with Jimenez. Not everyone in the lineup needs to be a 30-plus home run type of bat. Not to sound like an old head here, but I miss those contact and steal type players. Having one or two of them in the lineup can do wonders for an offense.
Jimenez could legitimately hit .300 and steal 50 bases. He might throw in a couple homers. Meanwhile, he can play elite defense. Tell me you wouldn't love having that on your team. The stock took a hit this year because people were disappointed with the lack of power, but to me that just means he is who we thought he was – and that's a top-tier prospect in every other aspect of the game.
Hit: 65
Power: 40
Run: 75
Arm: 65
Field: 65
Overall: 60