Boston Red Sox top-30 prospect rankings after the 2021 season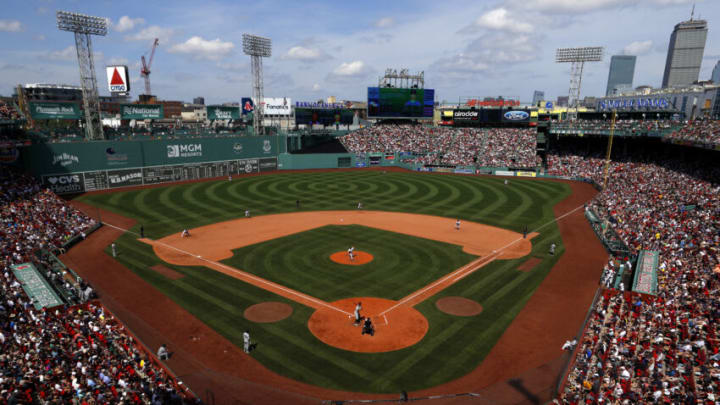 BOSTON, MASSACHUSETTS - JUNE 27: A general view of the game between the Boston Red Sox and the New York Yankees at Fenway Park on June 27, 2021 in Boston, Massachusetts. (Photo by Maddie Meyer/Getty Images) /
BOSTON, MA – OCTOBER 18: Former pitcher Jonathan Papelbon of the Boston Red Sox reacts as he is introduced before throwing out a ceremonial first pitch before game three of the 2021 American League Championship Series against the Houston Astros at Fenway Park on October 18, 2021 in Boston, Massachusetts. (Photo by Billie Weiss/Boston Red Sox/Getty Images) /
No. 8 Red Sox starting pitching prospect Chris Murphy
It's no secret that I love Murph. That's my guy. Chris Murphy was selected by the Red Sox in the sixth-round of the 2019 MLB Draft. He immediately made a strong impression.
2021 was more of the same story. Some of the numbers don't reflect just how good he was though. In 101 1/3 innings between High-A and Double-A, the left-hander posted a 4.62 ERA. That's not a great number, but as you can see he was promoted midway through the year. There's a very clear reason for that.
Murphy looked great on the mound. He just ran into trouble a few times, and it hurt his ERA pretty badly. However, he still had a solid .246 BAA and strong 1.26 WHIP. He also struck out a hefty 128 batters. Outside of the ERA, the numbers were very good.
Don't forget too, this was his first full year in the minors. Before this season, he had 10 appearances (33 1/3 innings) in Short-A (which isn't even a thing anymore) – that's it.
This should tell you that the Red Sox have pretty big plans for Murphy. They started him in High-A and even got him to Double-A this year. They're moving him up the ranks quickly.
The 23-year-old has four pitches. They start with a fastball that tends to sit in the low-mid 90s. However, he can crank it up a little bit more sometimes. Good movement, but the control isn't 100%. Sometimes he'll lose the pitch, and that contributed to his home run problem (21 allowed) and his walks (36, which isn't terrible but sometimes he would lose the strike zone for a bit and get himself in trouble).
Then there's a curveball that works in the mid-70s. This is an interesting pitch. Murphy has a ton of break on it, and it can be absolutely devastating at times. However, he doesn't always have a feel for it. If left flat in the zone, that's going to cause problems. That being said, if he can get some more command over the pitch this has potential to be great.
Next is a low-mid 80s slider. Not as much break as his curveball but still good sweeping action. He has better control over this pitch, so he is able to throw it more effectively. It has improved a lot and is a pitch he can bury to pick up some strikeouts. Will make hitters look stupid.
Finally, there's a changeup. And oh, wow – Hunter's talking about a changeup with heart eyes. Of course I am, don't be stupid. A good changeup is the best pitch in baseball, fight me. Luckily, Murph has a nasty one. Looks like a fastball out of his hand, throws it with a similar motion and speed. However, the pitch works in the low-80s and has really nice late dip to it. He seems very comfortable using it and it will create a good amount of swings-and-misses as well as weak contact.
Overall, Murphy is creeping up on the minors already. There are a lot of positives to his game. The only real negative is that he was prone to the home run ball and a few implosion innings. They usually correlated with some bad luck and losing the strike zone. Murphy tends to have command of his pitches though, and when he does he can be untouchable. Someone the Red Sox need to pay close attention to.
Fastball: 60
Curveball: 55
Slider: 60
Changeup: 65
Control: 55
Overall: 60