Boston Red Sox top-30 prospect rankings after the 2021 season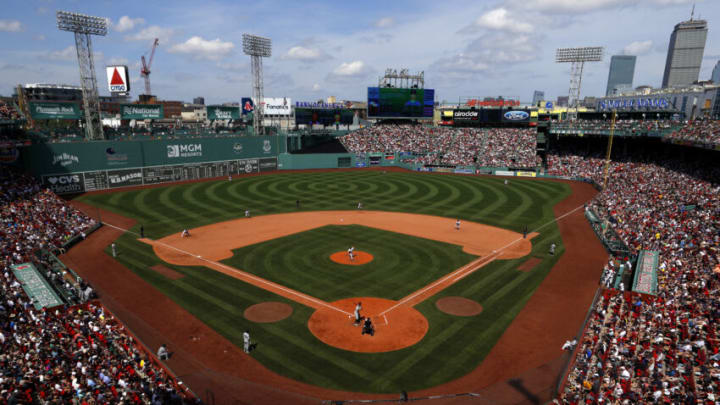 BOSTON, MASSACHUSETTS - JUNE 27: A general view of the game between the Boston Red Sox and the New York Yankees at Fenway Park on June 27, 2021 in Boston, Massachusetts. (Photo by Maddie Meyer/Getty Images) /
CLEVELAND, OHIO – JULY 08: Blaze Jordan is seen during the T-Mobile Home Run Derby at Progressive Field on July 08, 2019 in Cleveland, Ohio. (Photo by Jason Miller/Getty Images) /
No. 9: Red Sox third base prospect Blaze Jordan
Blaze Jordan has taken almost no time at all to prove how special he can be. The Red Sox drafted him in the third round back in 2020 and he made his MiLB debut in 2021. Despite being just 18, Jordan is already showing insane power.
The right-handed hitter appeared in just 28 games between Rookie Ball and Low-A this year due to injury. That's all he needed to make an impression though. Jordan slashed .324/.368/.590 with an incredibly impressive 26 RBI and 19 runs scored. He even stole a base.
What stood out the most though was the power. In only 105 at-bats, Jordan managed to mash eight doubles, one triple, and six home runs. For those keeping track at home, that means he recorded an extra-base hit every seven at-bats.
Obviously, there isn't a lot to go off with Jordan here. He's only had 105 at-bats in his MiLB career, and only 36 of those came in Low-A. And with him being so young, there is a lot of projecting you have to do here. Not only do you have to take into account that he hasn't played much professional baseball – but also that he is still maturing and could see major changes in his game.
That being said, it's impossible not to look at Jordan and love the potential. He's got just about everything going for him. All the tools of his game (with the exception of speed) could absolutely end up grading out to be above-average.
What makes this a little more tricky though is the position. Jordan came in as a third baseman. But it wouldn't be surprising if the Red Sox made a switch to first base. Or maybe even a corner outfield spot as he does have a solid arm. So there are a few different positions he could play, and this would factor into his fielding rating.
For now though, he's a third baseman – so that's what we go off of.
There might be some concern when it comes to strikeouts, but I'm honestly not worried. Jordan has already shown he can make adjustments and while it might not be a "great" category for him it won't be crippling or anything. He should hit for pretty decent averages. And if he can continue to improve his eye, we could see him find a few .300 seasons with good OBPs.
Meanwhile, the power has potential to be insane. I'm talking 35-plus homer potential. That's always fun. There's really nothing else to say here. Jordan's already showing he has power and that's something you should expect to grow even more as he matures.
Speed won't ever be a part of his game. He isn't slow, but he isn't fast. Jordan might be able to get a few steals. And he won't have any issue legging out doubles. But don't expect him to bring much to the table here. Fast enough, especially for his position and with his power. His speed certainly won't hurt the Red Sox though.
The arm is really solid. I think it's a little underrated in fact. Jordan can bring some heat and that should translate nicely to third base. Meanwhile, he's a pretty decent fielder too. I think he might work better at first base when it comes to the glove, but that would then sort of be wasting his good arm. Defense will be interesting for Jordan. Remember he's only 18, there's a lot of time for him to get better here. He's already not bad at all and has shown some natural abilities. With time he could be very solid.
Overall, Jordan is such an entertaining prospect at the moment. He's still a few years from the Majors but it will be fun watching him mature. When he does get there though, it's going to be thanks to the bat. The defense might be good and the speed will be "eh". But it's the offense that will draw eyes to him. Legitimate stud-middle-of-the-order type hitter for the Red Sox.
Hit: 60
Power: 70
Run: 45
Arm: 60
Field: 55
Overall: 60