Boston Red Sox top-30 prospect rankings after the 2021 season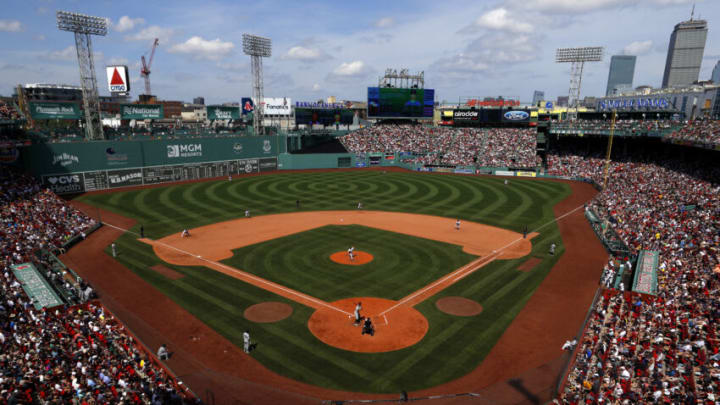 BOSTON, MASSACHUSETTS - JUNE 27: A general view of the game between the Boston Red Sox and the New York Yankees at Fenway Park on June 27, 2021 in Boston, Massachusetts. (Photo by Maddie Meyer/Getty Images) /
BOSTON, MA – SEPTEMBER 9: Former designated hitter David Ortiz #34 of the Boston Red Sox addresses the crowd after throwing out a ceremonial first pitch as he returns to Fenway Park before a game against the New York Yankees on September 9, 2019 at Fenway Park in Boston, Massachusetts. (Photo by Billie Weiss/Boston Red Sox/Getty Images) /
No. 10: Red Sox utility-man prospect Ceddanne Rafaela
Anyone that follows me on Twitter (@hnoll21 give the kid a follow) knows that I have an unhealthy obsession with Ceddanne Rafaela (and Liv Morgan). And anyone that reads my articles knows that I've made that same exact joke before.
I already wrote an article outlining how I feel Rafaela's tools should be graded compared to what MLB had given him. However, that was during the season. I'm even higher on the prospect now. Rafaela just turned 21 in mid-September.
He spent the entire year in Low-A with the Salem Red Sox. On the year, Rafaela slashed .251/.305/.424 with fantastic run production, driving in 53 runs and scoring 73 more. He also stole 23 bases in just 26 attempts. A .280-plus bat could be in his future. Meanwhile, Rafaela won't strikeout much and can draw a walk. The RBI numbers won't be bad at all, and he has tons of speed. That speed will lead to a lot of runs and 30-plus steal potential.
One of the biggest improvements we saw on the year was with his power swing. Not showing much early on, Rafaela flipped a switch. He ended the season with 20 doubles, nine triples, and 10 home runs. It's starting to look like there's some legit power in his bat. I'm not saying he'll be a massive pop threat. But 30-plus doubles, five-plus triples, and 15-plus home runs wouldn't be crazy for the right-handed hitter.
Now let's get to the defense, because this is just absolutely wild. In 2021, Rafaela spent time at third base, second base, shortstop, and all three outfield spots. Even at his young age, he's already showing a serious ability to play multiple positions. That's not even the crazy part though. The crazy part is that he is a Gold Glove talent defender at all the positions. And isn't that something the Red Sox have really focused on recently? Players that can play multiple positions and give them flexibility?
Seriously, every time I tuned into a game, Rafaela would make some sort of play. It didn't matter where he was on the field. Not only did he look comfortable, but he looked like a natural. He was making great reads, diving plays, incredible throws – and more. It's way too entertaining to watch him play defense. If the Red Sox decide to have Rafaela focus on one position, he will win Gold Gloves (plural) at that position. Keep him as a utility-man, and he'll give you Gold Glove defense wherever you put him at that night.
This isn't just me thinking this either. Go to the Salem Red Sox Twitter and Instagram pages. You can find some highlights from Rafaela there. Or you could even just look at the MiLB awards. Rafaela was named Boston's MiLB defensive player of the year.
He truly is their best defensive prospect. Rafaela's not just defense though, he's got promise offensively and elite speed. Listed at 5'8″, 152 lbs – his size might make people underrate him. Give Rafaela a chance though, he'll likely surprise you.
This was my biggest "jump." MLB does not have Rafaela as a top-30 prospect in the Red Sox system. After watching him all year, that astounds me. How can you watch someone put up that performance in 2021 at such a young age and then go and overlook him?
Maybe I'm drinking the Kool-Aid too heavily (red with a disgusting amount of sugar is GOATed) but I seriously see a potential future star. Someone Red Sox Nation needs to pay attention to.
Hit: 55
Power: 45
Run: 70
Arm: 70
Field: 70
Overall: 60