Boston Red Sox top-30 prospect rankings after the 2021 season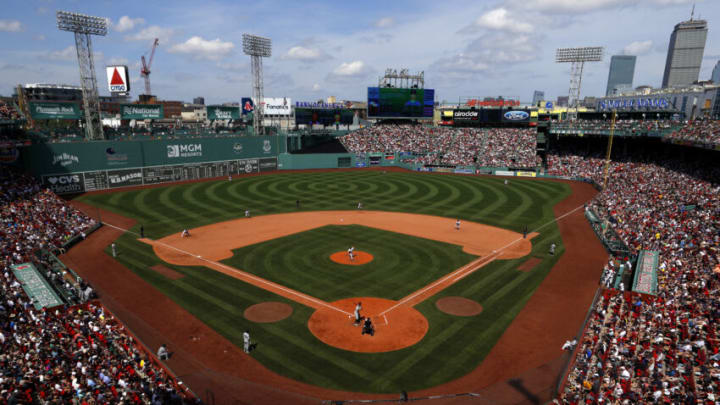 BOSTON, MASSACHUSETTS - JUNE 27: A general view of the game between the Boston Red Sox and the New York Yankees at Fenway Park on June 27, 2021 in Boston, Massachusetts. (Photo by Maddie Meyer/Getty Images) /
BOSTON, MA – JUNE 29: A bullpen is constructed in the concourse in advance of a training period before the start of the 2020 Major League Baseball season on June 29, 2020 at Fenway Park in Boston, Massachusetts. The season was delayed due to the coronavirus pandemic. (Photo by Billie Weiss/Boston Red Sox/Getty Images) /
No. 12: Red Sox starting pitching prospect Wilkelman Gonzalez
Wilkelman Gonzalez signed with the Red Sox as an international free agent back in 2018. You'd be forgiven if you didn't know much about him though. Why is that, you ask? Well for one thing, he was just 16 at the time and had a lot of maturing to do.
Throw in the fact that the right-hander only appeared in some Rookie Ball games (46 1/3 innings) in 2019 and he was a virtual unknown heading into this season.
However, 2021 saw more great pitching from Gonzalez in Rookie Ball. Then the big move happened, he made four starts in Low-A. And there, the 19-year-old dominated. This was huge. Gonzalez had this profile of a very very raw prospect. He has a lot of the potential, but needs to mature a lot. He's only 6'0″ and weighs 167 lbs. There's a lot that still needs to be worked on in his game.
So the fact that Gonzalez took the mound in Low-A and not only looked at home, but was untouchable – that was incredible.
Gonzalez posted a 1.53 ERA, 1.19 WHIP, .206 BAA in those four games. In 17 2/3 innings his only real issue was walks, issuing eight of them. However, he also managed 20 strikeouts in that time, helping keep the trouble at bay.
Gonzalez has already added a lot of velocity on his fastball since signing. It sits in the low-to-mid 90s with just absolutely ridiculous life on it. The pitch moves all over the place, every direction and sort of action that you could think of. However, sometimes he loses control of it. If he can figure it out, this pitch will be unstoppable. Especially considering the velo could still go up.
There's a solid changeup with good late drop to it. The pitch sits in the low-80s. However, as of right now, it could still use some fine tuning. Deceptive arm motion, sort of looking like his fastball out of his arm. However, sometimes it's pretty obvious – and sometimes he loses command of it and leaves it a little flat.
Lastly, Gonzalez has a curveball. The pitch sits in the high-70s with a lot of great break to it. Even when he doesn't throw his best offering, it still moves enough to confuse hitters. Wipeout pitch that could be a serious strikeout-racker.
Gonzalez needs to work on his command at the moment. Other than that though, it's hard to complain about him. He has an incredible fastball. His curveball could be elite, and his changeup has all the potential in the world if he can just fix a few things. He's already performing well in the minors too despite being seen as an extremely raw prospect. It's important to remember that's he's only 19 when considering his flaws too. Plenty of time to work things out.
Could be a future ace for the Red Sox.
Fastball: 65
Changeup: 55
Curveball: 60
Control: 50
Overall: 55