Boston Red Sox top-30 prospect rankings after the 2021 season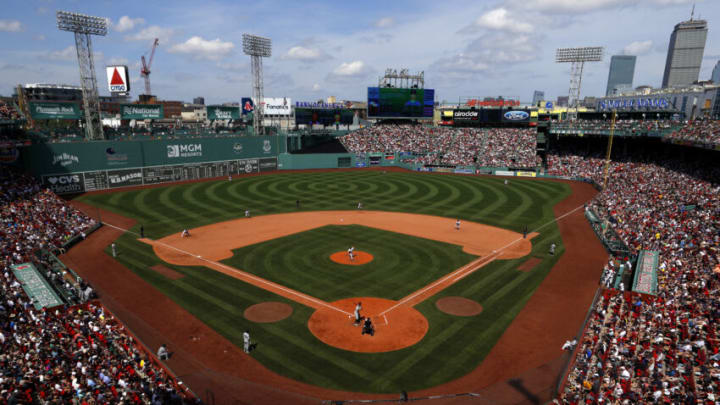 BOSTON, MASSACHUSETTS - JUNE 27: A general view of the game between the Boston Red Sox and the New York Yankees at Fenway Park on June 27, 2021 in Boston, Massachusetts. (Photo by Maddie Meyer/Getty Images) /
BOSTON, MA – SEPTEMBER 6: A general view during a game between the Boston Red Sox and the Tampa Bay Rays on September 6, 2021 at Fenway Park in Boston, Massachusetts. (Photo by Billie Weiss/Boston Red Sox/Getty Images) /
No. 30: Red Sox outfield prospect Pedro Castellanos
Pedro Castellanos once again had a phenomenal year in the Red Sox minor leagues. Despite that, he tends to get overlooked quite a lot. In 2021, the right-handed hitter slashed .289/.364/.471 in 87 games (325 at-bats). He did that while officially moving to the outfield full-time (he was primarily a first baseman before this season).
Castellanos made some serious improvements too. The 23-year-old was in Double-A for the first time in his career. Despite that, he managed 14 doubles and three triples to go along with a new career-high of 13 home runs, showing that there is something there with the power potential.
He wasn't great at driving in runs (44 RBI) but did set a new career-high with 66 runs scored. This was more due to circumstance than anything else though. If anything, it's impressive he even had 44 RBI. Castellanos only had 67 at-bats in 2021 with runners in scoring position. He collected 25 hits, slashing .373/.458/.597 in those chances.
One of the biggest improvements was in the walks. Despite appearing in his least amount of games since 2017, Castellanos set a new career-mark with 32 walks. Not a great number but still a major improvement from his old-high of 22 (in 117 games).
The potential is definitely real for Castellanos. He has proven he can hit for contact (career-.300 hitter) and is making improvements when it comes to his eye. Meanwhile, his raw power that was talked about when he first popped up in the minors is starting to come through. There's very little in the speed department and he isn't a great fielder. However, Castellanos is a very good baserunner, which makes the speed a little bit less of an issue. Meanwhile, he played left field a lot better than people thought he would.
One of the biggest issues for Castellanos might be that there is no path for him. The reason they moved him off of first base is Triston Casas. There's no reason to even really consider anyone else at that position for the future, as Casas is set to be a star. And with Bobby Dalbec playing well, that complicates things even further.
Castellanos played well in the outfield but the Red Sox have a lot of talent there as well. This might be why he doesn't get the recognition he deserves. Castellanos is not the flashiest player, so others steal the spotlight.
That being said, he has legitimate .300-hitting potential and could turn into a 25-30 home run bat. He'll never be a Gold Glover and the speed is minimal. But it looks like he won't kill you in the outfield and he knows what he's doing on the base paths. Despite his low RBI-total in 2021, he can produce runs nicely for a future Red Sox lineup.
Hit: 65
Power: 60
Run: 35
Arm: 50
Field: 50
Overall: 55