Boston Red Sox top-30 prospect rankings after the 2021 season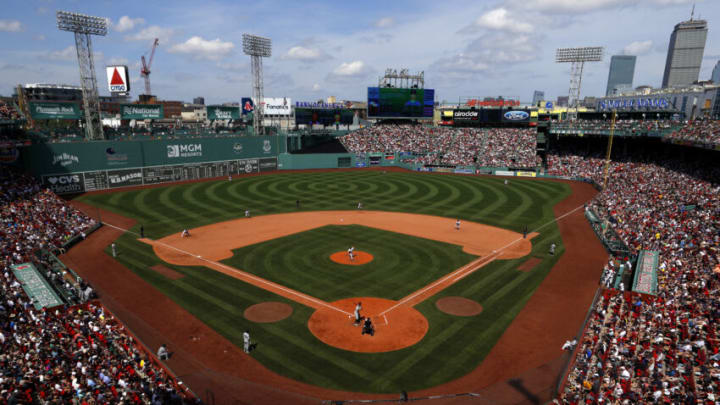 BOSTON, MASSACHUSETTS - JUNE 27: A general view of the game between the Boston Red Sox and the New York Yankees at Fenway Park on June 27, 2021 in Boston, Massachusetts. (Photo by Maddie Meyer/Getty Images) /
Greenville Drive's Kole Cottam (39) is safe at first base after a pickoff attempt from West Virginia Power during the game at Flour Field Thursday, April 4, 2019.Ss Drive 04 04 2019 1603 /
No. 16: Red Sox catching prospect Kole Cottam
I love Kole Cottam, I don't think that's much of a secret. The catcher won my heart when I was watching him play back in 2018 – his first season in the Red Sox system. I even mentioned him as someone I was excited to watch in 2019.
So far, he hasn't disappointed at all.
Cottam slashed .278/.371/.500 in 71 games between High-A and Double-A. In just 234 at-bats he roped 18 doubles, two triples (career-high), and 10 home runs (career-high). The right-handed hitter drove in 33 runs and scored 33 more.
He had a strikeout issue this year, but has also shown great patience and a very good eye. Cottam has shown good run production skills and a serious ability to get on-base. There's plenty of pop in his bat too, and that can continue to grow. He isn't fast, but for his position it's not bad. Nothing that's going to kill you or the opposing team, just sort of there.
Could hit over .250 and creep up towards .280 even. Will get on-base a lot. And the potential for 30-plus doubles and 20-plus home runs is very real. This would lead to some great run production from the catcher position, which is always a massive positive. Let him pepper the Green Monster.
The big thing to talk about here is his defense though. Yes, the main attraction with Cottam is his offense. But I wouldn't be doing my job if I didn't praise the improvements that he has made.
Cottam came into the Red Sox system 100% as a hitting catcher. He had potential defensively, but he seemed to be a fringe-guy. Three years in and he's changed the perception completely, or at least he should have by now.
Cottam has immensely improved his game-calling skills. The 24-year-old is vastly better at blocking the plate as well, and framing pitches. Even his arm looks like it's gotten better. It was such a step forward that anyone paying attention had to be impressed.
What really excites me though is the fact that he clearly worked hard and it payed off and we saw some rapid improvements. Cot saw the hole in his game and did his best Dulé Hill in HOLES impression "I can fix that." (If you don't appreciate that reference please stop reading and block all my social media pages, I don't want to interact with you anymore).
It's that type of mentality that gets you far. He wasn't content being a good offensive catcher. Cottam wanted to be the entire package. And now he's getting there. With this type of work ethic and a now proven track record of fast improvements, there's no telling where he could go next.
The Red Sox have a lot of fantastic catching prospects. Cottam is right near the top of that list though. Pay attention to him, because the bat is impossible to deny and the defense is improving by the day. Could be special if the Red Sox give him the chance he deserves.
Hit: 65
Power: 65
Run: 35
Arm: 55
Field: 55
Overall: 55