Boston Red Sox top-30 prospect rankings after the 2021 season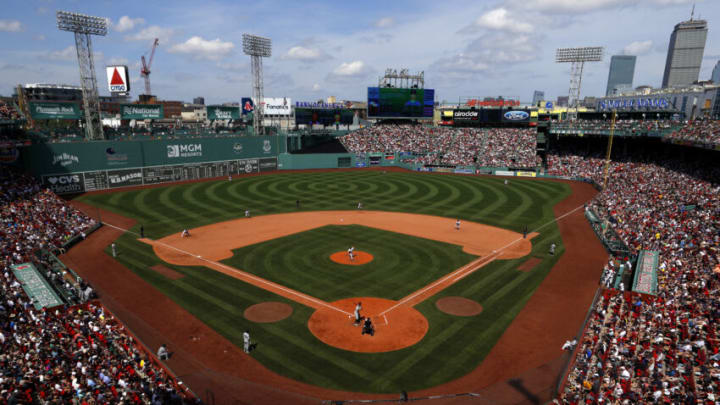 BOSTON, MASSACHUSETTS - JUNE 27: A general view of the game between the Boston Red Sox and the New York Yankees at Fenway Park on June 27, 2021 in Boston, Massachusetts. (Photo by Maddie Meyer/Getty Images) /
BOSTON, MASSACHUSETTS – OCTOBER 20: The full moon raising while the Boston Red Sox play against the Houston Astros in Game Five of the American League Championship Series at Fenway Park on October 20, 2021 in Boston, Massachusetts. (Photo by Omar Rawlings/Getty Images) /
No. 17: Red Sox middle infield prospect Cameron Cannon
Cameron Cannon is an offensive juggernaut – extremely entertaining to watch. He spent a heavy majority of the 2021 season giving pitchers fits and it wouldn't be surprising if he kept that trend up next season as well.
The shortstop and second baseman appeared in 98 games between High-A and Double-A in 2021. In that time, he managed a .284/.331/.440 slash line with 30 doubles and 11 home runs. The right-handed hitter drove in 53 runs and scored 61 more, stealing nine bases.
I think that kind of perfectly sums up Cannon. The 23-year-old can do it all. He can hit for average, give you some pop, produce runs, and even steal some bases.
Cannon has great contact. In 435 plate appearances, he only managed 22 walks. Averaging 3.315 pitches per at-bat in 2021 isn't the best number – especially from such a good offensive player. That's a little bit of an issue. However, he also only struck out 52 times. To be fair, it would be great if he started working counts more – but while that would lead to a rise in his walks, it would stand to reason that his strikeouts might rise as well.
His ability to put the bat on the ball is a serious positive. His .284 average and 41 extra-base hits shows that he's not just making weak contact, he's putting something behind his swing.
The power is really solid. There's absolutely a lot of gap power there. Meanwhile, he has potential for 15-20 home runs. Maybe he could even sneak over 20 at some point. That's great for a middle infielder. Throw in 40 doubles and you have to love it.
Cannon isn't a burner. But he can run decently well, and is phenomenal on the base paths. Average speed with great instincts definitely deserves a good grade. He won't run you into outs, he'll make all the right plays, and he has enough speed to still steal a handful of bases. Nothing to complain about there. Especially given his good power bat.
Defense is the "weak" point of Cannon's game. He isn't bad defensively at all. It's just not as prominent as his offense. In reality, Cannon actually has a pretty decent glove. He has enough range to get on in the middle of the infield as well. And his arm is solid and can make the throws it needs to make. Very reliable defender with a good arm. That's an underrated combination and will always get the love from me.
Overall, Cannon is a classic offensive-minded middle infielder. He might not win a Gold Glove but he's good on defense. The defense is even less of an issue when considering his potential with the bat. Could be a great average guy who doesn't strikeout much but still gives you a lot of extra base hits. Some steals thrown in as well. If he can work on the eye, it will all come together – hopefully on the Red Sox.
Hit: 60
Power: 55
Run: 55
Arm: 50
Field: 50
Overall: 55