Boston Red Sox top-30 prospect rankings after the 2021 season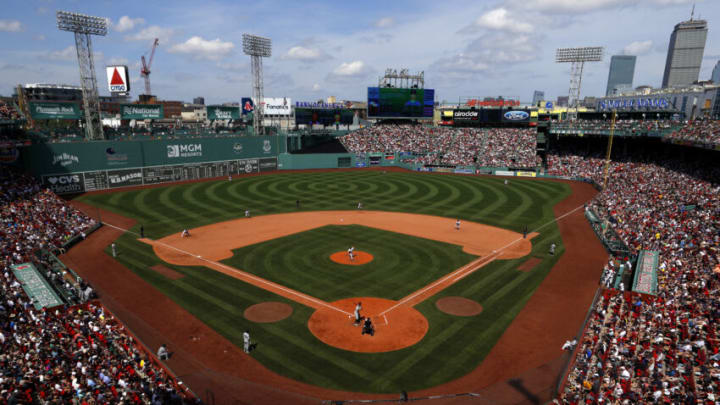 BOSTON, MASSACHUSETTS - JUNE 27: A general view of the game between the Boston Red Sox and the New York Yankees at Fenway Park on June 27, 2021 in Boston, Massachusetts. (Photo by Maddie Meyer/Getty Images) /
FAYETTEVILLE, ARKANSAS – MAY 22: Nathan HIckey #11 of the Florida Gators throws out a runner at first base during a game against the Arkansas Razorbacks at Baum-Walker Stadium at George Cole Field on May 22, 2021 in Fayetteville, Arkansas. The Razorbacks defeated the Gators to sweep the series 9-2. (Photo by Wesley Hitt/Getty Images) /
No. 19: Red Sox catching prospect Nathan Hickey
The Red Sox selected Nathan Hickey in the fifth-round of the MLB Draft this year and the catcher has already found himself decently-high on the Top-30 prospects list.
Due to him being drafted in 2021, there isn't much to go off when it comes to Hickey. The 21-year-old has only appeared in 11 games, picking up 28 at-bats and 40 plate appearances. Those 40 plate appearances were pretty impressive though.
The left-handed hitter may have only hit .214 with a .286 slugging percentage, but he managed a .400 on-base percentage thanks to an already impressive eye. Hickey hit just two doubles in that time, driving in two runs and scoring five more.
It was the nine walks that really impressed though. Now, at the same time he did have a bit of a strikeout problem. 10 strikeouts in just 28 at-bats and 40 plate appearances isn't a great look. It's a young player getting his first taste of professional ball though, so you need to cut him a little bit of slack.
I haven't gotten to see much of his defense, but it does not seem to be anything phenomenal. He's definitely much more of an offensive catcher. Hickey does appear to have a solid arm, which could make up for some of his deficiencies on the defensive end. He currently has some problems with framing and blocking the ball. Those can be improved with some work though, so it is certainly something to keep an eye on.
Hickey also is not much of a runner. But that's nothing wild to hear from a catcher. He isn't going to add anything to the game with his speed. For his position though, it's nothing terrible.
As I've alluded to, the main attraction here is his offense. Hickey definitely has potential to be a perennial .280-plus bat and could turn into someone that can manage 25-plus doubles and 20-plus home runs. That would likely equate to some really good run production as well.
There are a few catchers ahead of him in the Red Sox system though, so Hickey might need to improve his defense if he wants to make headway there. Don't be surprised if he is moved to a corner infield spot at some point unless he makes those necessary leaps.
Hit: 60
Power: 65
Run: 35
Arm: 60
Field: 45
Overall: 55