Boston Red Sox top-30 prospect rankings after the 2021 season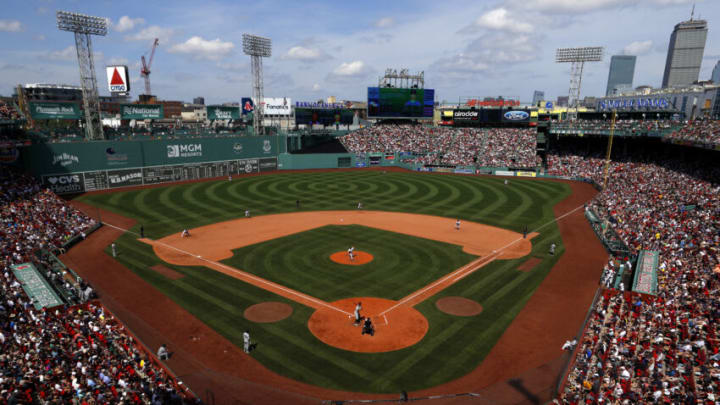 BOSTON, MASSACHUSETTS - JUNE 27: A general view of the game between the Boston Red Sox and the New York Yankees at Fenway Park on June 27, 2021 in Boston, Massachusetts. (Photo by Maddie Meyer/Getty Images) /
BOSTON, MA – APRIL 29: A Boston Red Sox hat is shown before a game against the Tampa Bay Rays on April 29, 2018 at Fenway Park in Boston, Massachusetts. (Photo by Billie Weiss/Boston Red Sox/Getty Images) /
No. 21: Red Sox corner infield prospect Nicholas Northcut
Nick Northcut was incredibly fun to watch this season. Playing in Low-A Salem, the 22-year-old tore the absolute cover off the ball all year long. He slashed .261/.352/.513 – that's phenomenal. Meanwhile, the right-handed hitter drove in 77 runs and scored 68 more. That's insane run production, as he didn't play a full year. And in just 345 at-bats he racked up 32 doubles, two triples, and 17 home runs. He's a masher.
Northcut is actually a pretty decently well-rounded player. The only category that he isn't particularly great in is speed. There's really not much to talk about there. He isn't insanely slow or anything but he isn't fast, and that will never be a part of his game.
Outside of that, it's all pretty good-to-great. The defense is fine. He plays both first base and third base. I feel like he looks better at first base. Although he came in as a third baseman it seems like Northcut is smoother and more natural at first. However, he has a very good arm that plays well at third and is kind of wasted at first. That's his best asset on defense so it's a weird situation.
Offensively, he's a juggernaut. Northcut went on a run for a while during 2021 that saw him really boost the average. It proved that he can hit for contact while still putting a lot of muscle into the swings and hitting the ball a mile.
Might not ever be a .300-hitter but could absolutely manage .270-range. 91 strikeouts wasn't great but it really wasn't terrible. He sometimes gets into funks where the K is far too common but that's something he can limit at times too. If Northcut improves there, it would be massive. Meanwhile, he has a decent eye and can get on-base even if he isn't hitting the ball well. That being said sometimes when he starts to slump, that's when the strike zone gets expanded (that's natural for most hitters though).
The power is already shining through. He can be a 30 double and 25-30 home run bat. There's a ton of pop in his bat and Fenway could be a great place for it to thrive.
Northcut is sort of in a weird position due to his position. He plays the corner infield slots, but isn't fantastic at either. However, he can manage both. That might help him as Boston has other options at both (looking at Devers and Casas mainly). It might get hard for the Red Sox to ignore the power if it keeps growing though.
Hit: 55
Power: 70
Run: 40
Arm: 55
Field: 45
Overall: 55