Boston Red Sox top-30 prospect rankings after the 2021 season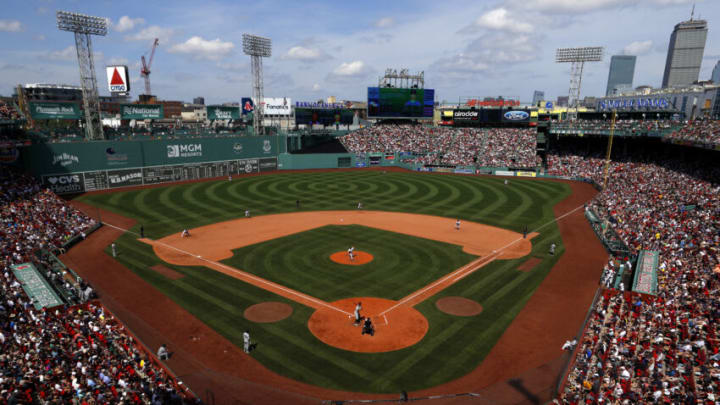 BOSTON, MASSACHUSETTS - JUNE 27: A general view of the game between the Boston Red Sox and the New York Yankees at Fenway Park on June 27, 2021 in Boston, Massachusetts. (Photo by Maddie Meyer/Getty Images) /
BOSTON, MASSACHUSETTS – APRIL 02: The Red Sox logo seen outside of Fenway Park on what would have been the home opening day for the Boston Red Sox against the Chicago White Sox April 2, 2020 in Boston, Massachusetts. In response to the pandemic, Major League Baseball suspended the remainder of Spring Training games and to delay the start of the 2020 regular season. (Photo by Maddie Meyer/Getty Images) /
No. 22: Red Sox third base prospect Antoni Flores
Antoni Flores was a shortstop his entire career heading into 2021. This season, the 20-year-old didn't even appear at the position once for the Red Sox. Instead, he was playing third base (with a tiny bit of second base sprinkled in).
Personally, I think his career would be best served if he stuck to shortstop. The defense is the moneymaker for Flores. It's elite Gold-Glove-every-year type potential. However, he is phenomenal in other areas of his game. The Red Sox have a few shortstop prospects they seem to value a little bit higher. Like Matthew Lugo, who was playing shortstop on the same team as Flores this year.
With the likes of Lugo and others (especially including Marcelo Mayer now), the Red Sox probably wanted to see how Flores could handle other positions. The good news is he's talented enough that the defense should translate to third and second base if they choose to go that route.
Personally though, why not let the one who plays the position the best stay there? Try the not-as-gifted-fielders elsewhere? I'm not in charge so I can't really say.
Anyways, let's get into the player. Flores is one of the best defenders in the Red Sox entire system, I love watching him in the field it's so fluid. He shows off solid range, makes all the routine plays, throws in flashy plays, and has a phenomenal arm. Legitimate Gold-Glove type player.
As for his offensive game, Flores is still growing there. The good news is, the right-handed hitter is only 20. So he has more than enough time to improve. In 45 games in Low-A this year, Flores slashed .232/.335/.331 with 12 doubles and one home run. He drove in a strong 22 runs and scored 23 more though, stealing two bases.
Flores absolutely has the profile of someone that could become a solid hitter. Nothing insane, but he could definitely hit .260-range and he does have some power potential. 30-plus doubles and 15-20 home runs could be in his future. That could lead to someone really good run production from someone that the Red Sox would probably have near the bottom of the order. It's especially phenomenally from a Gold Glover – just saying.
He has some speed too. 10-15 steals are possible. Meanwhile, he's going to stretch some hits for extra bases, beat out some grounds, and use his speed to help score runs. It will also show in his defense with solid range.
Overall, Flores probably won't excite everyone. They'll see someone who is very raw and needs to improve at the plate. But you need to look past that. You need to see a 20-year-old who is already a fantastic defender and has shown he can make things happen with his bat.
Fun fact, Antoni Flores is also one of the biggest MVPs in my all-Red-Sox-prospect team in MLB The Show. We're surprisingly really good right now, slumping, but still in first. And yes, I have an all-Red-Sox-prospect team. Don't act like that surprises you.
Hit: 45
Power: 50
Run: 50
Arm: 70
Field: 70
Overall: 55