Boston Red Sox top-30 prospect rankings after the 2021 season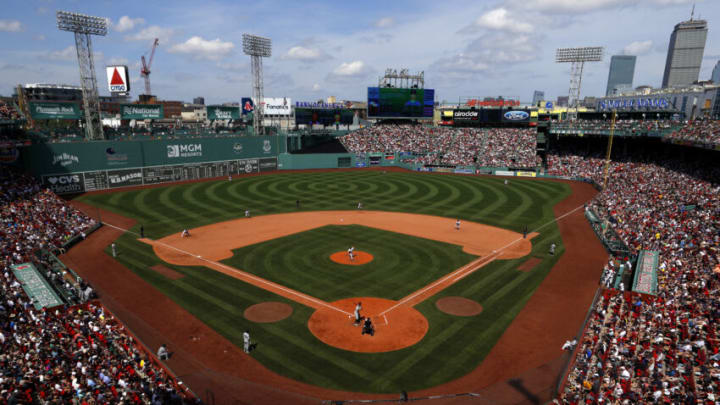 BOSTON, MASSACHUSETTS - JUNE 27: A general view of the game between the Boston Red Sox and the New York Yankees at Fenway Park on June 27, 2021 in Boston, Massachusetts. (Photo by Maddie Meyer/Getty Images) /
BOSTON, MA – JULY 28: Jarren Duran #40 of the Boston Red Sox follows watches a hit against the Toronto Blue Jays during the second inning of game two of a doubleheader at Fenway Park on July 28, 2021 in Boston, Massachusetts. (Photo By Winslow Townson/Getty Images) /
Ranking the top prospects in the Red Sox farm system
The Boston Red Sox minor league system is as good as we've seen it in a long, long time. They are absolutely stacked. Not only do they have some bonafide studs at the top, but they have tons of depth.
This is the hardest ranking I've ever had to do. It took me far too long to finally come to a conclusion, and I still feel like I left off names that deserve some recognition. That being said, the list is 30. So obviously some players are going to get snubbed.
Let's also keep in mind that this isn't meant as a slight towards any of the players that didn't make the cut. I'm incredibly high on a number of minor leaguers in the Red Sox system that didn't make my top-30 list.
This is simply the 30 best prospects in my opinion, far from the only 30 that I think are good.
A lot of prospects won't be mentioned, that deserve love. Joe Davis mashed, Stephen Scott broke out, Tyreque Reed showed off the muscles, and Devlin Granberg was phenomenal. Jeremy Wu-Yelland looked great, and Bradley Blalock has tons of potential. Christian Koss can do it all, Jaxx Groshans and Elih Marrero are exciting catching prospects. Victor Santos looks great, and Ryan Fitzgerald added power to an already phenomenal well-rounded game. Meanwhile, Niko Kavadas added a lot of power in the draft. I could keep going but you get the point.
Now with that out of the way, let's discuss the rules and reasoning behind the rankings. As for the rules, I still just have the one – you can't play in the Majors. The second someone plays a game in the Majors, I disqualify them from this list. I know they might still be prospects, but this just makes it easier. It frees up space.
A few things go into the rankings. There is production, eye-test, tools, potential, and even age can factor into it. The positions they are given are based on where they played in 2021. If someone played somewhere overwhelmingly in 2021, that's the position they were given.
Oh, and fair warning. I'm extremely positive. I'll gladly point out negative aspects of a game. But expect my ratings of the players tools to be much higher than you'd normally see.
Speaking of those ratings, we're going to be using the same system as the MLB. So tools are graded from 20-80. However, when we get to overall sometimes it might not match with their tools. That's because I'm also taking into account potential and some things will matter more (especially for pitchers, I'm not going to look at a great fastball that is thrown 55% of the time and count it the same as a secondary pitch that the pitcher barely even shows).
So with all the housekeeping out of the way, who sits atop the Red Sox prospects following the 2021 MLB season? Let's dive into the Top-30.