Boston Red Sox Prospects: Grading out catching prospect Elih Marrero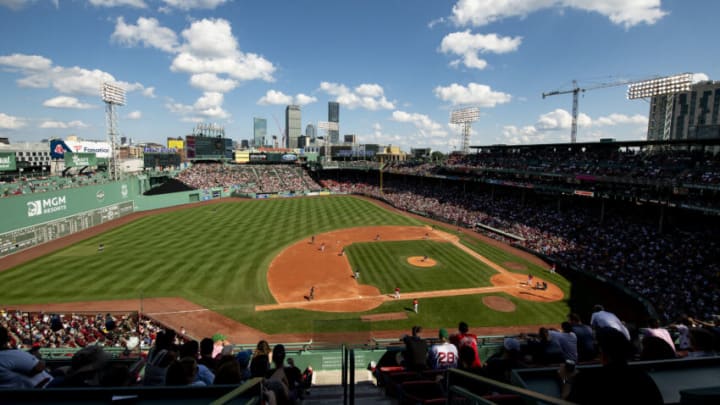 BOSTON, MA - SEPTEMBER 6: A general view during a game between the Boston Red Sox and the Tampa Bay Rays on September 6, 2021 at Fenway Park in Boston, Massachusetts. (Photo by Billie Weiss/Boston Red Sox/Getty Images) /
Grading the aspects of Red Sox catching prospect Elih Marrero's game
The Boston Red Sox have a lot of exciting prospects. Due to that, quite a few of them tend to get overlooked. One of those prospects is Elih Marrero. You might recognize the name thanks to his father, Eli Marrero, who spent 10 years in the Majors (seven with the St. Louis Cardinals) in the late 1990s to the early 2000s. He even had a very brief spell in the AL East with the Baltimore Orioles.
Elih Marrero is a catcher who had a phenomenal year in 2021. However, he doesn't put up some of the flashiest numbers. At a position with a lot of depth, this led to him not really getting talked about – ever. Well, we're here to change that.
Let's go through Marrero's game. And in doing so, we will grade the Red Sox catcher in the classic aspects of his game.
We're going to be doing so with the same grading scale as the MLB. That means we are going to grade out Marrero's tools. Those being hitting, running, fielding, power, arm, and overall. Just like MLB, we are going to give them grades from 20-80, with 20 being the worst it could possibly be and 80 being the best.
For this exercise, we are looking at Marrero's current skill set, but also looking at his potential. As sometimes things like "raw power" mean that a player has plenty of power potential, but isn't hitting home runs at the moment. So while some numbers might not translate, you need to find a healthy medium ground between current talent and potential. I think we can get that done.
First thing you have to do is look at the numbers. In 2021, Marrero spent his entire year in High-A with the Greenville Drive. There the switch-hitter slashed .287/.376/.397 with 23 RBI and 32 runs scored. Now the first thing that might pop out to you is that he got on-base at a very healthy clip. Marrero was pretty consistent all year and only struck out 38 times (compared to 25 walks) in 174 at-bats. He puts the ball in play, and tends to find a hole. Hit: 60
That's not completely true though. Marrero only appeared in 57 games, piling up 174 at-bats. In those 174 at-bats he had just one home run and one triple, but managed a strong 14 doubles. Given a full season, that's well over 30 doubles – not bad. Meanwhile, you could expect the home run numbers to boost up a little bit at the very least. Nothing ridiculous, but 30-plus doubles and 10-plus homers is still fantastic production, especially if Marrero continues to get on-base at a strong clip. Power: 40
Something that makes Marrero so an intriguing prospect for the Red Sox is that he brings something different to the table at catcher. In just 57 games in 2021, the 24-year-old went 14-for-17 in stolen base attempts. He has really solid speed. This isn't just good base running (although he is good) or one of those "oh well it's High-A so it's easier to get steals" type of deals either. This is someone that we saw lay down bunts to get hits – he has wheels. Elite speed? No. But great speed for a catcher? Absolutely. Speed: 50
Marrero looks comfortable behind the plate and it appears he's a pretty solid game-caller. He also made some nice plays to get in front of would-be-passed-balls. The catcher tends to make the right play and has phenomenal athleticism for the position, which is only going to make him a better defender. Fielding: 55
The arm strength is hard to determine if I'm being honest. It looks like he has some good pop in his throws, but caught just 21.5% of would-be base stealers (14-of-65). That being said, there are a lot of factors. First of all, it depends a lot on the pitchers as well. Meanwhile, it's tougher to judge defense in the minors because everyone is still developing. That means you don't get bailed out nearly as much – and sometimes a good play by you is squandered by a teammate. This could lead to good throws being met by bad tags, or pitchers being too slow to the plate, or any number of contributing factors for that low percentage. Still, based on the eye-test it looks like Marrero has a good strong arm. Arm: 60
Marrero is an exciting prospect for the Boston Red Sox. They have a lot of catchers clogging up their system and quite a few of them are very highly-regarded and have extremely bright futures. Marrero brings something a little different to the table though. That might help him stand out amongst the crowd. Time will tell, but the potential for a solid MLB backstop is obvious. Overall: 55