Red Sox pitching prospect Jay Groome rediscovering elite potential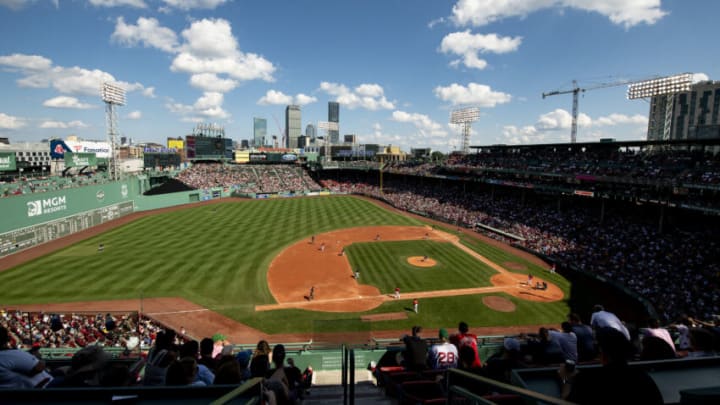 BOSTON, MA - SEPTEMBER 6: A general view during a game between the Boston Red Sox and the Tampa Bay Rays on September 6, 2021 at Fenway Park in Boston, Massachusetts. (Photo by Billie Weiss/Boston Red Sox/Getty Images) /
Red Sox pitching prospect Jay Groome is getting back on track
It's been a long journey for Jay Groome but the promising pitching prospect is finally starting to work his way back up through the Boston Red Sox minor league system.
The Red Sox selected Groome out of high school with the No. 12 overall pick in the first round of the 2016 amateur draft. The lefty proved worthy of his draft pedigree with strong performances during short stints in the rookie league and low-A ball, showcasing an electric mid-90s fastball and plus-curveball.
A slight road bump in 2017 when Groome struggled with the challenge of moving up a level to Greenville was followed by his career completely running off the tracks when he underwent the dreaded Tommy John surgery, wiping out his entire 2018 campaign and most of the following season. It certainly didn't help that the 2020 minor league seasons were cancelled by the pandemic, preventing Groome from facing live game competition and further hindering his development.
Prior to the surgery, Groome was rated by MLB Pipeline as the top prospect in the Red Sox farm system and No. 43 overall. He has since fallen to No. 8 on the list of Red Sox prospects and nowhere near the top-100 overall.
Groome got off to a rocky start this year in Greenville, getting knocked around for 12 runs over 7 1/3 innings through three starts. That's to be expected from a pitcher who had barely seen the mound for an actual game in over three years.
The lefty slowly started showing signs of progress while building up his workload in High-A, earning a promotion to Double-A Portland this month. Since joining the Sea Dogs, Groome has flashed the dominant form that once made him a coveted prospect and a former first-round pick.
Groome took a no-hitter into the sixth inning on Sunday in a win against Binghamton. He finished his outing with six shutout innings, allowing only two hits and a walk while striking out nine.
In two starts at the Double-A Level, Groome has thrown 11 shutout innings while allowing only four hits, one walk and racking up 19 strikeouts.
Despite his early struggles inflating his ERA as he worked himself back into form, Groome still showed the ability to strike out hitters at an elite rate. Groome has 127 strikeouts in 92 2/3 innings between Greenville and Portland. He owns a 12.3 K/9 and he has struck out 32.6% of the 390 batters he has faced this season.
According to his profile on MLB.com, Groome has regained his mid-90s fastball velocity. The curveball that was once considered the best in his draft class has regressed but remains a solid pitch. He has developed a mid-80s slider that some scouts believe is now his best secondary pitch, especially against lefties. His sinking changeup is improving and should develop into an average option. None of the pitches in his arsenal are currently at the elite level that his curve once was but having four reliable options will improve Groome's chances of sticking in the rotation long term.
Groome was added to the Red Sox 40-man roster last November but the move was made to protect him from the Rule 5 draft. With only a couple of outings above A-ball under his belt, Groome won't be close to major league ready this year. If he finishes the season strong in Portland and carries over the success with his newfound approach into next year, we could see him in Boston at some point in 2022.
Even if that timeline proves too optimistic, his encouraging results in Double-A indicate his career is back on track and he projects to be a high-upside option for the future Red Sox rotation.