Red Sox fans can enjoy a brief moment of schadenfreude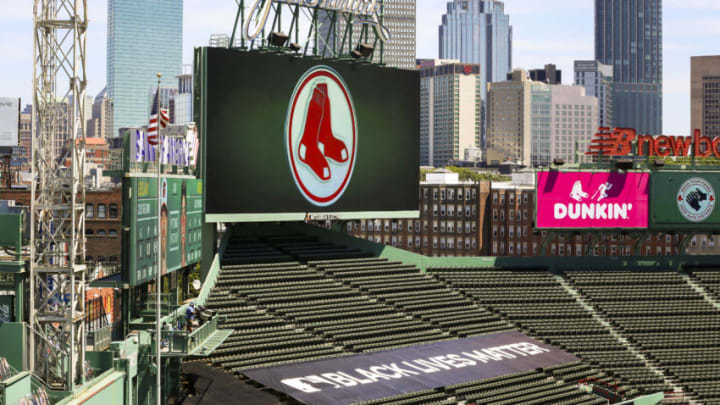 BOSTON, MA - JULY 26: A general view before the game between the Boston Red Sox and then Baltimore Orioles at Fenway Park on July 26, 2020 in Boston, Massachusetts. (Photo by Adam Glanzman/Getty Images) /
Red Sox fans can savor recent team success and failure of opponents
Boston Red Sox fans can enjoy a hopefully not brief moment of schadenfreude or epicaricacy in the early 2021 season. Both are terms that stated as taking joy in the suffering and pain of others. In this instance, that means the New York Yankees and Toronto Blue Jays. Neither has started the season as the possible top dogs predicted.
The little engine that could – the Tampa Bay Rays – have taken their usual delight in torturing the Yankees. Tampa Bay's parsimonious payroll comparison to the Bombers makes the comeuppance even more delightful for that endangered species known as a Rays fan. The Rays will be in the hunt.
The Red Sox circa 2020 became a pinata for Tampa. Then again, just about every team enjoyed a robust batting outburst against Boston's 4A pitching staff. So far this season, Boston put the hammer on Tampa in the early going.
More from Red Sox News
The Yankees have early issues and it centers on pitching. Strange as it may be, as New York's pitching staff ranks number one in the American League with a 1.8 fWAR. The early numbers are certainly misleading as dramatic change can happen with one good Corey Kluber start. But that should not limit Red Sox Nation from reading the grousing on Yankee posting boards – a wealth of epicaricacy. I believe that will now limit my use of that term until the next ice age.
New York apparently has mastered being illusionists. Every season since they last won a title – I believe it was in the first year of the Obama presidency – they have fallen by the wayside. A regular entry into the wish list of every Red Sox fan – New York failure. Please keep that train rolling down the tracks.
Toronto loaded up for 2021 since they already had a substantial base of young talent with moderate accomplishments. A closer was brought in – Kirby Yates – who promptly went down for the season. They paid George Springer the GNP of Uganda and Springer is limping around on bad wheels.
Boston is joined in the early-going surprise department by the Baltimore Orioles. The O's are considered a consensus for basement dwellers in the American League East and clobbered the Red Sox three straight to open the season. That has changed with a Boston visit to Charm City. Just maybe Chris Davis will hit 40 out for the O's? Sure.
The difficulty with schadenfreude is another expression: "What goes around comes around." Gleefully, I will enjoy the moment however short it may be. The ardent hope as I grasp my Red Sox prayer beads is that schadenfreude continues for the entire season.