Red Sox News: Jackie Bradley Jr. finds a new home away from Boston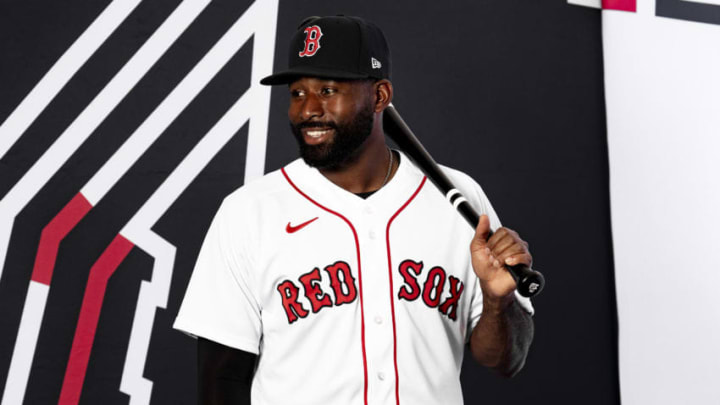 FT. MYERS, FL - FEBRUARY 19: Jackie Bradley Jr. #19 of the Boston Red Sox poses for a portrait during team photo day on February 19, 2020 at jetBlue Park at Fenway South in Fort Myers, Florida. (Photo by Billie Weiss/Boston Red Sox/Getty Images) /
Jackie Bradley Jr. won't be back with the Boston Red Sox this season.
After months of speculation, we can finally put to rest the debate over whether or not the Boston Red Sox will bring back Jackie Bradley Jr. That ship has sailed with the center fielder landing in a new destination. According to The Boston Globe's Julian McWilliams, Bradley Jr. is signing a 2-year, $24 million deal with the Milwaukee Brewers.
Bradley Jr. held out well into spring training for the type of offer that never came. There were reports that he was seeking a significant deal of at least four years but the harsh reality of this frigid free-agent market revealed that teams were only willing to pay up for the top tier in this class. Bradley Jr. has one All-Star appearance on his resume and he's a Gold Glove award winner but he's not among the elite. He found himself in the middle class of free agency and that tier mostly settled for less than they expected.
His deal with the Brewers includes a player option for the second year, allowing Bradley Jr. to test the market again next winter if conditions improve.
The Red Sox front office repeatedly stated that they were monitoring the market for Bradley Jr. and they were open to his return if the price was right. It's understandable why Boston wouldn't want to lock themselves into a long-term deal for a center fielder turning 31 years old next month. They wisely waited for the price to drop but when it did, they still didn't jump at the opportunity.
One factor in the decision to pass on re-signing Bradley Jr. is the emergence of center field prospect Jarren Duran. The 24-year-old opened some eyes with a fantastic winter ball performance in the Puerto Rican League and he's off to a strong start this spring, batting .429 with a double and a home run through four games.
Regardless of how impressive Duran looks this spring, the Red Sox are mindful that he's never played above Double-A and was limited to working out at the team's alternate site last year when the minor league season was cancelled. Boston doesn't want to rush the talented outfielder by having him skip a level so we should expect him to begin the season in the minors.
Bradley Jr. would have been an ideal placeholder until Duran is ready. It could have worked out perfectly if JBJ had come back for one year to be the primary center field. Duran could get his feet wet with a late-season audition while retaining the security of having Bradley Jr. around.
The option year was potentially a sticking point. Bradley Jr. naturally wants the opportunity to test free agency again next year to try to find the lucrative deal he expected to get this winter but if market conditions don't improve, he can lock in an extra year by picking up his player option. Boston presumably would have preferred it to be a team option so that he wouldn't be a roadblock to Duran's ascension but they would have the flexibility to keep Bradley Jr. if the outfield prospect's progress stalled.
The $12 million average annual value is a bit higher than Bradley Jr. was projected for, which is to be expected when a player settles for a shorter deal that mitigates risk. It's a very reasonable price for a player of his caliber but the salary would have pushed Boston's budget a bit further than they would be comfortable with.
The Red Sox payroll currently sits at slightly over $207.5 million, per FanGraphs. That's merely an estimate since it includes several pre-arbitration players whose salaries have yet to be determined. They have some wiggle room under the $210 million competitive balance tax threshold but not nearly enough to squeeze in Bradley Jr.'s salary.
More from Red Sox News
Boston could always find ways to cut salary later since the tax only factors in where the payroll stands at the end of the season, not on Opening Day. Perhaps if Bradley Jr. were slightly cheaper they could have made it work but going nearly $10 million over the tax line makes getting back under during the season a tough task.
The Red Sox have several lingering questions about their roster and they are counting on several players to bounce back from down seasons, not to mention their top two pitchers who missed the entire 2020 season. They can't feel that they are comfortably in the mix of contenders until they have a better idea of what they will get from those key players.
Consider that the reigning champion Los Angeles Dodgers are the only team currently projected to pay the tax this season. There's no way to justify the Red Sox joining them in tax territory unless they know they are a legitimate contender.
Bradley Jr. is a solid player who provides excellent defense at a premium position and goes on the occasional hot streak at the plate. He's a valuable asset who will certainly be missed in Boston but he's not the type of player who would have put this team over the top. The Red Sox weren't diving into tax territory to retain Bradley Jr.
With Bradley Jr. signing elsewhere, we can officially close the book on the Killer B's that formed a dynamic outfield trio during the 2018 championship season. While it once seemed as though that alignment would patrol the outfield at Fenway for years to come, it's time to move on to a revamped Red Sox outfield.