Red Sox Memories: Looking back on the watershed 1932 Boston Red Sox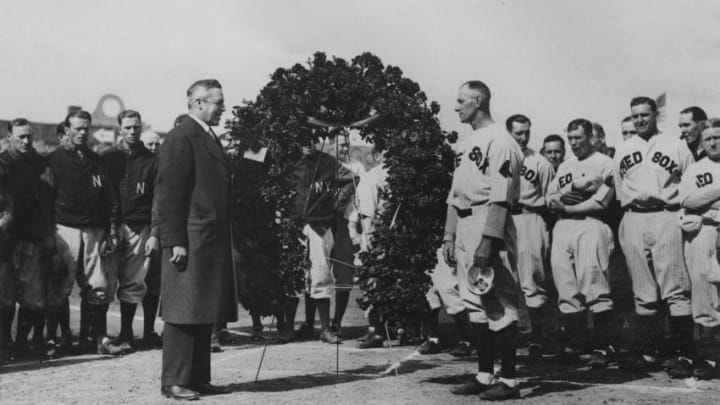 BOSTON, MA - CIRCA 1931: It's Shano Collins Day for the Red Sox, as shown in this photo from 1931 taken in Fenway Park in Boston, Massachusetts. (Photo Reproduction by Transcendental Graphics/Getty Images) /
A look at the 1932 Boston Red Sox team that lost 111 games
In history, there is a term called a "Watershed Moment" or a significant change. In baseball, we have watershed moments and the Boston Red Sox have their share. Most notorious is the stripping of the franchise with an exodus of a talented core of players to the New York Yankees. A fellow named Babe Ruth is considered the prime example.
From my view, the most significant of moments took palace on February 25th, 1933. Tom Yawkey took $1.25 million of his recently arrived inheritance and purchased the Red Sox. A team that was mired in the mudflats of the American League for over a decade. Yawkey infused that one ingredient into the franchise's most desperate need – money. But what was that last season like? Just what type of team did the 1932 Red Sox have?
In 1932, the Red Sox managed a dismal 41-111 record and finished dead last a mere 64 games behind the Yankees. A customary position. The park was a wreck, having suffered a fire in 1926, leaving a significant portion in desperate need of reconstruction. With an attendance of 182,150, there was no hurry. And this was the Great Depression gathering steam so going to a baseball game was not much of a priority.
More from Red Sox History
The Red Sox did lead the AL in two categories: Runs allowed (915) and fewest runs scored (566). As a comparison, the Yankees scored 1,002 runs. As a sidebar, the league's most valuable player was Jimmie Foxx. Foxx would soon be plying his trade at a refurbished Fenway Park thanks to Yawkey's checkbook. So just what was the dumpster roster like? This may lend some cheer as we reflect back on harsher times. A few select choices on a smorgasbord of talent.
The most notable player on the Red Sox was a gifted right-hand hitter they received from Detroit in an early-season trade. How gifted? Dale Alexander won the batting title with a .367 average and eventually retired with a .331 career average. Then comes the Paul Harvey rest of the story.
The Red Sox have seen players suffer who could have had exceptional careers – Tony Conigliaro, Harry Agganis, and Alexander. Alexander suffered a horrific burn on his legs, which caused other complications and ended his MLB career over his lack of mobility. That 1933 season was it at the MLB level, but Alexander continued to play in the minors for another decade hitting wherever he went.
Righty Bob Kline was unique since he won 11 games to lead the staff. Kline pitched in every role possible from starter to closer. A fastball-sinker hurler whose career lasted just five seasons. Maybe a 5.05 ERA is an indicator?
The Red Sox also had a 32-year-old rookie at third base. Urbane Pickering hit .252 and accomplished 21 errors in his 103 games. Pickering was done after 1933. Next to Pickering was Rabbit Warstler at short and his height was short. Warstler also notched 41 errors and hit .211. The Rabbit eventually played for the Boston Braves as part of a forgettable 11-year career.
Brian Daubach was known as the "Belleville Masher" in his Boston days, but the Red Sox had Otis Miller who was the Belleville Non-Masher. Miller in 761 at-bats with the Red Sox managed zero home runs. Miller played only two games in 1932 before heading to the minors and eventually into politics.
If you think the Red Sox have second base issues now just step back to 1932 and Marv Olson. Olson made 28 boots and/or poor throws in '32. But he did hit .248 in 115 games and was good for 25 RBI. Olson was balanced by Tom Oliver in the outfield. Oliver, a right-hand hitter, played all four of his MLB seasons for Boston. In 1,931 at-bats Oliver didn't hit a home run.
Righty Wilcy Moore was a rookie sensation for the 1927 Yankees going 19-7 and leading the AL in saves (13) and ERA (2.28). Moore landed in Boston in 1931 and led the AL in saves (8) and in 1932 his prayers were answered and he went back to the Yankees and a World Series.
Pitcher Jack Russell lasted 15 seasons in the majors and unfortunately, eight were with the Red Sox. The durable righty led the AL in losses in 1930 (20). Russell got his break and was sent to Cleveland during the season and moved up to 4th place in the standings. Russell pitched to a 44-47 record outside of the Red Sox and 41-94 with them.
Danny MacFayden did win 60 games for Boston only it was the Braves and not the Red Sox. MacFayden is representative of another pitcher with talent who languished with lousy teams. He was a local product who tossed a nasty sidewinder curveball. In 1932, MacFayden was also rescued by going to the Yankees, primarily for money. The "Deacon" lasted 17 seasons in the majors winning 132 games.
The name caught my attention years ago – George Stumpf. He was a lefty-hitting outfielder who hit just .201 for the 1932 team. Hal Rhyne was a utility player for the Red Sox and when you see 36 errors at short in 106 games in 1929 you can see why. Rhyne hit just .227 in 1932 with – no surprise – zero home runs.
Going 6-16 may not impress but, hey, this was the 1932 Red Sox. Right-hander Bob Weiland went from an eighth-place 1931 White Sox team to the eighth place Red Sox. Late in his career, Weilan got a break and become part of the Cardinals rotation for three years winning 41 games.
The Red Sox had two managers in that pathetic season.  Shano Collins was born in Charleston, Massachusetts, and played 16 seasons in the majors. Collins also escaped conviction in the Black Sox scandal. Marty McManus took over for Collins when he got canned. McManus became a player-manager hitting .235.  McManus returned in the dual role in 1933 hitting .284 before being released when the season was over.
Pitcher Gordon Rhodes's life changed in 1932 when the Yankees packaged the righty to Boston. Rhodes went 1-8 but remained in Boston as the Red Sox were slowly turning it around. Rhodes reward? He went to Philadelphia along with $150,000 as part of the Foxx deal. In 1936, the Phillies finished last and Rhodes's 20 losses topped the AL.
Local boy makes good is Dorchester's, Ed Gallagher. The lefty pitched in nine games in 1932 going 0-3. That was his MLB career, but his post-career is rather notable. Gallagher was involved in local politics and became president of Wonderland Dog Track. Since I am a Boston College alumni, Gallagher – a fellow B.C. graduate – was quite active in the alumni association.
Getting back to baseball tragedy is right-hander Gordon McNaughton whose entire MLB career was 1932. Just 21 innings and a 0-1 record. McNaughton was shot to death in 1942 by an ex-girlfriend. McNaughton was just 32-years-old.
Sources: SABR, SABR Biographical Project, BR, Russo, Frank (2006). Bury My Heart at Cooperstown: Salacious, Sad, and Surreal Deaths in the History of Baseball