It's okay that Red Sox aren't going "all-in" for 2021 season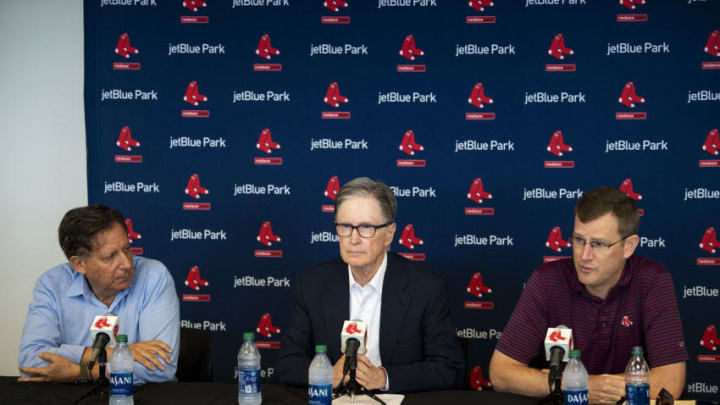 FT. MYERS, FL - FEBRUARY 17: Chairman Tom Werner, Principal Owner John Henry, and President & CEO Sam Kennedy of the Boston Red Sox speak to the media during a press conference during a team workout on February 17, 2020 at jetBlue Park at Fenway South in Fort Myers, Florida. (Photo by Billie Weiss/Boston Red Sox/Getty Images) /
The Red Sox are taking the patient approach to team building
A frustrated fan base is eager to turn the page on a miserable 2020 season, looking for any glimmer of hope that the Boston Red Sox will make the necessary moves to launch themselves back into contention. I hate to break it to you, but 2021 isn't going to be our year either.
The term "rebuilding" is one of the dirtiest words in Boston sports but the reality is that it's a necessary process for this franchise to recover from their current state. Through a combination of pushing their chips in to win a title in 2018 and the series of regrettable decisions they surrounded that strategy with, the Red Sox have dug themselves a hole that landed them in the basement of the AL East.
There's no magic wand that can immediately solve all of Boston's problems. It's going to take patience and savvy decisions to build this organization back up. It seems ownership is finally willing to be honest about this based on what team president Sam Kennedy told Dan Shaughnessy of The Boston Globe.
""I think it would be inaccurate to say we are going for it with an all-in approach that perhaps we did prior to the 2018 title," said Kennedy."We cherish that title, and all of them, but the way we built that team came at a price, which included importantly a depleted farm system and some depleted draft picks along the way. So we are building back up, and as we do this hopefully the right way, we'll have a chance to be competitive in the American League East in 2021, but also for the longer term.""
A year ago, the Red Sox were in luxury tax hell with a payroll burdened by bloated contracts and a weak farm system that offered no solutions. The Mookie Betts trade was a soul-crushing move but it was the first step toward hitting the reset button. It was far from the last step though. The financial flexibility created by that trade doesn't enable Boston to go on a spending spree, as that risks sending them back into the pit they are trying to climb out of.
The core of this roster is shrouded in uncertainty. Chris Sale's timeline remains unclear as he recovers from Tommy John surgery. Eduardo Rodriguez might take time to return to form after missing an entire season with a serious heart condition. J.D. Martinez went from being one of the league's most feared sluggers to arguably the worst position player in baseball last season. Andrew Benintendi is desperately trying to reclaim any semblance of value. Even Rafael Devers needs to get back on track after regressing at the plate and in the field last year.
The Red Sox are going to be a significantly improved team in 2021 if most of those players bounce back to the level they are capable of. They would still be far from World Series favorites but at least Boston would be back in the playoff hunt.
If most of those players fail to return to form, it won't matter what the Red Sox do in free agency. They could have overpaid George Springer, gambled on the unpredictable nature of Trevor Bauer and stocked their bullpen. They still aren't winning anything this year if they don't get significantly more out of those core players.
Splurging on high-priced free-agents would be nothing more than fan service to show that they are willing to spend money again. Spending into the luxury tax and losing draft picks to lure the top free-agents only to fall short of the postseason again is a nightmare scenario that would set the franchise back for years.
Boston doesn't want to be a team that tries to throw money at all their problems. They would much prefer to be a team like the Los Angeles Dodgers or San Diego Padres, powerhouse clubs with stars that help them compete now while having the support of a loaded farm system to replenish the roster with cheap talent or produce trade chips to cash in when the right opportunity comes along. Those teams can trade for a Mookie Betts or a Blake Snell without surrendering their best prospects.
The goal isn't to win the offseason. The goal is to build a team capable of sustainable success. Chief baseball officer Chaim Bloom has a plan for that but it's going to take time to unfold. This team will be better than the one Boston rolled out last season but there are too many lingering questions about this roster to take an all-in approach.