Red Sox News: There's still hope for a Jackie Bradley Jr. return to Boston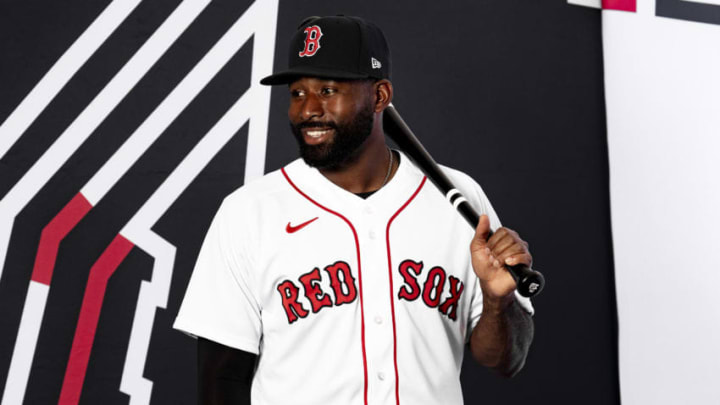 FT. MYERS, FL - FEBRUARY 19: Jackie Bradley Jr. #19 of the Boston Red Sox poses for a portrait during team photo day on February 19, 2020 at jetBlue Park at Fenway South in Fort Myers, Florida. (Photo by Billie Weiss/Boston Red Sox/Getty Images) /
The Red Sox are in contact with Jackie Bradley Jr.
On Wednesday afternoon Red Sox Nation got a glimpse into the mind of Chaim Bloom even if it was minimal and just for a few moments. Boston's CBO was a guest on WEEI's "Dale and Keefe," where he spoke about several topics including the status of Jackie Bradley Jr. and the team's plans for the outfielder.
The defensive dynamo hit free agency this winter and it felt like it couldn't come at a better time for JBJ. The team had once again tried to move him to a new home by the trade deadline but failed to achieve their goal. Boston has tried to trade Jackie so many times that I've lost count and the outfielder has even joked about it. With free agency finally coming his way, I was ready to say good-bye to JBJ and wish him well with a new team.
""We're still in contact with him and have been consistently throughout the offseason," Bloom told hosts Jon Meterparel and Rob Bradford. "In The Globe recently, he actually talked about it. That timetable is going to be a little longer. I would expect we're going to stay engaged with him and hope it lines up and makes sense for him. We hope it fits our puzzle."
Due to the financial impacts of the coronavirus on the league, this past season the market has been ice cold for much of the window. Usually, by now we've seen a few of the dominoes fall but with teams unwilling to spend, especially on big-name players, things have been moving at a snail's pace.
In a few weeks, we'll begin to teams and players get more desperate and signings will come quick and for far less than we expected. This is may be the route for Bloom and the Red Sox to bring Jackie back into the fold. Not that Bradley makes a massive salary compared to George Springer or Trevor Bauer, but saving a few million off the budget is what Bloom is here to do.
Recently, Boston signed Hutner Renfroe to join their outfield ranks alongside Andrew Benintendi and Alex Verdugo. J.D. Martinez will occasionally play the outfield, but his defensive abilities should limit that need as much as possible. Having Jackie back on the roster would allow Alex Cora to essentially never need J.D. in the field and could allow Renfroe to roam as a fourth outfielder.
The interview that Chaim is referring to came a day earlier where Jackie spoke to Julian McWilliams of The Boston Globe. Bradley is staying relaxed and calm in regards to his free agency as he isn't alone in this weird limbo this winter. Going into this offseason everyone knew that things were going to be different thanks to COVID, and the outfielder isn't stressing it too much.
""Writers, players, whoever it may be — owners — kind of knew it was going to be a slow offseason," Bradley told McWilliams. "I feel like everybody is kind of trying to get more information about what's going to go on with the pandemic. Making sure that everybody's protected in a certain way. So we … forecast the flow, but it'll pick up when it does.""
More from Red Sox News
Chaim sharing that he's been in contact with Jackie confirms what was reported a short while ago that the team had shown some interest in bringing him back to the organization. I personally would love to see Jackie back at Fenway Park running down flyballs and robbing home runs on a nightly basis. I've been a big JBJ guy for a long time, even though my frustration with his play at times is hard to hide. This team is far better off with him in the lineup than they are with him in the visitor's dugout.
JBJ had one of his best seasons in 2020 while many in the league struggled with the short format. He posted a .283/.364/.450/.814 line with 7 homers and 22 RBI. He was white-hot in both spring training and summer camp and carried that over to the regular season. Now, this could be an anomaly as he didn't have long enough of a year to find his annual cold spell, but I'll take it either way.
I'm hoping as we make our way through January that we start to see the Red Sox making moves to build a team that won't disappoint in 2021. I truly feel that bringing Jackie Bradley Jr. back to the organization is a good step in that direction. Even if Boston offers him a salary increase, what he does in centerfield more than earns him that pay raise. Until teams start to put pen to paper, just like the players, we're all just sitting and waiting.