Red Sox prospect Jarren Duran's winter league stint is off to an unusual start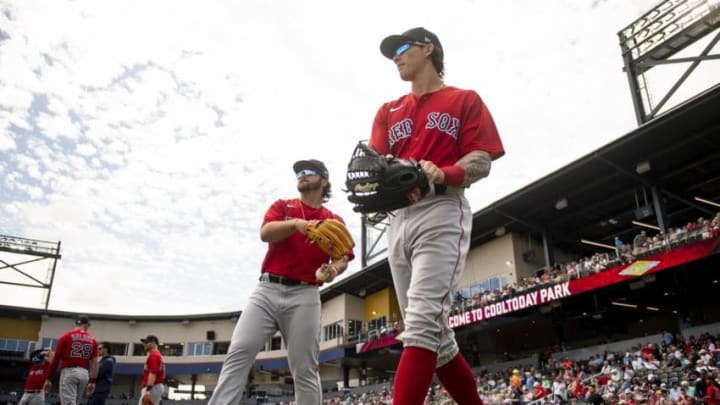 NORTH PORT, FL - MARCH 6: Nick Longhi #83 and Jarren Duran #92 of the Boston Red Sox warm up before a Grapefruit League game against the Atlanta Braves on March 6, 2020 at CoolToday Park in North Port, Florida. (Photo by Billie Weiss/Boston Red Sox/Getty Images) /
Red Sox prospect Jarren Duran's unusual start to winter league
We have yet to see standout prospect Jarren Duran's offensive prowess truly take shape since his stint in the Puerto Rico Winter League began. The outfielder, ranked No. 8 overall in the Boston Red Sox farm system, is currently off to a lackluster 2-for-23 start since his debut on December 8. That might sound rather underwhelming because it is. While there is time for Boston's top-ten prospect to turn things around, there is an underlying issue that has raised some eyebrows.
In his first eight games with the Criollos de Caguas in the Puerto Rico Winter League, Duran has been on a see-saw with his plate discipline. He has walked seven times while striking out six times.
PawSox manager Billy McMillon briefed the media via Zoom in early October regarding players that caught his attention at Boston's alternate camp in Pawtucket. McMillon positively mentioned that Duran "Had an unbelievable offensive camp. Stole a lot of bases, hit a lot of home runs. Impacted the baseball hard day in and day out." McMillon did not deem his strikeout or walks to be worth noting.
McMillon's aforementioned statement regarding Duran's ability to steal bases has still deemed valid, as he has managed to steal three bags when reaching base. Even while being in the midst of a slump to start out his offseason conditioning, the 24-year-old has managed to remain a threat on the base-path scoring five runs.
Given the small sample size, Duran's lack of hits thus far should not give fans a reason to worry as he is still adjusting to a new league in Puerto Rico. To this point, the phenomenal power surge he showed during intrasquad games has yet to translate to winter ball, but he still has plenty of plate appearances to turn things around. Having seen the same pitching can often give hitters an advantage, which is not to say Duran's impressive offensive performance was due to the familiarity of the hurlers at Boston's alternate site.
The 24-year-old's walks appear to be trending upwards since debuting with Greenville in 2018. While splitting time between Greenville and Lowell that year, he walked 16 times over a span of 67 games. He also struck out 48 times. 2019 came around and the outfielder walked 46 times, striking out 128 times over 132 games between Salem and Portland. While 2018 provided a smaller sample size, he was on pace to walk around 32 times in as many games as he played in his 2019 campaign. He was on a track that would have seen him strike out around 96 times in 2018 but ultimately regressed in a larger sample size in 2019, striking out 128 times.
The strikeouts are outweighing the walks produced over the course of his two years in minor league ball, with larger sample sizes indicating his back-and-forth struggle between walking and fanning during plate appearances. The strange start Duran has gotten off to in Puerto Rico is peculiar considering he is seemingly seeing the ball better while striking out at nearly the same rate. Given the difficulty in finding much more than basic statistics in the winter leagues, it is more difficult in telling whether Duran has been working the count in plate appearances that led to strikeouts.
One would hope that Duran makes the necessary adjustments to produce at the plate-like he had all summer in Pawtucket. Eight games are not nearly enough of a sample size to make any assumptions about the trend of the prospect's offensive profile. Regardless of what is causing the young outfielder's strange start to the offseason, it is at least something to pay attention to in an otherwise rather slow-developing Boston market.