Boston Red Sox Prospects: How 2020 impacted Jarren Duran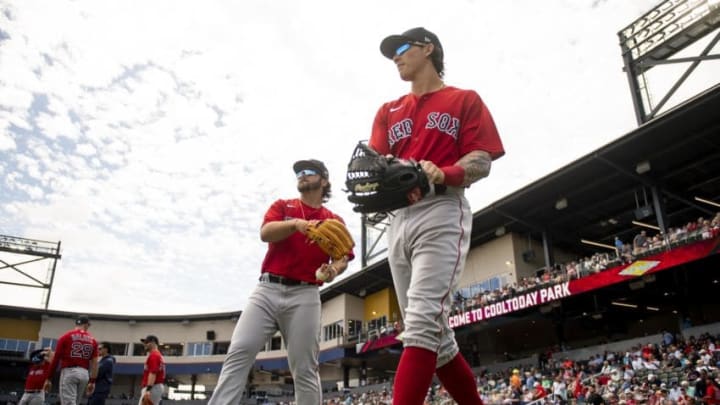 NORTH PORT, FL - MARCH 6: Nick Longhi #83 and Jarren Duran #92 of the Boston Red Sox warm up before a Grapefruit League game against the Atlanta Braves on March 6, 2020 at CoolToday Park in North Port, Florida. (Photo by Billie Weiss/Boston Red Sox/Getty Images) /
How did 2020 impact Boston Red Sox prospect Jarren Duran?
One of the most intriguing positions on the Boston Red Sox roster is the outfield. They had four outfielders to start 2020. Those four were Andrew Benintendi, Jackie Bradley Jr., Alex Verdugo, and Kevin Pillar (we're not counting J.D. Martinez because let's keep him out of the outfield please).
Pillar was traded mid-season. Benintendi was just god-awful at the plate and an injury forced him to miss most of the year. Bradley Jr. had one of his best seasons at the plate, and was once again fantastic in the outfield. However, he is a free agent and should get plenty of suitors.
That leaves Verdugo. He had a phenomenal season and looks to be in the plans for a long time. After him though, things get murky. Benintendi is clearly still there, but I don't think people are as excited about him as they were last year.
Outside of that, there's really nothing going on. That means we need to look to free agency and the minor leagues. As luck would have it, Boston has an elite outfield prospect who is just waiting to get to the Majors – Jarren Duran. So how did 2020 impact him?
At this point, you're probably tired of me talking about him. And you could make a strong argument that this season actually hurt Duran.
More from Red Sox Prospects
The reasoning for that is simple – he did not play in the Majors in 2020. He was at the alternative site, but never cracked the Major League roster. If it had be a regular season, he likely would have made the jump.
However, his growth did not suffer. In fact, Duran got to spend the entire year at the alternative site, working against some Major League talent.
And what did we see? Everything. Duran showed off that incredible speed and great contact skills. He also gave some fantastic defense and even glimpses of power.
I've always said the one aspect of his game that you couldn't call a "strength" was his home run ability. While he's still not a 30-homer guy, Duran showed that he might have the power to get you 15 home runs. That's incredible for someone that could steal 50 bases without even trying.
Obviously this hurts Duran when it comes to Major League stats and service time. If 2020 had been a regular season he would already have some hits and steals under his belt, maybe even a few homers.
At the same time, he would be a year closer to a big contract.
Now, he has neither. Don't be surprised if Boston does not call him up to start the year either. The Red Sox will likely employ the classic move of waiting a few weeks so they can keep a player under contract for an extra year. Obviously, that's going to hurt Duran when it comes to the contract/money situation, as well as career numbers.
However, he now has experience he otherwise would not have gotten before making it to the Majors. That could help with the slash line.
It's not like he missed out on too much time either. It really feels like Duran is right there. The Red Sox need outfielders and he has to be on their radar.
If we get a normal 2021 season, Duran should be with the team within a month of the regular season starting (who knows maybe he even makes it right out of Spring Training).
He probably would not have been called up to the Majors until after the All-Star break at the earliest last year. So I don't think there would be all that crazy of a difference in stats.
What this does do though, is make Duran a prime 2021 Rookie of the Year candidate. So while the odd 2020 season may have taken a few MLB at-bats away from Duran, it thrusts him into prime ROY position, and who's going to complain about some hardware?
The Boston Red Sox have a lot of questions in their outfield, and Jarren Duran is an obvious solution. 2020 was not a lost season for him, despite not getting any actual MiLB or MLB time. That alternative site helped him grow and improve.
Now we will see him in 2021. Get ready.