Red Sox: Jackie Bradley Jr. unhappy with Gold Glove snub
Red Sox center fielder Jackie Bradley Jr. isn't a Gold Glove finalist.
The finalists for the 2020 Gold Glove awards were revealed on Thursday and Boston Red Sox center fielder Jackie Bradley Jr. wasn't among the nominees at his position.
Byron Buxton of the Minnesota Twins, Ramon Laureano of the Oakland A's and Luis Robert of the Chicago White Sox are the trio of center field finalists in the American League.
All three candidates are excellent defensive outfielders but a case can be made that Bradley Jr. was snubbed considering he tied Robert for the major league lead among outfielders with 7 Outs Above Average, per Statcast. That argument was made on Twitter by MiLB's Sam Dykstra, to which Bradley Jr. responded by questioning the analytics used to determine who the best defensive players are.
With his streaky offensive production over the years, Bradley Jr. is relying heavily on his defensive reputation to land him a big contract as he ventures into free agency for the first time in his career. A Gold Glove award would help cement his status as an elite defender in the minds of potential suitors. Being left off the list of finalists could limit what he can demand on the open market so you can see why he would take the snub personally.
Bradley Jr. fared well in most of the advanced statistics but aside from OAA, few of the trendy metrics viewed him as one of the top-three center fielders in the league.
Buxton led the league's center fielders with 11 defensive runs saved while Robert was third with eight. Tampa Bay Rays center fielder Kevin Kiermaier finished between them with 10 DRS. Bradley Jr. was tied with Laureano for sixth at the position with 5 DRS.
Kiermaier led the position with 7.7 UZR, followed by Laureano (3.4), Robert (2.6), Buxton (2.5), and Bradley Jr. (1.8). FanGraphs ranks them in the same order in Defensive Runs Above Average (DEF).
The more traditional defensive stats are relatively useless in a small sample at this position. Robert committed one error this year but none of the other potential candidates committed any. Fielding Percentage is never the best way to evaluate defense but that's even more so this year.
Bradley was second in the league at the position with three outfield assists but Kiermaier had twice as many while Robert and Laureano only trailed by one.
If anyone can complain about being snubbed from the list of Gold Glove finalists, it's Kiermaier. He's in the top-three in each of these categories while Bradley Jr. is outside the top-three in most.
Defensive metrics have taken an extraordinary leap in recent years but they are far from perfect. Some of the data can be unreliable in small samples, which is particularly troubling in this year's shortened 60-game season.
Bradley Jr.'s rating in certain defensive metrics hasn't matched his reputation as an elite defensive player over the years. He won the only Gold Glove award of his career in 2018 despite a -1 DRS rating, although his 7.4 UZR was far more favorable that season. How could one metric rate him below-average while another considers him elite?
That's part of why Bradley Jr. has a fair reason to question these metrics. The eye test certainly confirms he's an excellent defensive player no matter what the numbers say.
The same can be said for any of the finalists though. Center field is packed with elite defensive players, especially in the AL. We can't properly evaluate the most deserving Gold Glove candidates from watching highlight reels. We need numbers, even if they aren't perfect.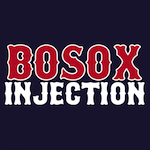 Want your voice heard? Join the BoSox Injection team!
Write for us!
Based on the numbers we have to work with, Bradley had a very good year in the field but he falls short of being in the top-three.