Red Sox: J.D. Martinez one of many struggling MLB superstars
Red Sox DH J.D. Martinez is among the struggling stars this season.
This shortened MLB season has been anything but ordinary with unprecedented challenges leading to unpredictable results. One of many aspects we never expected to see this year was Boston Red Sox star J.D. Martinez being among the least productive players in baseball.
Martinez enters the day batting a woeful .205 with a .648 OPS, both of which represent career-lows. After leading the Red Sox in home runs over the last two seasons, Martinez sits a distant eighth on the club with a mere four homers. He led the majors in RBI in 2018 and topped 100 for the fourth time in his career last season but his 19 RBI this year puts him on pace for only 73 over the course of a full season.
The veteran DH finds himself in the bottom-12 in the majors with a .282 wOBA and 70 wRC+ this season. These are categories he typically dominates. FanGraphs rates Martinez at a major league-worst -0.8 WAR. His lack of defensive value drags down this rating and he had some below replacement-level years in Houston before altering his mechanics with the Tigers but he's never been this bad.
Martinez is striking out at a slightly higher rate than he has in recent seasons but his 24.3 K% is almost identical to his career rate. His 9.4 BB% is lower than he's produced with the Red Sox but it's on par with his rates from his breakout years in Detroit. These factors don't explain the drastic dip in production.
A career-low .254 BABIP begins to explain his struggles but we can't chalk up his lack of production to bad luck. Martinez typically posts an above-average BABIP in part due to his ability to hit the ball hard but that hasn't been the case this year. His 39% Hard Hit rate, 9.3 Barrel% and 88.6 mph exit velocity are the lowest he's produced in the Statcast era.
The 33-year-old doesn't appear to be washed up by any means. The dramatic decline in Statcast data that has effectively tanked his overall production seems to be tied to his timing at the plate. Martinez is a creature of habit and he's discussed on numerous occasions this year how the new MLB rules meant to prevent the spread of COVID-19 have hindered his approach. The inability to watch video of his swings during games is a significant change for a methodical hitter like Martinez who relies heavily on studying his at-bats.
Restrictions that limit the ability to make adjustments. A spring training schedule that was interrupted for months followed by a rushed restart of camp to prepare for a shortened season that didn't begin until late-July. These are factors that throw off a player's routine. While several players have managed to thrive in this unprecedented environment, Martinez is hardly the only superstar that has seen his production fall off a cliff this season.
Red Sox star isn't the only one under-performing.
Javier Baez was the runner-up for the NL MVP in 2018 and made his second consecutive All-Star appearance last year. He's currently hitting .203/.239/.362 with a 56 wRC+ that ranks as the third-lowest in the majors. Baez is a free-swinger who can be prone to slumps but his league-leading 62 strikeouts is extreme even by his standards.
Jose Altuve isn't the same player he was during his MVP campaign a few years ago but the six-time All-Star was still a very solid hitter when healthy last year. Now the three-time batting champion his hitting .224 with a .606 OPS. His 70 wRC+ is tied with Martinez for 10th-worst in the majors.
Marcus Semien had a breakout year in 2019 that earned him a third-place finish on the AL MVP ballot. Another similar season would earn him a big payday as he approaches free agency but his stock is dropping based on his disappointing performance. The A's shortstop is hitting .223 with a .671 OPS and 86 wRC+ this season.
Cody Bellinger won the NL MVP last year but he's in the running for least valuable player this year. He's still showing decent pop in his bat with 10 home runs but he's hitting a pitiful .218 with a .715 OPS. His 91 wRC+ is tied for the 14th-lowest in the NL and his 0.5 fWAR barely keeps him out of the bottom-20.
Christian Yelich was the runner-up to Bellinger last year and captured the MVP award for himself the previous year. Now he's battling to climb over the Mendoza Line with a .199 average. He led the league in OPS the last two seasons but currently owns a career-low .762 OPS. At least he's above league-average, barely, with a 103 wRC+ but his 0.4 fWAR is a tick behind Bellinger's. The two most recent NL MVPs are well outside the race this year.
Not even the thin air of Coors Field can salvage Nolan Arenado's production. He's been brutal on the road with a .227 average and only one home run in 20 games outside of Colorado. He's been better at home but far from the video game numbers we're accustomed to seeing from the Rockies star. His 83 wRC+ is by far his lowest since he was a rookie and puts him ahead of only 20 major league hitters this season.
Josh Bell (78 wRC+), Anthony Rizzo (92), and Joey Votto (95) are among the players with recent All-Star appearances on their resumes who are currently hitting below-average in the runs created department while sitting in the bottom-40 in the majors in that category.
Martinez has been brutal at the plate this year but it's clear he's not the only one. Many talented hitters are struggling in this shortened season. Perhaps it's the change in their routine or it could merely be the mirage of a small sample size. Slumps are magnified more on a shorter schedule.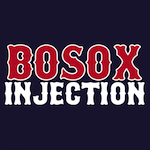 Want your voice heard? Join the BoSox Injection team!
Write for us!
Most of these struggling stars are still in their prime. While Martinez is among the oldest players on this list, he's too young to assume that he's hit a sudden drastic decline. This bodes well for his chances to bounce back next year when hopefully we'll have a normal season that allows Martinez to reclaim his old habits. It's been tough to watch but the bottom line is that we shouldn't worry too much about J.D. Martinez.