Red Sox: Mitch Moreland proving to be Boston's best pre-season signing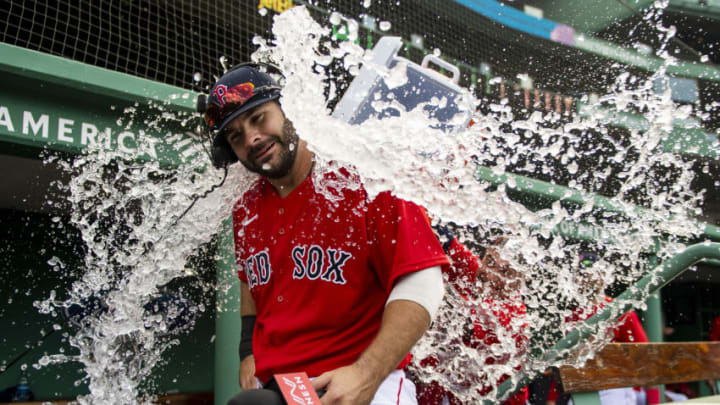 BOSTON, MA - AUGUST 9: Mitch Moreland #18 of the Boston Red Sox is doused with water after hitting a game winning walk-off two run home run during the ninth inning of a game against the Toronto Blue Jays on August 9, 2020 at Fenway Park in Boston, Massachusetts. It was his second home run of the day. The 2020 season had been postponed since March due to the COVID-19 pandemic. (Photo by Billie Weiss/Boston Red Sox/Getty Images) /
Red Sox bring Mitch Moreland back to Boston
Mitch Moreland initially signed with the Red Sox just before Christmas in 2017, and he would instantly become a fan favorite. The bearded slugger would be filling the vacancy left by another beloved first-baseman, Mike Napoli. Though there were years between their tenures, each was embraced by the Fenway Faithful and continue to be to this day.
As 2019 concluded, so did Moreland's time with the Red Sox. Free agency was once again here for the veteran infielder and while I'm sure he received plenty of calls, it was Boston that won the lottery. It was a no-brainer for Chaim Bloom to bring Mitch back to Fenway as the team had no real solution to fill first base if he signed elsewhere.
Michael Chavis was already doing double duty between first and second and the team is dragging their feet on promoting Bobby Dalbach due to retaining service time. So with no option already on the roster, it was time to give big Mitch a call. The two sides agreed on a one-year/$3M deal that also included a team option for 2021.
With how things are going for not only the Red Sox but also Moreland so far in 2020, I can see that option being exercised pretty quickly.
If today's performance was any sign of how much he enjoys being part of this team, then we may as well retire his number right now. Whether it's in the field or at the plate this season he's been an absolute beast for Boston, and one of the team's few shining stars. Other notable bright spots for the Red Sox have been fellow offseason arrivals Kevin Pillar and Alex Verdugo, but it's Moreland that's leading the pack.
Mitch Moreland puts the Red Sox on his back with walk-off
Boston's offense was a massive disappointment last night just as it has been for much of the season. Today wasn't much different as they only posted four hits on the day, two of which came from Moreland. As the game was tied heading into the later innings, something needed to happen. As the bottom of the 9th approached, the Red Sox would have their power-hitters coming to the plate.
Two quick outs from Rafael Devers and J.D. Martinez would bring Xander Bogaerts to the plate. Boston's defacto captain would draw a walk, giving Mitch the opportunity to give his team the win. The first-baseman said that ahead of the at-bat Ron Roenicke made it clear that he would pay a price for being the final out of the game.
""Yeah, I got a good pep talk from Rags right before I walked up there," Moreland said. "He said that if I made the last out, that I had to be the [automatic] baserunner in the [10th inning] at second. I knew I needed to make something happen.""
More from Red Sox News
The man that's affectionately known as "Mitchy Two-Bags," has left his double hitting life behind and is now "Mitchy Four-Bags." Boston's power-hitting veteran has been smashing baseballs into the stands all season long. In fact, he now leads the Red Sox with six homers, two of which came in today's walk-off.
As Bogey stood at first base, Moreland stepped to the plate with the game tied in the bottom of the ninth and smashed the first pitch he saw. Another big-time hit when the Red Sox needed him to come through the most.
""If you remember, we didn't play well out of the chute last year, and the wins that we got were because of Mitch," said Roenicke. "I think he won four of the first five games that we won last year with big hits. He does it. And when he is feeling this way, you want him up there as much as you can.""
Moreland's 2020 now sits at .323/.364/1.299/6HR/12RBI, pretty damn good if I do say so myself. He's been coming through for Boston all season long and has pretty much wrestled first base away from Chavis, as the two have been splitting time less with each passing game. Many of Boston's big bats have been beyond ice cold to this point in 2020 but one that isn't lacking in firepower is Mitch.
The Red Sox aren't out of the hunt just yet as the rest of the AL East is a rollercoaster, except for the Yankees. Boston just took two out of three from the Blue Jays and have the Rays coming to Fenway for four, there is a serious chance they can climb the ladder. If Moreland continues to hit the way he has been this season during this very important stretch, we could see Boston make a serious run to the postseason.