Red Sox: Don't panic over Mookie Betts, build from farm system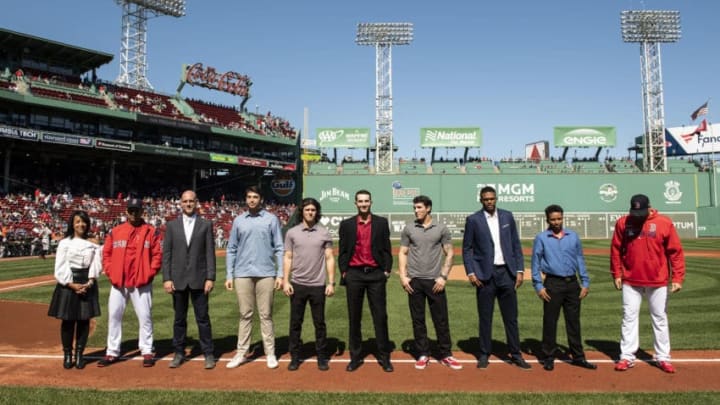 BOSTON, MA - SEPTEMBER 19: Senior Vice President of Major League & Minor League Operations Raquel Ferreira, manager Alex Cora, and Vice President of Player Development of the Boston Red Sox Ben Crockett, and rookies Tristan Casas, Ryan Fitzgerald, Thad Ward, Jarren Duran, Darel Belen, Nixson Munoz, and Trevor Kelley are introduced as the 2019 Minor League Awards winners before a game against the San Francisco Giants on September 19, 2019 at Fenway Park in Boston, Massachusetts. (Photo by Billie Weiss/Boston Red Sox/Getty Images) /
The Boston Red Sox need to try and build from their minor leagues.
Mookie Betts signed a massive deal with the Los Angeles Dodgers. That means the dream of him re-signing with the Boston Red Sox this offseason is officially over.
Don't get me wrong, that absolutely sucks. Betts is one of the best players the Red Sox have seen in a long time. In fact, he's one of the best players baseball in general has seen in a long time. But Boston needs to be careful. They can't panic over losing their superstar. Don't go out there and spend recklessly in free agency. Build from within, look to the minors.
Now, I know that Boston's minor league system is not considered star-studded by many. And I know a lot of people will say I'm too optimistic about their system, but hear me out.
The Red Sox have been known to spend money. Sometimes it works fantastically. However, look at the best players on the team right now.
Superstar third baseman Rafael Devers? Homegrown. Arguably the best offensive shortstop in baseball in Xander Bogaerts? Homegrown. Two-thirds of a great defensive outfield in Andrew Benintendi and Jackie Bradley Jr.? Homegrown. Elite defensive catcher (who turn himself into a great bat in 2019) Christian Vazquez? Homegrown. Even legendary second baseman Dustin Pedroia is homegrown.
More from Red Sox News
The starting rotation doesn't feature much, even if we count Eduardo Rodriguez.
But the bullpen has closer Brandon Workman, and relievers Matthew Barnes and Darwinzon Hernandez. Those are arguably their three best arms out of the bullpen.
Now let's look at the future. Jeter Downs is nearly ready for second base. So are Jonathan Arauz and C.J. Chatham.
At first base there are just a ton of options. Bobby Dalbec could take over there, as could Michael Chavis.
Nick Longhi deserves a serious look, and Josh Ockimey's power speaks for itself. Pedro Castellanos played his way into the spotlight last year too.
Triston Casas has superstar written all over him and could be ready within a year or two. Connor Wong is a fantastic catching prospect and Marcus Wilson and Jarren Duran deserve tons of hype in the outfield.
Speaking of the outfield, in a few years Gilberto Jimenez could be one of the more hyped-up prospects in baseball.
As for the pitching staff, Bryan Mata has ace potential. So does Jay Groome even if injuries set him back a bit. Noah Song is currently serving time in the Navy, but when he makes it to the Majors he could be a legitimate ace as well.
Thad Ward has opened a lot of eyes as a starter, as has Daniel McGrath. Meanwhile, Eduard Bazardo, Yoan Aybar and Durbin Feltman have scary stuff as relievers.
There are plenty more I could name, but I'll cut myself off there. Do you see the point though?
No, not all of them will be hits in the Majors. Some will fizzle out before they even make it that far, or just stumble against big league talent. But others will land. And more will keep emerging as potential stars of the future as we move forward.
So what do we have here? A reason not to panic.
Give the prospects a chance instead of overpaying for a star that you'll probably have to lock into a big long-term deal with that will see them being over-the-hill by the end.
Need an outfielder to replace Betts (and possibly Bradley Jr.)? There are Duran and Wilson. Maybe even Longhi, and in a few years Jimenez.
Pedroia needs a replacement, Downs is nearly ready.
First base is about to be open, and DH might be right behind it? Dalbec is ready to hit some dingers. Longhi is available at first too, and Ockimey is an intriguing power bat.
Of course, Casas is closing in too.
These are cheap, long-term solutions. Instead of signing a nearly-30-year-old player to a massive long-term deal that they are sure to not live up to, why not work with the minors? The players are locked in for quite some time. Even if we go on the shorter side, six years. Six whole years. That's a lot.
And saving up that money means two things. First, they can spend that money wisely on a big free agent or on multiple free agents. That's much smarter than panicking in a weak free agency class because you lost a superstar.
Second, they can use that money to then re-sign the stars that come out of the system. You know, like they didn't do with Betts.
And there is one other thing. Maybe it's just me, but isn't it that much more fun to cheer on the homegrown talent? Don't they just make it more exciting? You get more invested in how they and the team perform? That's just a sentimental reason though.
There is one last thing. If things don't work out with a player, the Red Sox can cut their losses. No massive contract weighing them down. There's no need to get put in another Pablo Sandoval situation (sorry for even bringing it up).
Boston might have a lot of holes heading into the 2020 offseason. And without Betts to go after, the panic button could be pressed.
Instead, the Red Sox should take a step back and evaluate the situation and the minor league solutions. Wait and build your core. You're already halfway there with Bogaerts and Devers. Now fill out the rest a bit. Let those players grow together and create a dynasty.
It's an easy band-aid to go find free agents for top dollar. You'll just find yourself in an endless cycle though. One that sees those big free agent splashes hurting the team in just a few years when their production goes down but the price tag is increasing.
Let's see a Boston Red Sox team that is built up through the minors. Not one constantly chasing those "big missing pieces". You know, the ones you have to cycle out every few years – hoping you land another big name in free agency to replace them.
Betts is gone, that sucks. But don't overreact. Find your core set of superstars. Then you can work to build around them perfectly in free agency. Don't try to find the superstars in free agency and build around them with homegrown talent. That's just a recipe for disaster.