Red Sox 2020 Schedule: Home games moved to 7:30 p.m.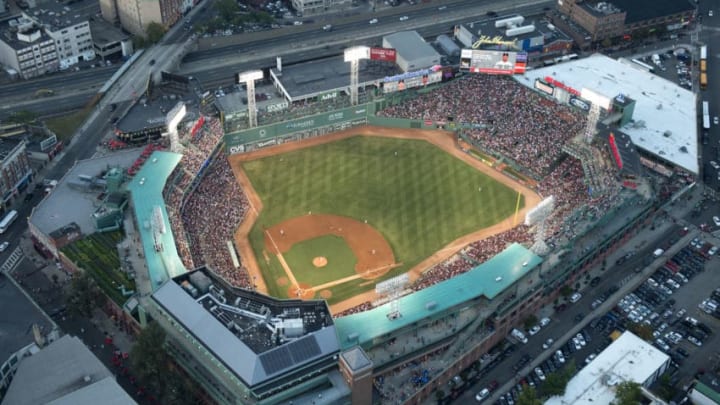 BOSTON, MA - JULY 29: General aerial views of Fenway Park during a game between the Boston Red Sox and Chicago White Sox in Boston, Massachusetts on July 29, 2015. (Photo by Michael Ivins/Boston Red Sox/Getty Images) /
Why are Red Sox home games starting at 7:30 p.m. this season?
The updated Boston Red Sox schedule has been released for the 2020 season and there are some notable changes that immediately catch the eye beyond the obvious reduction to only 60 games. Boston opens the season on July 24 by hosting the Baltimore Orioles at Fenway Park and you'll notice a bit of an unusual start time that becomes a trend throughout the season.
While the Red Sox have commonly started weekday home games at 7:10 p.m. in previous seasons, this year those games will begin at 7:30 p.m. That's by design, as Red Sox CEO Sam Kennedy revealed to MassLive's Chris Cotillo.
""The move from 7:10 to 7:30 is unique to this year – designed to maximize viewership and listenership at home," Kennedy wrote in an email. "Obviously we hope to have fans in the ballpark at some point this season and we will revisit start times should that become a reality.""
Fans attending games at Fenway this year seems like a pipe dream but Kennedy continues to leave that door open. Until then, the Red Sox have planned their home schedule to maximize television and radio ratings. The later start pushes the first pitch closer to prime time while still allowing games to end at a reasonable time on the east coast.
It's only a 20 minute difference but the change is projected to increase ratings for NESN and WEEI. The uptick in ratings will be crucial this year without revenue from ticket sales.
Consider that it can take at least 20 minutes to exit Fenway after a game and that's without taking into account the commute home. Fans who live outside of the city might not make it home until over an hour after the game ends, which for many of us is pretty late on a weeknight. Many who rely on public transportation need to ensure they have time to catch the train or bus before they stop running for the night. With this season likely to be played in empty ballparks, it's easier to push the start time back a bit since teams no longer have to factor in those commutes for fans.
There are a few exceptions to the 7:30 start time, most of which fall on weekends when many fans are more flexible with their availability. The first series of the season against Baltimore includes a pair of weekend games that each begin at 1:35 p.m. That's still a difference from the standard 1:05 p.m. start we are used to seeing for afternoon games that aren't nationally televised. Boston has four other home games scheduled for 1:35 p.m. this season, all of which land on a Sunday.
The only other exception can be found on August 13 when the Red Sox host the Tampa Bay Rays for a game beginning at 4:30 p.m. This caps a seven-game homestand before the Red Sox go to New York for a four-game set against the Yankees. Did they really need an afternoon getaway day to travel to the Bronx?
Other clubs apparently haven't followed the same strategy of pushing their start times closer to prime time. Many of Boston's road games begin at the more familiar time of 7:05 p.m. The two New York teams pushed the start of some of their games back slightly but that's mostly on weekends and none start any later than 7:15 p.m. Every weekday game against the Yankees in New York is at 7:05 p.m.
Some teams went in the opposite direction. The Rays and Marlins both host the Red Sox for weekday games that begin at 6:40 p.m. Do these teams have data that contradicts the research done by the Red Sox that suggests the later start times lead to higher ratings? Maybe the schedule being limited to east coast opponents convinced them they no longer need to care if fans in other time zones are ready for baseball at that time on a weekday.
Many fans would probably prefer games to start earlier but we had to know that the owners of the Red Sox would go with the option that potentially leads to them making more money. If improved ratings are on the line, John Henry isn't going to lose any sleep over making the rest of us stay up a bit later.
The change is modest enough that most will adapt fairly easily but the inconsistency with the start times of Red Sox home games compared to when they play on the road is one of the many quirks of a wild 60-game sprint.