Red Sox: Early look at Boston's playoff chances in 2020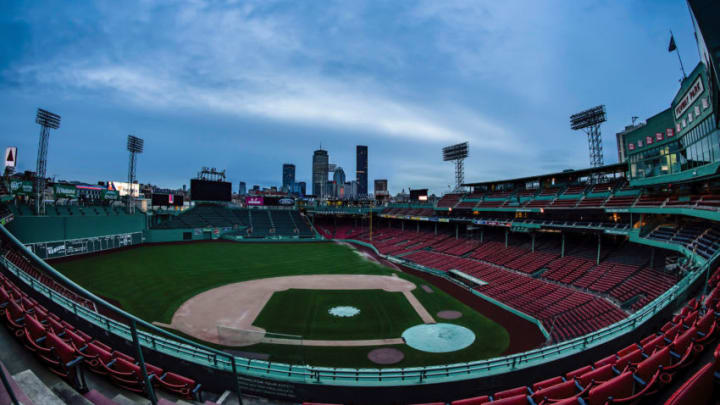 BOSTON, MA - APRIL 2: The sun rises over Fenway Park on what would have been the home opening day for the Boston Red Sox against the Chicago White Sox at Fenway Park on April 2, 2020 at Fenway Park in Boston, Massachusetts. The game was postponed due to the coronavirus pandemic. (Photo by Billie Weiss/Boston Red Sox/Getty Images) /
My early Boston Red Sox 2020 prediction.
I have a predictive nature with sports and other issues and have discovered that I am a budding Nostrodomus in callin' them right.  After all, I predicted a Clinton victory in 2016, but in sports, I have a far greater positive track record especially when it comes to my beloved Boston Red Sox. Right up front is they'll be in the playoffs!
This is a bold prediction now that baseball has maintained a ten-team playoff agenda at least for now. Expanded to 14 teams it would be a lock. There are several other changes to baseball that can be noted here. A strange game formulated for 2020 that may fizzle or sizzle depending upon fickled fans and every omnipresent player-management hostilities.
Even with Chris Sale gone, the Red Sox have enough offensive gas and pitching competence to squeeze into the postseason. Eduardo Rodriguez – he of 19 kills (wins) in 2019 now assumes "Ace" status and that should mean no long followed by longer losing streaks.
The Red Sox also scuttled David Price and sometimes a loss of a player can actually be a plus. That may not be so in the exit of Rick Porcello who was a noted inning eater with the caveat that many of those innings were needed to be shipped to a landfill.
So with the Sale, Porcello, and Price situation, the rotation can be as soggy as toast after you spill your coffee on it.  The rotation circa 2019 had the seventh-best fWAR among starters in the American League. The Red Sox did not go dark as they brought in lefty Martin Perez (10-7, 5.12) and righty Collin McHugh (4-5, 4.77) to be slaughtered in the rotation. Maybe Nathan Eovaldi will respond?  Maybe not. The minors offer no immediate resolution for enriching the rotation.
The redeeming feature of the staff is the bullpen, but the reality is they are not that much of an improvement over the rotation. A 5.6 fWAR put them firmly in the fifth slot in the American League. The management approach apparently is to keep that squad in place – squeeze the worry beads and hope that collectively they'll kick it up a notch. The key is closer and Brandon Workman won that by default and has been anointed to close.
Where the Red Sox shine is with the stick and not the ball especially with Xander Bogaerts and Rafael Devers. Just quite possibly the best-left side duo in the baseball universe. The question is second base as Dustin Pedroia's latest comeback is now a comedown. The Red Sox have two options with Michael Chavis who can loft home runs and whiff to excessive proportions.  The other option is Jose Peraza who tanked in 2019. Peraza's 2018 was great – 14/58/.288 with 23 steals. A return to that and the versatile Chavis may spend a world of time anchored at first base.
First base is veteran Mitch Moreland who will see most of his duty letting his left-hand bat do damage to righties. The other possible entry into the mix is prospect Bobby Dalbec who – like Chavis –  attacks anything tossed his way. Occasionally Dalbec catches one and it orbits.  His problem is the catching of one.
Where is starts to erode is the outfield as Mookie Betts now has to toil in Los Angeles as he awaits his big payout. The Red Sox received a minor part in the trade with the Dodgers in lefty-hitting Alex Verdugo who has the promise of being a respectable MLB player.  An accomplished beginning last season hitting.294 in 106 games. Is his back healthy?
The Red Sox also went to the free-agent well and signed Kevin Pillar. Pillar can still hit (21/87/.264) and maintain defensive efficiency as he attempts to get that big financial kiss for having a good season. Jackie Bradley Jr. will hold down his usual spot in center field and what you see is what you get – below league average in hitting and well above league average in defense.
Is Andrew Benintendi a batting champion in waiting? Waiting is the keyword as Benintendi apparently is stalled with 2019 being a step – a large one – backward. Just a .266 averaged and home runs down to 13. More production is needed. And production is what you get from DH J.D. Martinez who you can write in at 30/100/.300 over a full season.
The Red Sox had a surprise in 2019 and that was Christian Vazquez whose bat suddenly exposed with 23 home runs.  Is that an anomaly? Vaz caught 131 games in 2019 and that is a mountain of wear and tear. Light-hitting Kevin Plawecki has replaced light-hitting Sandy Leon but Jonathan Lucroy could capture a spot with expanded rosters.
The Red Sox have enough juice to make the playoffs with the old adage of "anything can happen" if you make it. That said this team simply does not have the rotation depth to go far in the playoffs. Good pitching stops good hitting and the Red Sox have good hitting.