Boston Red Sox: It's not a bad idea to learn who Ryan Fitzgerald is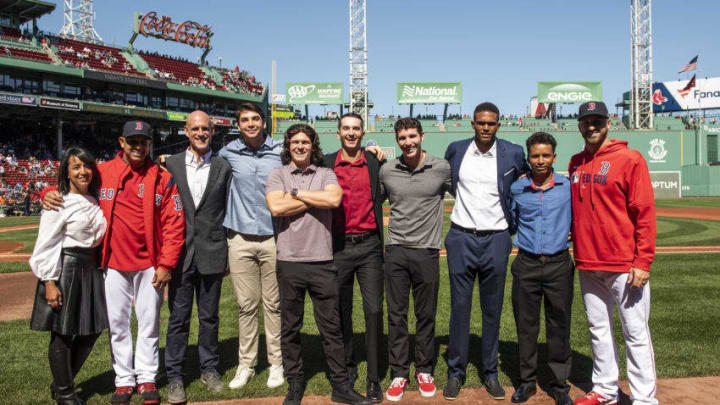 BOSTON, MA - SEPTEMBER 19: Senior Vice President of Major League & Minor League Operations Raquel Ferreira, manager Alex Cora, and Vice President of Player Development of the Boston Red Sox Ben Crockett, and rookies Tristan Casas, Ryan Fitzgerald, Thad Ward, Jarren Duran, Darel Belen, Nixson Munoz, and Trevor Kelley pose for a group photo after being introduced as the 2019 Minor League Awards winners before a game against the San Francisco Giants on September 19, 2019 at Fenway Park in Boston, Massachusetts. (Photo by Billie Weiss/Boston Red Sox/Getty Images) /
It's not a bad idea to learn who Red Sox MiLBer Ryan Fitzgerald is.
You'll be excused if you don't know who Boston Red Sox infield prospect Ryan Fitzgerald is. In fact, looking at him, you'll be forgiven for not recognizing he's a baseball player. In the cover picture for this article, Fitzgerald is the guy with his arm crossed. He's one of the shortest players in the picture and almost looks a little out of place doesn't he?
I mean, yes, Fitzgerald has just absolutely top-notch lettuce and some pipes. But who is he?
Well who he is, is an award-winning (more on that later) shortstop in the Red Sox organization. One that spent all of last year with the Advanced-A Salem Red Sox.
Fitzgerald spent four years in College at Creighton University. There, he was one of the better players on the roster. In fact, in 2015 (his Junior year) he hit .279 with team-high numbers in doubles (13) and home runs (4). His 35 RBI were just one off the team best.
Despite his strong College career, Fitzgerald found himself in Independent baseball in 2017. A solid showing in his one year with the Gary SouthShore RailCats was enough to get a look with Boston.
From there, Fitzgerald has made the absolute most of his two years with the Red Sox.
In 2018, the infielder played 80 games, all with the Greenville Drive (Full-A). He slashed .274/.337/.396 with nine doubles, three triples and eight home runs. The left-handed hitter had 38 RBI and 44 runs scored.
A really good first season, right? Well ,2019 was better.
This time, Fitzgerald played in 127 games, all with the Salem Red Sox (Advanced-A). He slashed .271/.345/.375. The home runs went down to three, but he saw a massive uptick in doubles (25), triples (7), RBI (65) and runs scored (63). He even stole 11 bases after swiping five the year prior.
Meanwhile, Fitzgerald played a steady shortstop, and gave the team time at second base and third base as well. He even threw in 1 1/3 innings at first base just to round out the infield.
So the numbers are great. Why don't you know about him?
A few reasons. First, Fitzgerald went undrafted. Big news outlets are not going to hype up someone like that unless the numbers they are putting up are just absolutely ungodly.
Second, he just turned 26 on June 17. So he is not that "hyped up" 19-year-old prospect who could be the cornerstone of a franchise for 20 years. Fitzgerald has a lot of time left though. And he's making the most of his shot with Boston.
Let's break it down.
More from Red Sox Prospects
He is a very good defender (Red Sox 2019 MiLB defensive player of the year) that tends to know where to go. There is nothing "crazy" about his defense but he does make a lot of incredible plays and will consistently make the routine ones. Accurate arm and good speed to get to balls in the gap.
Fitzgerald is a solid contact hitter with decent enough pop. Not 20-plus home run pop but he could potential get you a lot of doubles and double-digit home runs. A good eye means he can get on-base at a good clip as well. Meanwhile, his speed could warrant 10-plus steals yearly.
If you want that extra factor too, he's got it. Fitzgerald has a chip on his shoulder. He's motivated and ready to prove ever single doubter wrong. His size does not hold him back. Not getting drafted does not hold him back. His age and not being a "top prospect" will not hold him back either.
Go check out his social media. Fitzgerald is constantly working out, improving his game. Doing what it takes to get better.
He did not quit when he wasn't drafted, and he did not quit when he was not signed to an independent team right away. What's stopping him from continuing to go against the odds?
Look. I'm not saying that Ryan Fitzgerald is the next Nomar Garciaparra. What I am saying is that he's working harder than almost anyone out there. He's hungry. And he's really damn good. He has given me more reasons to believe he will find his way to the Majors than not.
This is a guy that went from undrafted in 2016 to the 2019 Boston Red Sox MiLB defensive player of the year. And he did so while being one of their most consistent hitters at the same time.
Get familiar with the name Ryan Fitzgerald now. Because he might make you look stupid if you don't.