Red Sox, MLB issues may dramatically impact the minor leagues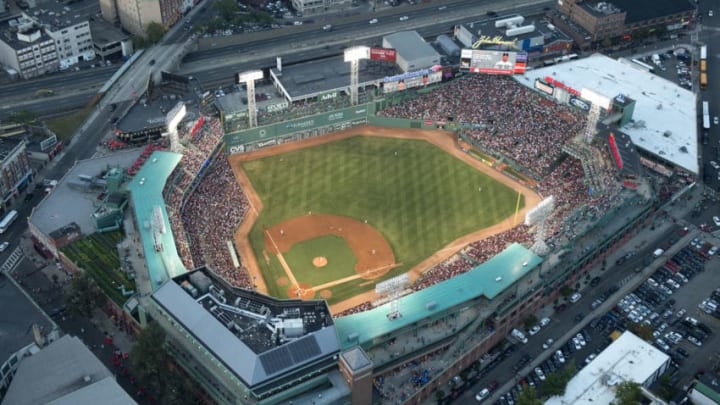 BOSTON, MA - JULY 29: General aerial views of Fenway Park during a game between the Boston Red Sox and Chicago White Sox in Boston, Massachusetts on July 29, 2015. (Photo by Michael Ivins/Boston Red Sox/Getty Images) /
The Red Sox minor league system options.
The major league teams are willowing away their labor supply with minor league players being released. This is not an earth-shaking revelation as this is a yearly event, but this year is certainly different from other years. The Boston Red Sox recently released 22 players who are now free agents in waiting. In a normal world, some would be signed by another organization, some would hang on with independent ball, a few more would end the dream and get on with life.
Baseball has been giving a small stipend of $400 per month to each player and in some instances that have been bolstered by the top of the food chain. David Price – formerly (thankfully) of the Red Sox and now with the Dodgers – is giving each player in the system a $1,000. The organizations themselves have taken on two approaches – continue to pay or have a cutoff date. What will be known is there will be a glut of professional players and a thinning of the minor league system.
More from Red Sox News
Prior to COVID-19, baseball was in contraction mode with the potential reduction of teams. The most significant would be the lowest in the echelon – the Rookie League and Short Season League. Locally that would mean the highly successful Lowell Spinners of the New York-Penn League short season that is affiliated with the Red Sox.
If you drift back far enough in baseball history there was no relationship between minor league teams and an MLB organization. There was a remarkable proliferation of teams at all levels that viewed themselves as independent businesses. They often signed players and then made a tidy profit selling them off to the major league teams. That is how Boston got Babe Ruth and Ted Williams.
To shorten the tale, Branch Rickey in the 1930s developed the first true minor league system for the Cardinals. Eventually, players became attached to professional teams that siphoned them to the various minor league outposts and moved them around like chess pieces depending on their ability. A truly symbiotic relationship with the minor league teams having players attached to an organization with the exception of being independent leagues and teams. This may now create a back to the future moment. Players are available and teams are available.
What could the new landscape be for the minor leagues? How could the relationship change with MLB? Can the minor leagues fill the void if MLB does not resume? This just scratches the surface but there may be significant changes in both structure and relationships once the situation has settled down. History does show us possible links that may happen.
As previously mentioned, minor league teams may become independent contractors simply signing players for as short of money as possible and selling to MLB players who show enough promise. MLB could also keep such a player stored in the minors and move him up to a higher level as necessary. This would create a rather blended mixture in the minors of teams comprised of players under contract to an MLB team with players under contract to a minor league team. That has existed in the past.
MLB could consolidate teams and they actually do that now with – especially the Arizona Fall League – of players from several organizations on one team. If that was done during a regular minor league season the complexities of satisfying playing time appropriately could be the proverbial monkey wrench. Cost-cutting can come with issues.
A blended team with responsibilities to several organizations can alleviate cots, but the possible friction over playing time especially pitching is ripe for criticism. Personally, I feel it is workable and would minimize costs to a struggling minor league team attempting to fill a roster with players with no affiliation.
The idea of no affiliation can be a nice step back to the past. Jack Dunn held on to Lefty Grove until the market made Grove's inevitable sale rather profitable. A team in the low minors that gets an eventual hot prospect could be sitting on a nice fiscal haul. A first-round draft pick gets millions and that could be incentive for minor league teams to operate solo.
The Red Sox will have a new city on the minor league table in 2021 as the PawSox becomes the WooSox with a spiffy new ballpark and a questionable name. The working relationship will not change as Worcester will now be the Triple-A team. But the rest of the system may see dramatic and right now unknown changes. Working relationships could change dramatically as baseball retools at all levels.
Meanwhile, the focus remains on the "Big Boys" but the minors had a great 2019 drawing over 41,000,000 fans. MLB certainly had the upper hand drawing over 61,000,000 but if they shut the turnstiles you could see the minors jump in to take advantage. That, of course, is dependent upon finding players of skill and having the fan base to support a team.
The minors could conceivably fill a void due to the circumstances at the highest level. In the distant past, minor league teams and the leagues themselves were inventive, risk-taking, and quite independent. This may be a possible return to the past. Time is running out.