Red Sox release 22 minor league players with MiLB season in jeopardy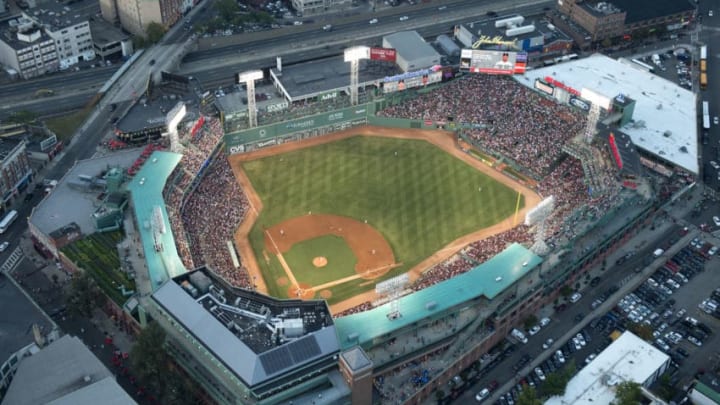 BOSTON, MA - JULY 29: General aerial views of Fenway Park during a game between the Boston Red Sox and Chicago White Sox in Boston, Massachusetts on July 29, 2015. (Photo by Michael Ivins/Boston Red Sox/Getty Images) /
The Boston Red Sox have released 22 minor league players.
The COVID-19 pandemic continues to take a toll on the game of baseball. It's bad enough that owners remain locked in a heated battle with the player's union over how much of a pay cut is warranted in a shortened season played in empty ballparks, but now many players are losing their jobs. ESPN's Jeff Passan reported that upward of 1,000 minor league players could see their careers come to an end this week and we now know which players have been cut from the Boston Red Sox organization.
According to MassLive's Christopher Smith, the Red Sox have announced the release of 22 minor league players.
Pitchers : Matthew Gorst (RHP), Alex Demchak (LHP), Dylan Thompson (RHP), Robbie Baker (RHP), Chris Machamer (RHP), Connor Berry (RHP), Eddie Jimenez (RHP), Kelvin Sanchez (LHP), Zach Schneider (RHP), and Mason Duke (RHP)
Catchers: Joe DeCarlo, Samuel Miranda, and Breiner Licona
Infielders: Nick Lovullo, Juremi Profar, Korby Batesole, Andre Colon, and Nilo Rijo
Outfielders: Edgar Corcino, Keith Curcio, Trenton Kemp, and Marino Campana
The mass exodus of minor league players won't cost the organization any of their prized prospects but there are some familiar names on the list.
Nick Lovullo is the son of Torey Lovullo, the Arizona Diamondbacks manager who served as John Farrell's bench coach with the Red Sox from 2013-16. The younger Lovullo worked his way up from High-A Salem to Triple-A Pawtucket in 2019, hitting .220 with a .587 OPS across three levels.
Juremi Profar is the younger brother of Oakland A's infielder Jurickson Profar. Juremi was signed by the Red Sox to a minor league deal in November but never had the opportunity to prove himself to his new franchise. He made it as far as Triple-A in the Texas Rangers farm system last year.
Many of these players never would have reached the big leagues but it's still heartbreaking to see their dreams of being a professional baseball player unceremoniously come to an abrupt end. These players have worked their entire lives to get to this point only for their job to be taken away from them.
More from Red Sox News
MLB was already considering cutting corners by contracting a number of minor league affiliates and the pandemic sharpened the blade.
Handing out pink slips to a group of minor league players doesn't move the needle much. These players were making $400 a week while baseball remains on hiatus. The 22 players the Red Sox cut would combine to make about $100,000 over the next 12 weeks, which would get us to the point when the minor league season would have ended. Even if you factor in full benefits for the players, that's a drop in the bucket for a billionaire owner.
A labor dispute has become as much of a threat to the 2020 major league season as the pandemic that created this delay and most around the league seem to have accepted that the minor league season will be canceled.
The players who were cut probably wouldn't have played this year anyway but at least they would have retained some financial support and health benefits. They would still have hope that they could get back on the field next year. Now they have nothing. Owners refusing to take care of their players just to save a few bucks isn't doing them any favors in the court of public opinion.