Red Sox Memories: Three highly questionable managerial moments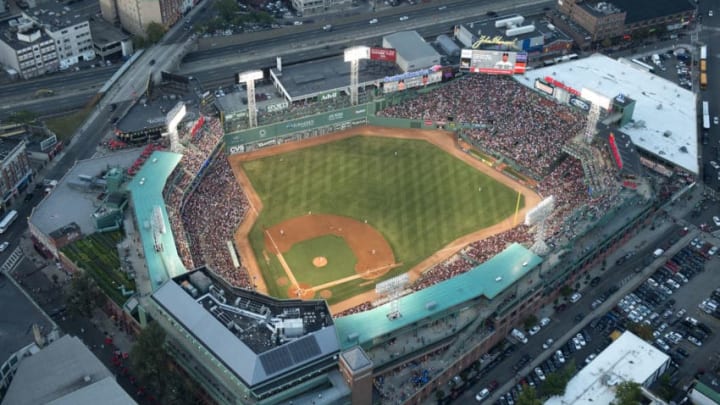 BOSTON, MA - JULY 29: General aerial views of Fenway Park during a game between the Boston Red Sox and Chicago White Sox in Boston, Massachusetts on July 29, 2015. (Photo by Michael Ivins/Boston Red Sox/Getty Images) /
(Photo by Focus on Sport/Getty Images) /
Bill Buckner's error may not have cost the game but it did cost the momentum. The Red Sox had a slim 3-2 lead when manager John McNamara pulled Roger Clemens from the game. Clemens was a workhorse during the season (24-4, 2.48) and did not seem to be tiring. I found the move strange since it was the opposite of the justification for leaving Buckner in the game. A game in which the Mets quickly flashed congratulations to the Red Sox for winning the 1986 World Series.
More from Red Sox History
During the season the Red Sox would often use Dave Stapleton as a defensive crutch for the less than mobile Buckner. Buckner had hit .267 but produced 102 RBI. Calvin Schiraldi came in to pitch for Boston and in the eighth gave up a sacrifice fly that tied the game. Bonehead move number two for Johnny Mac. McNamara claimed that Clemens "begged" out of the game but that has been disputed. But with the "Texas con man" one never knows.
The Red Sox put two over in the tenth to take what appeared to be a commanding lead. Buckner remained in the game (bonehead move number three) and then it started.  Three straight hits off Schiraldi and Bob Stanley entered to stop the bleeding. Stanley tossed a wild pitch and the Mets were now down a run. Then the speedy Mookie Wilson found the weak link – Buckner – with a soft ground ball. Error and game over.  The Mets took it 6-5 and won the series the next day.
McNamara wanted to leave Buckner in to experience a World Series celebration. That was the justification for this everyone knew what should have been done move. Same with Clemens. You ride that pony until he has nothing left. Buckner took the fall for a managerial screw-up of epic proportions.