Red Sox News: Collin McHugh believes some may sit due to COVID-19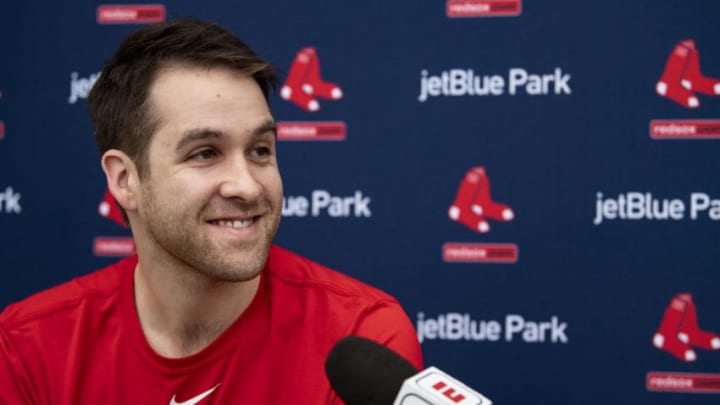 FT. MYERS, FL - MARCH 6: Collin McHugh #46 of the Boston Red Sox speaks to the media during a press conference before a Grapefruit League game against the Atlanta Braves on March 6, 2020 at jetBlue Park at Fenway South in Fort Myers, Florida. (Photo by Billie Weiss/Boston Red Sox/Getty Images) /
Boston Red Sox pitcher Collin McHugh is on the road to recovery from a flexor strain in his elbow, but could COVID-19 keep him and others away in 2020?
As we work our way through the first week of May it feels like we may be getting back to some level of normalcy soon. This week gave us the launch of the Korean Baseball Organization and with that a glimmer of hope that we could soon see the Red Sox take the field again. That is if the right measures are taken to ensure the safety of all involved to make the MLB happen in 2020.
Recently acquired right-hander Collin McHugh was a guest on MassLive's "The Fenway Rundown Podcast," where he talked about a myriad of topics spanning from his injury to baseball this season. McHugh has yet to throw a pitch for the Red Sox as he came to the team via free agency with an injury,  just before spring training was shut down due to the coronavirus.
It was nice to hear from the hurler as he could become a key member of the Boston pitching staff this season if the MLB is able to get things off the ground. On that topic, McHugh was pretty honest in his assessment of the league trying to have a season in the wake of COVID-19 not showing any signs of slowing down.
One point he made that I haven't even thought about in this whole situation is that some players may not want to even risk playing until the dust settles.
""That's a sincere possibility," he said. "I'm a husband, I'm a father. There are many guys in the league with underlying conditions. With preexisting conditions, like diabetes and heart arrhythmias. You look at our coaching staffs, there's tons of guys over 65. Umpires, there's a lot of guys over 65.""
In all of the madness where reports are coming out weekly about new plans from the MLB about how they want to fire the 2020 season, I can admit I lost sight of the big picture. There are a lot of people involved in the league from players, to coaches, to staffers, that all have families and may have preexisting conditions that would put them at higher risk.
If anyone reading this is familiar with the WWE's Roman Reigns, then you know that his battles with leukemia have left him immunocompromised. This past April he chose to forego the company's biggest show in WrestleMania to stay home and limit his chances of exposure. Which ties in exactly to the point that McHugh was targeting.
""When you're talking about the risk factors here, there are going to be some guys who sincerely have to weigh the risks of what it's going to take to come back versus staying at home," McHugh added."
There are a lot of people that fall into the danger zones as far as the coronavirus is concerned, and rushing back to the game may increase their risk exponentially. This led the righty to bring up another solid point, there very well might be some people that choose to not participate in a 2020 season, and rightfully so.
With so many question marks still surrounding exactly how the MLB is planning on achieving a season this year, why risk things? The MLB and MLBPA have already agreed to some labor terms that give the players a lot of power as far as their contracts, so the choice is really theirs.
If the season were to get canceled, then it still counts as a service year and those that are heading for free agency will still arrive there on time.
More from Red Sox News
So, by that same logic, if a player feels uncomfortable traveling and playing while things are still in such a grey area, can they be punished for sitting out? McHugh doesn't think so and I can't disagree with him at all on that. How can you reward players if the Commissioner says it's unsafe to play but if the player takes that power into their own hands they're in the wrong? It'd be another massive black eye on the tenure of Rob Manfred as the MLB's head honcho.
""We're in a situation right now where you can't make this mandatory," he said. "You can't tell a guy you have to come play or else your roster spot is not going to be here when you come back. You can't tell a guy to risk his life and the life of his family and the lives of anyone he chooses to be around to come play this game.""
I'm not sure what this season will look like or if we'll even have one. It feels like the MLB has July 1st circled on the calendar but I have yet to read anything with enough weight to make it feel tangible. The repercussions of rushing into a season with so many that can be affected would be felt for years to come. Unless the league can get their hands on enough tests to keep those involved as safe as possible, this feels like a pipe dream for now.
As for the Red Sox, they'll be looking to make a massive turnaround from their trainwreck of a 2019 campaign. Coming off of a historic season that would be capped with a World Series crown, the team failed to meet the expectations of a possible repeat. If McHugh can get his arm to full strength, then he can be a catalyst in the Red Sox pitching staff and steer them back to success.